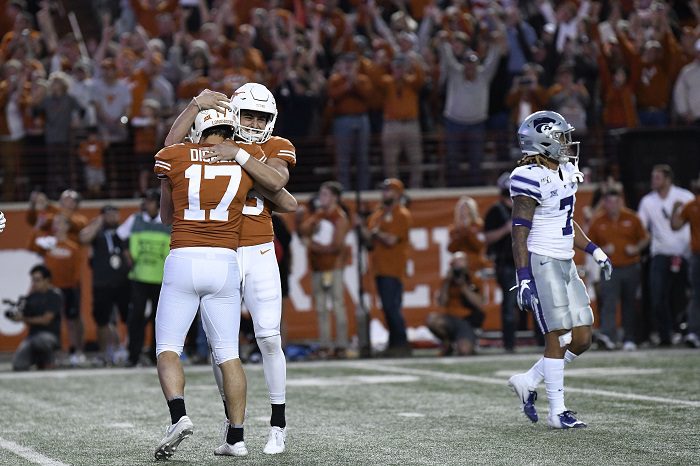 This may have not been the flashiest game on the Big 12 slate this weekend, but it sure was an important one. Kansas State traveled to Austin after their huge win two weekends ago against Oklahoma as they came into the day at 6-2 ranked as the sixteenth best team in the country. Even with two losses in conference play, the Wildcats still had a slight chance to play for a possible Big 12 title with some help. Meanwhile, Texas was coming off a devastating loss to TCU as they came into this game sitting at 5-3. Much like Kansas State, Texas also has a chance to play for a conference title if they win out and get a little bit of help. No matter which way you slice it, both teams conference title hopes remained, and a loss would most likely shatter those chances greatly. I know it is a cliché, but this was a must-win game for both teams. 
The Wildcats wasted no time finding the scoreboard first. On just their third play on offense, quarterback Skylar Thompson found wide out Malik Knowles for a beautiful 70-yard touchdown to put Kansas State up 7-0 early in Austin. Following a rarely-missed Cameron Dicker "The Kicker" field goal attempt, the Wildcats put together an eight-play drive that took nearly five minutes off the clock. On the final play of the drive, Skylar Thompson hit Wykeen Gill for a 19-yard touchdown and just like that, Kansas State was up 14-0.
Both sides would trade punts before Texas would finally put together a drive worth something as quarterback Sam Ehlinger hit Collin Johnson for a 21-yard touchdown to pull the Longhorns within seven early in the second quarter. That would wind up being the final score of the first half as Kansas State went into the half leading 14-7.
I am not sure what Texas head coach Tom Herman said at halftime, but it seemed to have worked, because in just four plays the Texas offense scored as running back Keaontay Ingram took it in from 34 yards out to tie the game at 14 early in the third quarter. On the following Texas drive, Cameron Dicker would redeem himself as he connected on a kick from 36-yards to give Texas their first lead of the game 17-14. 
Once again, the Texas defense got another stop and the Longhorn offense moved the football down the field with ease. However, due to a late throw, Sam Ehlinger would get picked off in the red zone by Kansas State's Walter Neil Jr. Luckily for Texas, the Wildcats' offense wasn't able do make anything of it as they kicked it right back to Texas in just five plays. 
Thanks to a 53-yard punt return by Texas safety Brandon Jones, Texas had great field position to start their first drive of the fourth quarter. Running back Keaontay Ingram went right back to work as he found the end zone for the second time of the day to give Texas a 24-14 lead with 12:17 left to play. 
However, Kansas State would not go down without a fight. Immediately following the Texas score, Joshua Youngblood took the kickoff the other way for a 98-yard touchdown and within seconds, the Texas lead was back down to three. The Wildcats would carry that momentum on their next drive as the Kansas State offense put together a nine play drive and with the help of a targeting penalty on Texas corner Jalen Green, kicker Blake Lynch would nail a 45-yard field goal to tie the game at twenty-four with 6:45 left in the game.
Then came I drive that I don't think anyone saw coming. The Longhorns strung together a 13-play drive that forced Kansas State to use their last timeouts but by then, it was already too late for the Wildcats. Texas was deep in Kansas State territory as they were able to set up a Cameron Dicker 26-yard field goal to win the game as time expired. Texas took of the entire six minutes and forty-five seconds off the clock on their final drive. 
This was a must-win game for Texas. While things were shaky early on, the Texas defense bucked down and the offense made the big plays they needed to win the game. Not to mention, another game winning kick for Cameron Dicker. The Longhorns now move to 6-3 and must win out against Iowa State, Baylor and Texas Tech if they want to have even a shot at playing in Jerry World for the Big 12 Championship. Also, this win makes Texas bowl eligible and now for the third straight time, Texas has beaten Kansas State which has never happened before. 
Meanwhile for Kansas State, this likely was the final straw for their title hopes. With three conference losses, it would be nearly impossible for them to have a chance at a Big 12 title. Still, this is a good football team that has exceeded expectations so far this season.
**We now have FREE Big 12 Forums here at Heartland College Sports. Go sign up here and join our conversation! **