Baylor Bears
Big 12 Football Mailbag: Is Baylor Talented or Lucky? Neal Brown's Pitch to WVU Fans and More!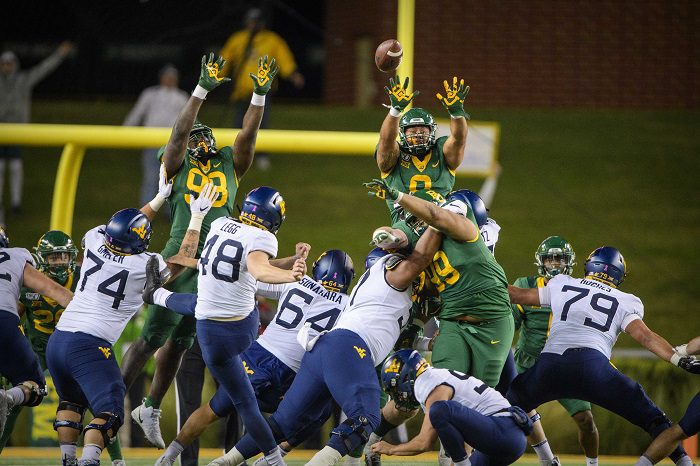 Welcome to the HCS Big 12 mailbag. This mailbag is for all you football junkies out there who root for a Big 12 school who not only have questions about your team, but other teams in the conference as well. So, join me, grab a cold brew or your favorite drink and relax as I answer all your Big 12 questions in my mailbag. For those interested, I will send out a tweet (@Derekduke25) every Monday at noon until last call (No, not 2 AM) at 8 PM CT for you to send in your questions to be answered every Tuesday right here at Heartland College Sports.
I want to thank each one of you who submitted a question this week and for those reading, I am glad you could join me. I am doing this on Monday evening and of course this mailbag wouldn't be nearly as fun without a cold beverage right next to me. Tonight's drink of choice? An old fashioned using Old Forrester Rye. We had a cold front come through here in South Texas and it is below 38 degrees for the first time this season. Also, I will be up in Ames this weekend for the Iowa State/Texas game so don't be afraid to give me a shout or have a suggestion on places to check out! Cheers!
@TheThomasFitch asks: Is Baylor talented or lucky? Or both?
Duke: Glad to see you in the mailbag Thomas. Now you can truly see what below average blogging looks like! As for the question here, to be 9-0 I honestly believe you must be talented and a little lucky at times. Whether you want to call it luck or fate for Baylor, 9-0 is still 9-0. Now is Baylor talented? Absolutely. Quarterback Charlie Brewer seems to find new life in the fourth quarters/overtimes in these close games and that wide out group for Baylor is explosive with Denzel Mims, Chris Platt, RJ Sneed and Tyquan Thornton. They have speed on offense and don't forget they have some good backs as well. Perhaps the most impressive thing for the Bears has been the defense. That defensive line is good, and James Lynch is the best defensive player in the Big 12. I mean, Baylor is second in rushing defense, fourth in pass defense and first in scoring defense as they are holding opponents to just 19 points per game.
Of course, with that said, have they danced with the devil for a few weeks? Sure. The "illegal snap" penalty in the Tech game, the sloppy play for the West Virginia game and of course the crazy triple overtime game against TCU were all games Baylor good have easily lost. But you know what? Good teams find ways to win and that's what Baylor is doing this season.
@SDuke108 asks: How good is Oklahoma State running back Chuba Hubbard?
Duke: I missed this one last week, but I wanted to include it in for this week. Also, it is crazy to meet another person with the best last name in the world. This is an interesting question but it's easy. Chuba Hubbard is the best running back in the country. Chuba is leading the nation in rushing yards (1,604) and has 18 rushing touchdowns through nine games. If he stays on this pace he is on, he will go over 2,100 yards this season and have around 24 rushing scores. No matter what, if he goes over 2,00 yards and 20 touchdowns, he needs to get invited to New York for the Heisman ceremony. He likely won't win it, but he deserves the invite if he keeps up this kind of play.
@ashwyesum asks: Your thoughts on Neal Brown's closing statement after an embarrassing loss to Texas Tech?
Duke: For those who don't know, West Virginia head coach Neal Brown had this to say after the 38-17 loss to Texas Tech. "We're not playing well as a football team right now. We have a ton of work to do in this program. But I'll tell you, this is probably going to be one of our worst days. I'll tell you right now, we will build a successful program here. It doesn't look like it right now. But because of [the fans], and for them, we will absolutely be successful here. There are some growth pains. Nobody's more frustrated with anything that's going on the football field than me. I can promise you that. But we have a high percentage of guys that will be back, not only for one year but three years. They will significantly get better. We'll do a better job coaching them. And there will be a product on the field that will match the fans that we have." For me, it was the right thing to say. Maybe others felt differently but this was going to be a rebuilding year for West Virginia. In fact, I think I picked them to go like 4-8 before the season. I am not going to dive into all their problems here but if you read my The Good, Bad and Ugly column each week then you know my thoughts about this team and the issues right now. With that said, 2020 will be a much better year for the football team. 
@chicken_coconut asks: 1. TCU or Tech this weekend? Losers bowl hopes on life support. 2. Les Miles vs his old team. Get the popcorn ready and can Les pull off the upset against Oklahoma State? 3. Will Baylor survive Oklahoma and Texas?
Duke: I'll give you some props chicken coconut. Even with your crazy name and my underwhelming blogging skills, you still come back to the mailbag each week. I don't know why you keep coming back but I am glad to have loyal readers such as yourself. Here is a drink to that. Now, let's do this rapid-fire style. 1. I'll take TCU with the way they are playing defense right now; they can hold their own with just about anyone in the Big 12. The question will be if they can show more on offense consistently, but Max Duggan is, they key for them at quarterback. 2. Oklahoma State will beat Kansas by at least two scores. The Jayhawks won't be able to slow down Chuba Hubbard. 3. I'll say Baylor splits the Oklahoma and Texas game. Still, that's likely good enough for them to clinch a conference title birth with Kansas left on the schedule for them after those two tough games.
@RPTexan asks: Last week I asked who your favorite CFB commentators were so this week I want to know, which commentators make you want to change the channel?
Duke: Speaking of loyal readers, Robert you still are here each week, so I want to thank you for that. Now, this one is tough for me because it takes a lot for me to hit the mute button on the TV. The good thing about going to games or covering them is that you don't have to listen to people annoy you watching the game, but they are some good people out there. Personally, I don't mind most weekend crews, but I could care less about the Steve Levy, Brian Griese combo on ESPN/ABC. I don't know why but I don't find Steve Levy exciting at all and I was never a big fan of Brian Griese. In fact, I saw those two for the Baylor/Iowa State game a while back and while I may not care for them calling games, they seemed to be good guys. It's hard to dislike nice people. Also, Todd McShay is in that crew as well as a sideline reporter. I saw him on the field up in Lubbock last season when Oklahoma played Texas Tech. I told him "Todd, Todd, Todd, Todd, Todd, Todd" like when Mel Kiper Jr. is arguing with him and he didn't even find it a little bit funny. I guess my sense of humor is different or he has heard that a thousand times before.
@TedFlintKansas asks: High of 40's in Ames this weekend. You going to be ok? Also, throw out your predictions for Iowa State's last three games.
Duke: First off, we will have a drink when I am up there. I don't have many cold weather clothes since I live in south Texas, but I will be wearing multiple jackets if needed. I like cold weather but where I live, we don't get it often. Maybe the whiskey can keep me warm up there. As for Iowa State's final three games against Texas, Kansas and Kansas State, I say they will go 2-1 in their last three games and finish the season at 7-5. Maybe a trip to the Cheez-It Bowl? Or Liberty Bowl again? Both of those still beat the Camping World Bowl in Orlando where you will be fighting a 12-year old going to Disney World for arm space on the airplane ride there.
**We now have FREE Big 12 Forums here at Heartland College Sports. Go sign up here and join our conversation! **