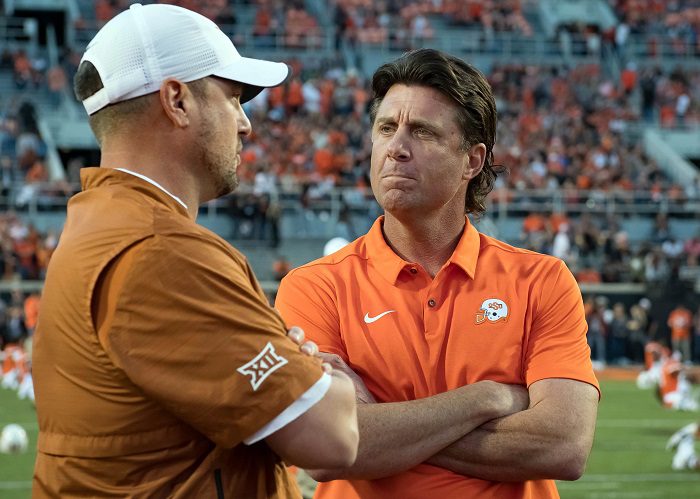 There are three weeks left in the college football regular season. Yep, I'm wondering where the year went as well and the more I think about it the more depressed I get. That being said, the Big 12 race is going down to the wire with Baylor, Oklahoma and Texas in the driver's seat and the rest on the outside looking in.
So here is how the Big 12 teams in the mix should be rooting the rest of the way.
Baylor Bears
The Bears got what they needed last week when Oklahoma hung on for dear life against Iowa State. Baylor needs some big-time wins on their schedule and they get a chance at that the next two weeks vs. ranked AP Poll teams in Oklahoma and Texas. The Bears obviously need to win out to have any chance at a College Football Playoff appearance, but they also should want their schedule to be as tough as possible.
So Baylor fans should be rooting for Texas as it takes on Iowa State in Ames this weekend. Then, the Bears should root for OU to win out against TCU and at Oklahoma State, this way the Sooners are (probably still) a top 10-15 team when the Bears would meet them again in the Big 12 Championship Game at Jerry World in December.
Oklahoma Sooners
The Sooners also need some help based on how the rest of the country is shaping up in the race for a College Football Playoff berth. So for OU's schedule to look as good as possible, it needs to beat Baylor this weekend, then TCU, while also go to Stillwater and beat an OSU team that would be ranked, likely in the Top 20 by then if it can take care of business against KU and WVU the next two weeks.
As for the Big 12 title game, I hate to break it to Baylor fans, but from a resume and optics perspective, it's probably better for OU to beat a Texas team that is ranked in the Top 15 or 20 by December if it can beat Iowa State, Baylor and Texas Tech to close the season. That's the ideal scenario for the Sooners to get three ranked wins in four games to close out the year and impress the committee leading up to Selection Sunday.
Texas Longhorns
Texas can't make a College Football Playoff, but this team can still get to a Big 12 Championship game appearance. Texas plays Iowa State this weekend followed by Baylor (both on the road) and then wrap up with a home game against Texas Tech. If Texas wins out, it will be 7-2 in Big 12 play. That means if it beats Baylor, the Bears will need to lose this weekend to OU as well (or KU) to also finish 7-2 in the conference and then Texas would hold the tie breaker. Basically, Texas fans should be OU fans this weekend, sorry about that Longhorns fans.
Kansas State Wildcats
K-State is 3-3 in Big 12 play and a major longshot. But it has a tiebreaker against OU and is just one game behind Texas. So K-State should be Baylor fans the rest of the way. K-State should want Baylor to beat OU and Texas the next two weeks. Then they need OU to lose to either TCU or Oklahoma State so it has three losses as well. It then needs Texas to lose two of three to end the season against Iowa State, Baylor and Texas Tech. And of course all this is contingent on K-State winning out against West Virginia, Texas Tech and Iowa State.
Oklahoma State Cowboys
The Pokes could get in if they win out to get to 6-3 and that would include a win over OU, while the Sooners lose two of three, so OSU has the tie breaker, and then Texas loses two of its last three against Iowa State, Baylor and Texas Tech, and then the Cowboys would have a rematch with the Baylor Bears in the Big 12 Title game. It's certainly very unlikely. But impossible? No.
**We now have FREE Big 12 Forums here at Heartland College Sports. Go sign up here and join our conversation! **