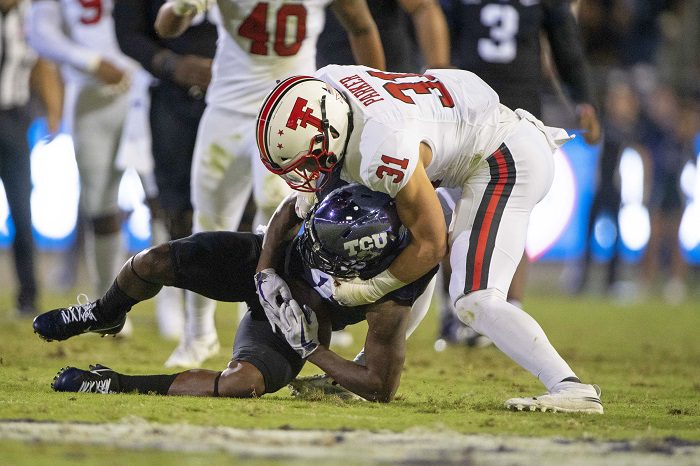 Here is everything you need to know about the Battle for the Saddle Trophy between Texas Tech and TCU.
Game Info
11 a.m. CT, Saturday, Nov. 16, 2019, Jones AT&T Stadium, Lubbock, Texas
TV: ESPN2 (Dave Neal, DJ Shockley, Dawn Davenport)
Away Radio: WBAP 820 AM/KTCU 88.7 FM, XM 381 (Brian Estridge, John Denton, Landry Burdine)
Home Radio: Texas Tech Sports Network, Sirius 137/XM 200 (Brian Jensen, John Harris, Chris Level)
Texas Tech Head Coach: Matt Wells (4-5 at Texas Tech, 48-39 overall)
TCU Head Coach: Gary Patterson (171-68 at TCU and overall)
Series History: Texas Tech leads 32-26-3. TCU. Since TCU joined the Big 12, the road team has won five of seven meetings.
Series in Lubbock: Texas Tech leads 18-7-3. TCU has won the previous two meetings in Lubbock.
Opening Line: TCU -1
Moneyline: TCU +100/Texas Tech -120
Over/Under: 56.5
Fun Facts: TCU's current coordinators, Sonny Cumbie and Chad Glasgow, have also been coordinators at Texas Tech.
Key Players
Texas Tech
RB Ta'Zhawn Henry
Texas Tech may be down to its third-string running back after Armand Shyne saw his season come to an early end due to injury. SaRodrick Thompson was forced to leave Saturday's victory over West Virginia after having his ankle twisted. Henry isn't your typical third-string back. He has rushed for over 100 yards in a game before. However, being down to your third back proves a lack of depth. Not only must Henry provide the normal contributions to help lead Tech to a bowl, but he must do so while staying healthy. That's a tough combination for a position known for the shortest NFL lifespan from the amount of bumps and bruises a running back typically takes.
LB Jordyn Brooks
A bowl game is on the line. The opposing team has a freshman quarterback. You are the leader of the defense. What do you think you need to do? Shut down the run game. If Tech takes Darius Anderson out of the mix, Max Duggan will be forced to throw. Now that can be dangerous if he's able to find Jalen Reagor. So, how does Tech stop Reagor? By pressuring the quarterback. If Tech penetrates the offensive line, Duggan is going to look like the freshman that he is. This is all about the backfield. If Anderson has holes to run through or Duggan has all day to throw, TCU wins. It's Brooks' job to lead the Tech defense in stopping Duggan.
TCU
WR Jalen Reagor
The season is on the line. As mentioned above, Tech is going to want to force Max Duggan to throw. If there's one guy Duggan loves to throw to, it's Jalen Reagor. This kid is a stud who played at Waxahachie for ex-Dallas Cowboy Jon Kitna. Prior to their game against Baylor, the Bears' head coach Matt Rhule said he "still has nightmares" about facing Reagor. Now, Reagor only caught one pass against the undefeated Bears, but that's exactly how TCU's offense gets shut down. If Reagor isn't catching passes, TCU's offense is likely satlling.
S Trevon Moehrig
Tech may be down to their third-string running back. Moehrig is second ono TCU in tackles, only behind Garret Wallow and is ahead of third place Innis Gaines by 13 tackles. He leads TCU with four interceptions and nine pass break-ups. If TCU bottles up the run game, Duffey must know where Moehrig is at all times. Otherwise, TCU is going to have a field day creating turnovers.
Key Storylines
Texas Tech
Just a reminder that this is the third consecutive Texas Tech preview with the following excerpt.
"Texas Tech is 9-26 in the month of November post-Mike Leach (2010). Two of those victories are against Weber State and Houston in 2010. Thus, against Big 12 foes, Tech is 7-26 in the month of November post-Mike Leach. The schedule certainly eases up for Tech, but history has a way of repeating itself. Tech can certainly go 4-0 this November (at WVU, vs. TCU, vs. Kansas State, at Texas). It's highly unlikely they win the final two games. Their games against West Virginia and TCU could easily be considered toss-ups."
Matt Wells did something in his first November game Tommy Tuberville never accomplished: He won a road game in November. Although Kliff Kingsbury won games away from Jones AT&T Stadium in November, he always remained under .500 in the category. Matt Wells is now 1-0 with a 1.000 winning percentage. This is the same coach who was the first to lose a non-conference game in his first year at Tech since Spike Dykes. Wells can now say he's bucking trends, both good and bad. To get to a bowl, Tech must buck the losing November trend. The last time this program had a winning record in the month of November was 2010 when Tuberville lead Tech to home victories against Missouri, Weber State and Houston. Wells is 1-0 with TCU and Kansas State coming to Lubbock before he tries to regain the Chancellor's Spurs in Austin. Bowl eligibility depends on bucking this trend, and Texas Tech isn't going to a bowl game based on APR rankings.
TCU
TCU has three games remaining. One of them is a trip to Oklahoma. I think the message is clear. Just in case. I'll present the obvious. This is a must-win for TCU.
Prediction
Texas Tech 17 TCU 14
Max Duggan probably had to learn to throw with high winds while playing in Iowa during his high school years. He's been out of Iowa recently and it's uncertain if he's ever played in the conditions Lubbock winds bring to the table. Many coaches have blamed the Lubbock wind for offensive failures. Additionally, TCU's offense hasn't scored more than 30 points in a road contest since non-conference play. To top things off, Tech's defense is leading the team to victories this season and Matt Wells stated his priority to win at home when I spoke with him at Big 12 Media Days. Tech is 3-1 this year at home and 1-1 in Big 12 play. To snap another trend, Wells must win this game. What's that trend? Posting a winning record at home in Big 12 play for the first time post-Mike Leach. I think this will be a defensive game. I think the freshman will make one too many mistakes and Tech's offense does just enough to squeak out this victory.
Powered by RedCircle
**We now have FREE Big 12 Forums here at Heartland College Sports. Go sign up here and join our conversation! **