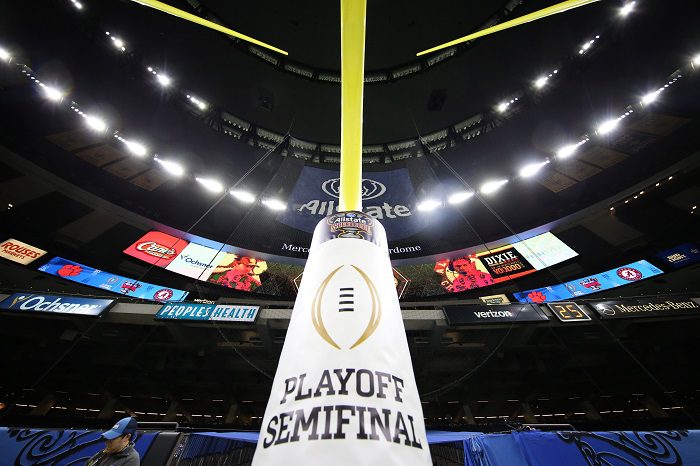 The postseason is the ultimate celebration for teams to celebrate their hard work through the course of the year. As we all know, the postseason for college football features a four-team playoff and several bowl games. Each conference has agreements with certain bowl games to send their respective teams to. Many websites use projections to show where they predict each team to go. Instead of projections, here is a version more similar to "bracketology". This is a live look at where teams would be if the season ended today.
"Really? Are you serious? You've got to be kidding me. This is absolutely unbelievable. How can they do this?"-Cameron Brock after seeing the College Football Playoff rankings.
Georgia, a team who lost at home to South Carolina, is in the top four of the College Football Playoff. South Carolina has a losing record. They dropped a home game to Appalachian State and a neutral site game to North Carolina, in which Mack Brown made his debut for his second stint with the Tar Heels. As if that isn't bad enough, the Gamecocks lost to a Tennessee team who dropped home games to Georgia State of the Sun Belt Conference and BYU.

Meanwhile, undefeated Minnesota is No.8. Undefated Baylor is No.13. An Oklahoma team whose only blemish comes on the road against a Kansas State team also ranked in the Top 25 is No.10. Penn State, whose only blemish comes against No.8 Minnesota, is No.9. Alabama, whose only blemish comes against No.1 LSU, is below Georgia. I can't explain it. If you can explain it, please explain it to me. My Twitter handle is @CamBrockHCS. I don't understand it one bit. To be frank, it's a travesty that Georgia is even in the top 10 with their home loss to South Carolina.
Now that I'm off of my soap box, let's look at the Big 12. I hope Baylor fans "want Bama" because that is who the Bears are currently slated to play against. Despite remaining undefeated, the Bears dropped a ranking. This doesn't change anything as Baylor is still atop the Big 12 standings and automatically scores the Sugar Bowl berth as the Big 12 Champion. With LSU and Georgia in the playoff, Alabama is considered the "SEC Champion".
Utah is No.7 in the rankings and they score the Cotton Bowl's at-large berth. Thus, Oklahoma remains in the Alamo Bowl this week against USC.
Texas pulled off a nice upset over Kansas State. This victory makes them bowl bound. With the final team posting a winning Big 12 record, they go to the Camping World Bowl. Of course, the ACC is so pitiful, the Camping World Bowl chooses to invite Notre Dame. This actually works out quite well for the Longhorn faithful. Texas fans not only receive a trip to Disney World, but they get to face an overrated blue blood program. Everyone in the Camping World Bowl wins with this matchup.
Meanwhile, the SEC continues to hand losses to the Texas Bowl and the Liberty Bowl this week. The SEC is so pathetic that a Tennessee team who lost home games to BYU and Georgia State is now 5-5 overall. That same team has Missouri and Vanderbilt remaining on their schedule. A 6-6 record is likely to happen. This week, Tennessee chooses to go to the Belk Bowl for proximity. They could also easily choose the Music City Bowl. However, the Tigers choose the Music City Bowl to avoid the Big 12. Thus, we see a theme that we've seen throughout the season. The Texas Bowl and the Liberty Bowl receive fill ins from a Group of Five conference. For the Texas Bowl, it remains as Nevada from the Mountain West Conference. For the Liberty Bowl, they choose an upstart Charlotte program because it's their first-ever bowl game.
The sad part is, the Big 12 might actually lose these games. It wouldn't be for lack of talent. It would be for mentality. While Nevada and Charlotte are stoked to face Power Five programs, Oklahoma State and Kansas State may not care. This is exactly what ESPN and the SEC want. ESPN gets to profit off Cinderella upsets. The SEC gets to point at the Big 12 and laugh and say "See, the Big 12 should never be in the College Football Playoff. This is exactly why we deserve multiple spots."
Finally, Iowa State faces a team who scores a bowl bid through APR scores. Duke is the No.3 team in the APR rankings. They are currently 4-5. Six teams receive bowl berths this week through APR scores. Now, we're releasing this after Tuesday. Eastern Michigan is now 5-5 and we have included their updated record. Meanwhile, Ohio is now 4-6. We left Ohio out because they are now two games under .500. The Bobcats are tied for No.28 in the rankings and would claim the second bid had we not updated the rankings to reflect their record as of Tuesday night.
None of the current ineligible teams are even close to an APR berth. TCU is tied for 73rd. This is 15 rankings behind the South Florida, who received the sixth and final APR berth.
Speaking of TCU, the Battle for the Saddle this week is almost a play-in game for a bowl berth. Both, TCU and Texas Tech, are 4-5 overall. With three games remaining, both schools have to play against a team who is currently ranked next week. Whoever loses this game must score a road upset. For TCU, they have to upset Oklahoma in Norman. For Texas Tech, they have to upset Texas in Austin. This is a game to watch this week. Both teams are duking it out for bowl eligibility.
As for Kansas and West Virginia, best of luck to them. They must win out. Both are on the road against ranked team. Kansas will play at Oklahoma State and West Virginia will play at Kansas State.
Alas, the current bowl picture is below.
College Football Playoff
Peach Bowl Semifinal: No.2 Ohio State (9-0) vs. No.3 Clemson (10-0)
Fiesta Bowl Semifinal: No.2 LSU (9-0) vs. No.4 Georgia (8-1)

Sugar Bowl, Big 12 Champion vs. SEC Champion
No.12 Baylor (9-0, 6-0 in Big 12) vs. No.5 Alabama (8-1, 5-1 in SEC)
-Baylor is the only unbeaten remaining in the Big 12.
-Georgia is in the College Football Playoff, leaving Alabama as the only one-loss SEC team remaining.
Alamo Bowl, Big 12 No.2 vs. Pac-12 No.2
No.10 Oklahoma (8-1, 5-1 in Big 12) vs. Southern California (6-4, 5-2)
-Utah scores the at-large bid for the Cotton Bowl. Oklahoma is the first team outside the New Year's Six Bowls. With Baylor being undefeated, Oklahoma falls to the Alamo Bowl.
-Southern Cal is the only 5-2 team in Pac-12 play.
Camping World Bowl, Big 12 No.3 vs. ACC first tier selection
No.19 Texas (6-3, 4-2 in Big 12) vs. No.16 Notre Dame (7-2)
-Texas is the final team with a winning Big 12 record.
-Notre Dame is allowed to fill in for ACC teams, except in the Orange Bowl. The Fighting Irish are ranked, unlike every ACC team with the exception of Clemson. Because of Notre Dame's ranking and the poor performance by the conference, the Camping World Bowl chooses Notre Dame.
Texas Bowl, Big 12 No.4 vs. SEC first tier selection
No.22 Oklahoma State (6-3, 3-3 in Big 12) vs. *Nevada (6-4, 3-3 in Mountain West)
-Oklahoma State owns the head-to-head tiebreaker over Kansas State.
-The SEC would has Tennessee and Missouri remaining for four bowls. It makes sense for Tennessee to choose the Belk Bowl because of its proximity to Charlotte. Missouri chooses to avoid the Big 12 and chooses to play in the Music City Bowl. Nevada fills in for the SEC and is chosen because the Mountain West is deemed a better conference than Conference USA and the MAC.
Liberty Bowl, Big 12 No.5 vs. SEC first tier selection
No.24 Kansas State (6-3, 3-3 in Big 12) vs. *Charlotte (5-5, 3-3 in Conference USA)
-Kansas State has a better overall record than Iowa State.
– As mentioned above, Missouri chooses the Music City Bowl. Charlotte is chosen because this would be their first bowl trip. The Liberty Bowl feels that this would draw a strong crowd.
Cheez-It Bowl, Big 12 No.6 vs. Pac-12 No.7
Iowa State (5-4, 3-3 in Big 12) vs. Duke (4-5, 2-3 in ACC)
-Iowa State is the final remaining bowl eligible team from the Big 12.
-Duke is an APR school. They are ranked No.3 in the APR standings and claim the first APR bid.
Ineligible
Texas Tech (4-5, 2-4 in Big 12)
Texas Tech scored a major victory towards bowl eligibility at West Virginia. They need two more victories. The next two games are at home. This weekend is a must-win. If they don't beat TCU at Jones AT&T Stadium, I don't see them beating Kansas State and Texas. They may beat Kansas State or Texas, but winning both is a tall order. This is especially true because Texas is on the road.
TCU (4-5, 2-4 in Big 12)
The Horned Frogs could totally wreck the Big 12. This team is so inconsistent it wouldn't surprise me to see them spoil Oklahoma's College Football Playoff hopes in Norman, but lose to Texas Tech and West Virginia. That's what happens when you place a solid defense with a true freshman quarterback. You have low scores and results that drives anyone affiliated with the program insane. Why? Because the defense will stop Heisman Trophy contenders, but can't score a freaking touchdown to save their lives. TCU needs to win two of its final three games. The first two are on the road. Their best shot is this week at Texas Tech. This means Max Duggan will have to perform accurate throws into what will likely be swirling winds. On the bright side, the last seven games of the Battle for the Saddle have been won by the road team. TCU has won two straight in Lubbock. It's doable. The loser of this game probably misses a bowl game.
Kansas (3-6, 1-5 in Big 12)
-Kansas has to win out to score a bowl bid. Their first task is to defeat No.22 Oklahoma State at Boone Pickens Stadium. This team is tied for 92nd in the APR rankings. The sixth and final bid came at 58th this week, which was South Florida. Best of luck to the Jayhawks! If only Kansas had protected its home field against Coastal Carolina. Coulda, shoulda, woulda.
West Virginia (3-6, 1-5 in Big 12)
-West Virginia is lucky to have one conference victory this season. I honestly feel Kansas has surpassed the Mountaineers this season. However, Neal Brown is a good coach. He has great potential to right this ship. With time and patience, I think he will. West Virginia might not be bowl eligible next season either, but they'll be competitive. Year three needs to be the turning point though. For the hell of it, we'll tell you who the first team West Virginia must beat in order to win out and claim bowl eligibility: at No.24 Kansas State. Hey! The Mountaineers are 1-0 in the State of Kansas so far! There's hope!
**We now have FREE Big 12 Forums here at Heartland College Sports. Go sign up here and join our conversation! **