Big 12 News
Tom Herman Criticized by Urban Meyer, Brady Quinn After Iowa State Loss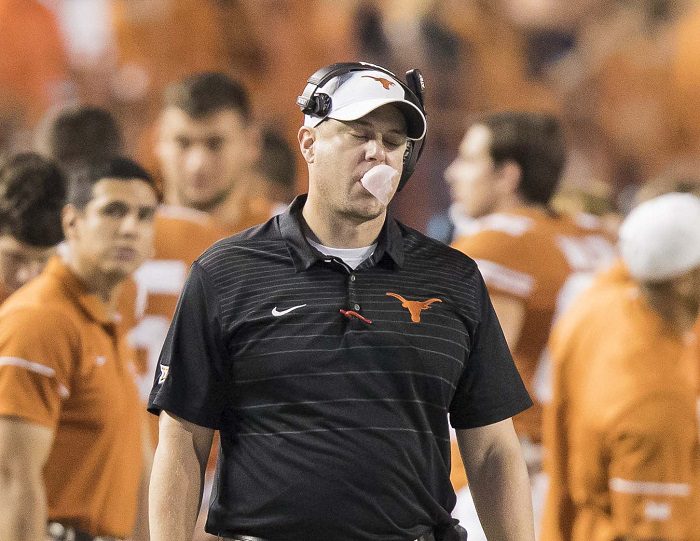 The Iowa State Cyclones finally won a close game on Saturday and it came at the hands of the Texas Longhorns, who saw their Big 12 title hopes go up in flames (although, statistically, they still have a chance).
The loss dropped Texas, who was ranked in the Top 10 to start the season, to 6-4 with two games remaining. One year after reaching the Big 12 Championship Game and beating Georgia in the Sugar Bowl, this is not the encore that Tom Herman or anyone involved with Texas football had imagined.
The Longhorns made a critical error with 2:12 to play when they jumped offsides ahead of Iowa State's 42-yard field goal attempt. This allowed ISU to run the clock down and eventually hit a 36-yarder as time expired for the 23-21 win.
After the loss, FOX Sports analyst Brady Quinn said, "To me, I think the thing that stood out to me is coaching. You have a fourth-and-four scenario, and Iowa State … they're going to try to draw the defense offsides. How Tom Herman doesn't have his team prepared for this moment where they aren't jumping offsides — even though this is a game-winning kick — that to me is a direct reflection of what Matt Campbell has done at Iowa State in coaching and where Tom Herman stands. Look I know there are a lot of injuries and young players on defense, but this team shouldn't be losing out to a team at Iowa State that hasn't recruited as well and doesn't have as many talented players as Texas does. It's disappointing — I think that's the only way you can put it — for Texas."
Then there was Urban Meyer, who was once Tom Herman's boss when he was the offensive coordinator at Ohio State before taking the head coaching job at Houston.
Meyer wasn't quite as direct in his criticism of Herman, but said, "There was a time when a game like that would have been a 'stop the presses' upset. It wasn't (today). Iowa State was picked to win. You watched the game, and Iowa State may have been the better team. Texas … they're recruiting well. A little bit like (Michigan), you might need to look under the hood and find out what's going on, because (that ending) shouldn't happen."
The Longhorns can get back on track with a road win against Baylor next Saturday.
**We now have FREE Big 12 Forums here at Heartland College Sports. Go sign up here and join our conversation! **