Big 12 News
Fox Sports 1 Broadcaster Apologizes For Awkward Moment Involving KU Receiver's Father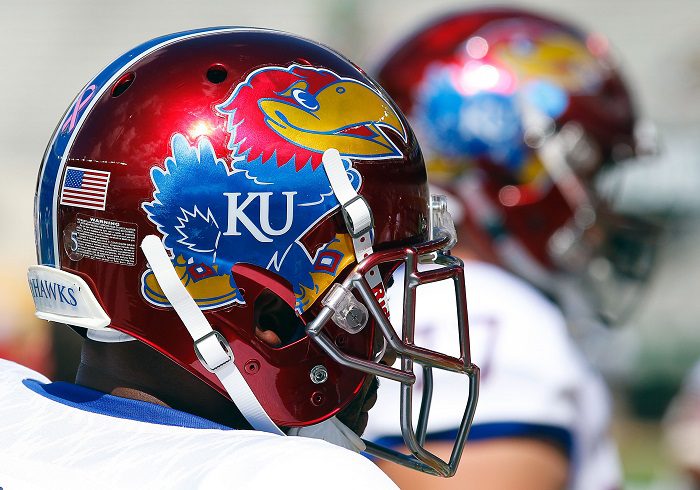 Studying up for a broadcast involves hours of work and pouring over game notes. However, the little details can even get by some of the best of them.
During Oklahoma State's 31-13 win over Kansas on Saturday, Fox Sports 1's Dan Hellie and Ben Leber of Fox Sports 1 talked about the father of KU receiver Kwamie Lassiter.
Leber went on to crack a joke, saying, "He is Kwamie Lassiter II. I played with Kwamie Lassiter the first, his father, when I was a member of the then-San Diego Chargers, so Kwamie if you're watching and listening, hope you're doing well. Hope everything's going well in Arizona for you, man."
Hellie added,  "Well, your former teammate has been busy. He has eight kids. Kwamie with seven brothers and sisters, so a big family. Hopefully they're all watching."
Well, no one apparently told Hellie and Leber that Lassiter Sr. passed away in January.
Here was how the exchange went down during the game.
From Fox Sports 1 broadcast pic.twitter.com/cMxESaqc4N

— For Pete's Sake KC (@ForPetesSakeKC) November 16, 2019
Leber, the former Kansas State star, apologized on Twitter:
Yeah, obviously never meant to disrespect. It totally slipped my mind. No excuses

— Ben Leber (@nacholeber) November 16, 2019
It doesn't get more awkward than that.
**We now have FREE Big 12 Forums here at Heartland College Sports. Go sign up here and join our conversation! **