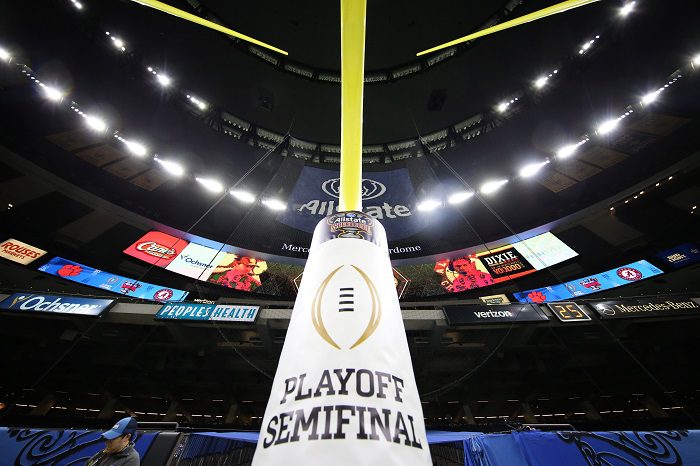 The postseason is the ultimate celebration for teams to celebrate their hard work through the course of the year. As we all know, the postseason for college football features a four-team playoff and several bowl games. Each conference has agreements with certain bowl games to send their respective teams to. Many websites use projections to show where they predict each team to go. Instead of projections, here is a version more similar to "bracketology". This is a live look at where teams would be if the season ended today.
The Big 12 is completely unpredictable this season. Because of this, the Big 12 probably isn't going to have a team in the College Football Playoff. In fact, there is a slim chance the league could have nine teams play in a bowl game. Let's not get our hopes up. For that to happen, TCU must win at Oklahoma this weekend. Of course, with the way this season has shaken out, would any of us be surprised if the Horned Frogs actually do pull off the upset?
The notable out of conference game for this week is No.9 Penn State at No.2 Ohio State. The entire Big 12 should be rooting for the Nittany Lions this weekend. At this moment, Penn State is taking a bid away from the SEC in the Orange Bowl. The Big 12 and Pac-12 do not have a tie-in to that bowl game. If Ohio State loses, they at least fall behind Clemson and Georgia. They likely fall out of the College Football Playoff. The Buckeyes are the only remaining unbeaten team in the Big Ten Conference. It would tremendously help the Big 12's argument. If the Big Ten is shutout of the Playoff. Their second bid might be to the Orange Bowl rather than the Cotton Bowl. Every conference is eligible for the Cotton Bowl. Right now, Utah has that bid. However, they'll have to meet with Oregon in the Pac-12 Championship Game. The Pac-12 is virtually guaranteed to miss the Cotton Bowl.
Looking at the Big 12 Championship picture, Iowa State is out. However, Texas and Oklahoma State are still in. If Oklahoma loses this weekend, Oklahoma State can get into the Big 12 Championship by winning out. If Texas defeats Baylor this weekend, the Longhorns will be playing for a chance to appear in the Big 12 Championship Game when they host Texas Tech. Now, of course, Baylor has Kansas the final weekend. The Bears should win that game. Thus, it's not likely Texas makes the trip to Arlington this year. If Oklahoma or Baylor win one game, they clinch their berth.
Looking on down the list. Iowa State and Oklahoma State are likely battling to play Notre Dame in Orlando. The Cowboys hold that position right now, but Iowa State has the easier schedule. If the Cyclones defeat Kansas State and Oklahoma State loses Bedlam, I can see Iowa State playing in the Camping World Bowl. Of course, if Texas wins out with the same scenario, you know that the Camping World Bowl is going to invite the Longhorns over Iowa State for the coveted matchup between two blue blood programs with massive fan bases that reach a global audience. Iowa State and Oklahoma State fans are rooting for Baylor this weekend to keep Texas from having any shot to take them over. The Camping World Bowl is probably the most coveted right now for that shot at Notre Dame. In the Alamo Bowl, the opponent is likely the loser of the Pac-12 Championshp. This could be Utah, a team that was playing in the Mountain West Conference one decade ago.
If TCU defeats West Virginia, they are almost guaranteed the spot in the First Responders Bowl. They lost to Kansas State and are only 6-6. I hope the Horned Frogs fans will show up because whatever Conference USA team they play against will be giving TCU their best shot. A home field advantage would greatly help TCU's image and their players. Kansas State is probably happy with any bowl. I don't see them falling. In fact, the Cheez-It Bowl is their worst case scenario. If the Wildcats beat Texas Tech, they will have the opportunity to overtake Iowa State in Farmageddon. Texas, on the other hand, is in a position of insanity. The Longhorns are currently in the Liberty Bowl after losing to Iowa State. They can still win the Big 12 which would place them in the Sugar Bowl. However, if they lose out, Texas Tech and TCU jump over the Longhorns. This would place Texas as a fill-in. At 6-6, they could be passed up in more prominent bowls by Liberty. A team with a winning record must be selected before a team with a .500 record. It's a crazy scenario, but Texas might wind up playing in the Birmingham Bowl. Longhorns fans should definitely wait to purchase their flights and hotels. They are the team that has the least idea of their bowl destination. And if you think Texas Tech can't beat the Longhorns, I suggest you ask Baylor and Oklahoma State about their feelings regarding them as an opponent. Tom Herman is the type of coach that would scoff at a game against a 5-6 Tech squad and lose it. He's also the type of coach that could lead this team to a victory over any of the teams in the College Football Playoff right now. This year's Longhorns have reflected exactly that. They lost to TCU and nearly dropped a home game to Kansas. On the other hand, they've gone toe-to-toe with the current No.1 team in the nation as well as Oklahoma.
As for Texas Tech and West Virginia, they aren't officially out of it yet. In fact, if you are a Big 12 fan, you hope these two teams win this weekend. A West Virginia victory guarantees the conference seven bowl bound teams. If Texas Tech wins out, there are likely eight bowl teams. Now, if TCU does shock Oklahoma, it probably hurts the conference in the sense that the Big 12 is officially out of the College Football Playoff race. However, there's also the possibility that nine of ten teams play in a bowl game. That's something to tip your cap to. This is especially true since the Big 12 had a strong display during pre-conference play. The worst team in the league won at a Boston College team likely going to a bowl. TCU humiliated a Purdue team that humiliated Vanderbilt. Suck it, SEC! Kansas State provided the conference a road victory against an SEC West team. Oklahoma State and Oklahoma secured victories against teams in the top half of the Pac-12 Conference (You'd be surprised at the Pac-12 standings). Iowa State played down to the wire against a top-20 team from the Big Ten, which just so happened to upset an unbeaten Minnesota team. This is a strong conference and the fact it can possibly have nine teams play in a bowl is just insanity. It's unlikely, but we've seen crazier things happen this year.
Alas, the current bowl picture is below.
College Football Playoff
Peach Bowl Semifinal: No.2 Ohio State (10-0) vs. No.3 Clemson (11-0)
Fiesta Bowl Semifinal: No.1 LSU (10-0) vs. No.4 Georgia (9-1)
Sugar Bowl, Big 12 Champion vs. SEC Champion
No.9 Oklahoma (9-1, 6-1 in Big 12) vs. No.5 Alabama (9-1, 6-1 in SEC)
-Oklahoma holds the head-to-head tiebreaker over Baylor.
-Georgia is in the College Football Playoff, leaving Alabama as the only one-loss SEC team remaining.
Alamo Bowl, Big 12 No.2 vs. Pac-12 No.2
No.14 Baylor (9-1, 6-1 in Big 12) vs. No.23 Southern California (6-4, 5-2)
-Utah scores the at-large bid for the Cotton Bowl. Baylor's loss to Oklahoma drops them out of a New Year's Six bowl.
-Southern Cal is the only 6-2 team in Pac-12 play.
Camping World Bowl, Big 12 No.3 vs. ACC first tier selection
No.21 Oklahoma State (7-3, 4-3 in Big 12) vs. No.16 Notre Dame (8-2)
-Oklahoma state has a better overall record than Iowa State and Texas.
-Notre Dame is allowed to fill in for ACC teams, except in the Orange Bowl. The Fighting Irish are ranked, unlike every ACC team with the exception of Clemson. Because of Notre Dame's ranking and the poor performance by the conference, the Camping World Bowl chooses Notre Dame.

Texas Bowl, Big 12 No.4 vs. SEC first tier selection
No.22 Iowa State (6-4, 4-3 in Big 12) vs. *Toledo (6-5, 3-4 in MAC)
-Iowa State owns the head-to-head tiebreaker over Texas.
-The SEC has three teams remaining after it fills the bowl games in Florida (Outback, Taxslawer Gator, and Citrus). With Missouri choosing to avoid the Big 12, Tennessee and Kentucky are leftover. All three other bowls are easier to get to from the SEC East schools. Thus, the Texas Bowl is left with a fill-in team. Toledo is chosen over Eastern Michigan and Liberty. The Texas Bowl must choose from these three because they have winning records.
Liberty Bowl, Big 12 No.5 vs. SEC first tier selection
Texas (6-4, 4-3 in Big 12) vs. Kentucky (5-5, 3-5 in SEC)
-Texas is the final team with a winning record in Big 12 play.
– The SEC steps in to let Missouri take the Belk Bowl and avoid the repeat of a recent Missouri vs. Texas bowl matchup. Kentucky is closer to the Liberty Bowl than the Texas Bowl, so the Wildcats choose to go to Memphis.
Cheez-It Bowl, Big 12 No.6 vs. Pac-12 No.7
Kansas State (6-4, 3-4 in Big 12) vs. Washington State (5-5, 2-5 in Pac-12)
-Kansas State is the final remaining team from the Big 12 with a winning overall record.
-Washington State is the final bowl eligible team from the Pac-12.
First Responders Bowl, Big 12 No.7 vs. Conference USA
TCU (5-5, 3-4 in Big 12) vs. Louisiana Tech (8-2, 5-1 in Conference USA)
-TCU is the final remaining bowl eligible team from the Big 12.
-Louisiana Tech has the best overall record in Conference USA.
Ineligible
Texas Tech (4-6, 2-5 in Big 12)
It's do or die for the Red Raiders here on out. However, if there is one team likely to scoot by, It's Tech. Kansas State has fallen from grace and seems to be vulnerable at the moment. The Wildcats must go into Lubbock. I can't emphasize how crucial a bowl game would be for Matt Wells in his first season. It would give him extra practices, an extra selling point to recruits, and it provides the Red Raiders with publicity. The fanbase is almost completely apathetic after a decade of mediocrity starting with Kent Hance's controversial feud which ended up with Mike Leach being fired. If Wells is going to be the next home run hire by Kirby Hocutt, a bowl appearance is necessary. This isn't basketball or baseball where you can turnaround a team of single digit starters.
West Virginia (4-6, 2-5 in Big 12)
-HOLY MORGANTOWN! What a victory for Neal Brown and his crew. Just when we write off West Virginia, the Mountaineers go into the Little Apple and knock off a ranked Kansas State team. To be honest, West Virginia is probably missing a bowl game. The hottest team in the Big 12 Conference will stroll into Morgantown this weekend and I don't see this team stopping Chuba Hubbard. If West Virginia somehow, someway pulls off the upset, the Big 12 will be guaranteed a seventh bowl eligible team as a 5-6 West Virginia team would visit TCU Nov. 29.
Relying on APR scores
Kansas (3-7, 1-6 in the Big 12)
I doubt Kansas fans are even reading this. It's officially basketball season in Lawrence. I'm not going through the trouble of figuring out which teams Kansas needs to watch just to hope fan an APR bid. I'll make you guys a deal. If Kansas wins at Iowa State, I will run through the APR rankings and let Jayhawks fans know every team who is in front of them for APR bid. Here's the thing though. Even if Kansas beats Iowa State, they have to play Baylor in their final game. Let's be honest. Kansas is finishing 3-9 this season. But hey! It was a fun 3-9 season.
**We now have FREE Big 12 Forums here at Heartland College Sports. Go sign up here and join our conversation! **