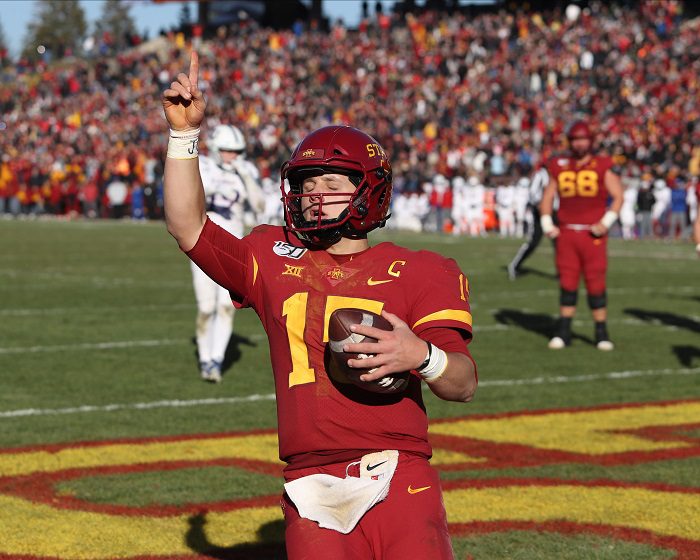 The Cyclones entered Saturday's Senior Day against Kansas as 25-point favorites. But with minutes to play in the fourth quarter, Iowa State found itself just trying to hang on for an outright win over Les Miles' pesky Jayhawks. 
KU actually put the first points of the game on the board thanks to a Liam Jones 36-yard field with 6 minutes to play in the first. Iowa State responded with a five-play, 75-yard drive in which Brock Purdy found La'Michael Pettaway for a 25-yard score. One more KU field goal was tacked on the board as the Jayhawks trailed 7-6 after one quarter as they were trying to win a Big 12 road game for the first time since October 4th, 2008, which was against, you guessed it, Iowa State.
The second quarter was a rough start for KU when Liam Jones missed a 35-yard field goal that would've put KU back on top. Then it was relatively quiet until late, when Brock Purdy led a 15-play, 80-yard drive, ending with a Breece Hall one-yard touchdown run to put the Cyclones on top 14-6. KU drove 85 yards down the field before halftime and knocked through a field goal to make it a 14-9 game heading into halftime. 
In their first drive of the second half, Iowa State scored a touchdown as Purdy found Pettaway again from four yards out to take a 21-9 lead. It felt like Iowa State was starting to control the game, but KU had other thoughts. After KU forced a turnover on downs at their own 38-yard line, the Jayhawks strung together 10 plays for 62 yards as Carter Stanley found Pooka Williams on a wheel route for a 27-yard touchdown. Suddenly, it was 21-16 and KU was feeling that momentum.
KU took it up a notch when on the next drive, Purdy was picked off by Mike Lee and KU turned it into seven points as Stanley found Carter Roe four plays later in the end zone. Following a two-point conversion, the Jayhawks were leading 24-21 at the end of the third quarter and were 15 minutes away from their first road win since these players were in elementary school. 
That drive would be the first of four by both teams combined that would result in touchdowns. Iowa State took a 27-24 lead after Purdy hooked up with Breece Hall from 24 yards out, but they'd miss the extra point. Then Carter Stanley responded, finding Stephon Robinson for a 40-yard score. 31-27 KU. Suddenly, we had a track meet unfolding in chilly Ames. 
However, that's when Iowa State methodically put together a nine-play, 71-yard drive that took up over five minutes and ended with Purdy running from five yards out for a touchdown and a 34-31 lead with just over five minutes left. 
Kansas took over at its own 32 yard line and Les Miles decided to go for it on 4th and five from his own 37, which resulted in an incomplete pass from Carter Stanley. Iowa State had the ball with four minutes to go in KU territory. And the game came down to a fourth and goal from the four-yard line. Matt Campbell decided to go for it and his quarterback made him look like a genius. Purdy slowly rolled out right and found a wide open Sean Shaw Jr. for a score to put this game away and clinch a 41-31 win for Iowa State.
The win avoids a disaster for Iowa State, who was ranked in the Top 25 of the latest College Football Playoff polls. The loss would've also hurt the strength of schedule for the teams atop the Big 12, most notably Oklahoma, who is still holding out hope for a potential spot in the CFB Playoff. 
The Cyclones improved to 7-4 on the season and 5-3 in Big 12 play. They'll wrap up the season at Kansas State next weekend. Meantime, KU fell to 3-8 overall and 1-7 in Big 12 play. They'll close out the season next weekend at home against No. 14 Baylor.
**We now have FREE Big 12 Forums here at Heartland College Sports. Go sign up here and join our conversation! **