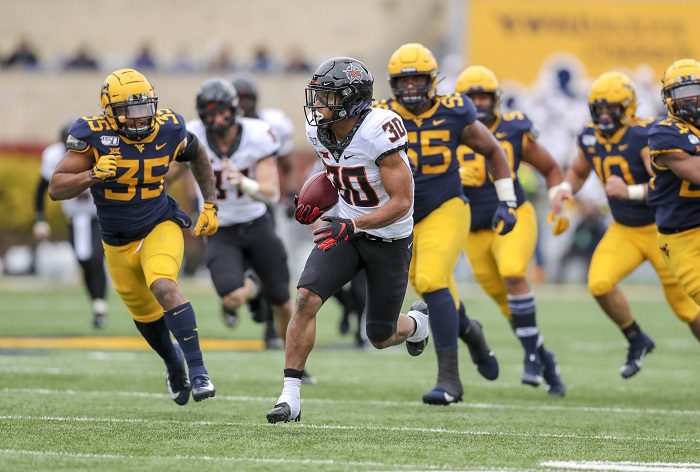 It was the final full slate of Saturday games in the Big 12, and while most games don't have Big 12 title implications, there were still some important match ups as bowl spots continue to be up for grabs. That was certainly this case in Morgantown where West Virginia was hosting Oklahoma State.
Oklahoma State came into the day sitting at 7-3 and still had a very slight chance of making a Big 12 title appearance, but the Pokes needed a lot of help. Not to mention, starting quarterback Spencer Sanders would be out as well with a thumb injury. Meanwhile, after an upset win in Manhattan, the Mountaineers came into the day at 4-6 and had to win out to make a bowl game this season.
The Cowboys offense had themselves one heck of a drive to start off the game as they marched down the field in 11 plays. On the final play of the drive, quarterback Dru Brown found tight end Jelani Woods for a two-yard touchdown pass to go up 7-0. Unfortunately for Oklahoma State, this would be there only score of the first half as their other drives would end in punts. Two of the three final possessions were quick three and outs for the offense. 
Meanwhile West Virginia was able to move the ball in the first half. After going three and out on their first drive, Mountaineers kicker Evan Staley missed a 47-yard field goal on their next drive, but was able to redeem himself as he drilled a 22-yard kick on the following drive. On that drive, the West Virginia offense took a whopping six minutes and 31 seconds off the clock. Following the field goal, West Virginia would score once more in the half as quarterback Jarret Doege found wide out George Campbell for a 34-yard touchdown pass to put West Virginia up 10-7. Even though West Virginia outgained Oklahoma State 205 to 119 in the first half, the Mountaineers led by just three (10-7) at the break. 
While the Cowboys really struggled on offense in the first half, they were better in the second half as they found a way to outscore West Virginia 13-3 in the final two quarters. Oklahoma State would score on three of their final five drives as Matt Ammendola kicked two field goals and with Dru Brown's touchdown pass to Dillon Stoner.
As Oklahoma State was finding a way to score points, the Mountaineer offense really struggled in the second half. After a three and out, West Virginia was able to put three on the board after a lengthy 11-play drive thanks to an Evan Staley 29-yard kick. After that, West Virginia would go three and out once more before putting together a drive to try and tie the game late in the fourth quarter. Unfortunately for West Virginia, that drive came to a screeching halt as they faced a fourth and long deep in Oklahoma State territory and couldn't convert. The Cowboys would go on to run out the clock and escape Morgantown with a 20-13 victory.
While this win wont change much for Oklahoma State, an 8-3 record looks a lot better than 7-4. It was nice to see the offense improve in the second half under Dru Brown, and of course, running back Chuba Hubbard went for over 100 yards on the day. 
As for West Virginia, it was a tough loss. Just as things were going well in the first half, the second half didn't go as planned and the offense stalled out. While new quarterback Jarret Doege seems like an upgrade from Austin Kendall, there are still many issues on offense for this team, such as a lack of a running game as they put up a measly 26 rushing yards on the day. Probably the biggest thing for West Virginia is that they will likely miss out on a bowl game as they now have dropped to 4-7 on the year.
**We now have FREE Big 12 Forums here at Heartland College Sports. Go sign up here and join our conversation! **