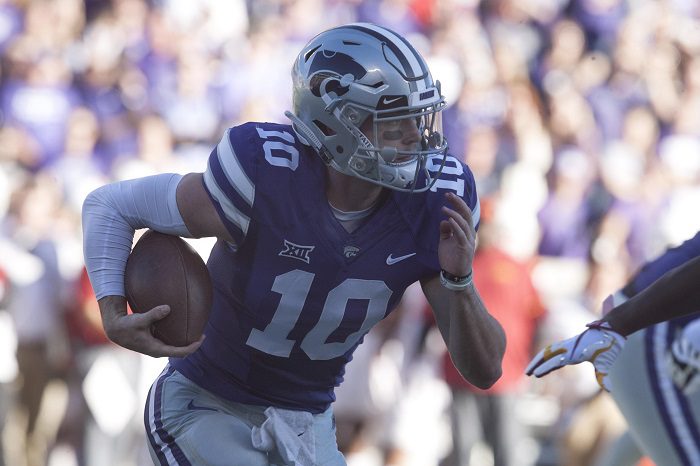 This certainly wasn't a marquee match up on the conference slate this weekend but still, there was some importance to this game. Well, at least for one of these teams. Texas Tech entered the day sitting at 4-6 and needing to win out if they want to go bowling this season. Not to mention, it was senior night in Lubbock as the senior class will hit the field one last time inside Jones AT&T Stadium. Meanwhile for Kansas State, while they have already clinched a bowl berth at 6-4, head coach Chris Klieman would like to rack up a couple more wins before the season ends. With both team going backwards as of late, someone was going to come out of this game feeling like they turned it around.  
If you are a fan of Big Ten football, boy were you in for a treat in the first half. Kansas State went three and out on the first two drives to start the game. Then on their third drive, the Wildcats managed to put the first score on the board by way of a Blake Lynch 32-yard field goal to go up 3-0 with the help of a Jett Duffey interception. Lynch wouldn't be done kicking in the first half either because following his kick, he would go on to nail in another 32-yarder and miss a 45-yard attempt before as the second quarter came to an end. 
As for Texas Tech, it was about as sloppy of a first half you could have. On offense at least. The Red Raiders had a total of six offensive possessions in the first half and they only managed to get three points out of all those drives thanks to a Trey Wolff field goal from 44-yards out. Whether it was quick three an outs or a turnover, the Texas Tech offense just simply could not get going in the first half. 
Most of the time, both offenses could move the football but time in and time out both offenses seemed to stall out on third down. In fact, both teams combined to go 3/13 on third down. Whether you want to call it good defense or bad offense, the first half came to an end with Kansas State on top 6-3.
For all you defensive nuts out there, you may want to stop reading but if you like your normal weekend dose of Big 12 offense, you may want to stick around. In a series of craziness, we saw four-straight touchdowns combined from both teams. The Wildcats started the touchdown party off with a nine-play drive that ended with a 14-yard touchdown pass from Skylar Thompson to Phillip Brooks. Following the Kansas State score, Tech one upped the Wildcats as their offense went on a long twelve play drive that resulted five-yard SaRodorick Thompson touchdown run to make it a 13-10 game. 
But the madness wasn't done there because following the Texas Tech answer, Kansas State's Joshua Youngblood took the kickoff back one-hundred-yards for the big score. Just like that, the Wildcats were up 20-10 in a matter of seconds. The scoring fest wasn't quite down however because once Tech got the football back, they made they most of it when Jett Duffey hit Erik Ezukanma for a 21-yard touchdown pass to pull Tech within three halfway through third quarter. 
After all the back and forth touchdowns, it was the kickers turn to get involved as both Blake Lynch and Trey Wolff knocked in a field goal for their respective teams. After the last kick, it was 23-20 Kansas State early in the fourth quarter. Kansas State would score once more as Skylar Thompson found Chabastin Taylor for a big touchdown pass to give the Wildcats a 30-20 lead. 
Both quarterbacks would trade picks, but following a Skylar Thompson interception, Texas Tech would score on a fourth and eight from their own 42-yard line as Jett Duffey hit RJ Turner for a 58-yard touchdown strike to cut the Kansas State lead back down to three with just a little under four minutes to play. However, that would be the last time Texas Tech saw the football because Kansas State would run down the clock on their final drive to win 30-27. 
Even though it was a sloppy win, a win is a win in the Big 12 and the Wildcats will move to 7-4 on the year. With one game left against Iowa State at home, Kansas State has a shot to finish the regular season at 8-4. Chris Klieman has done a heck of a job in his first year. 
As for the Red Raiders, they fell to 4-7 and their bowl chances are gone. Although they outgained Kansas State 512 to 372, Texas Tech just couldn't always put it all together. Tech wraps up the season against a reeling Texas team next week, while Kansas State hosts Iowa State.
**We now have FREE Big 12 Forums here at Heartland College Sports. Go sign up here and join our conversation! **