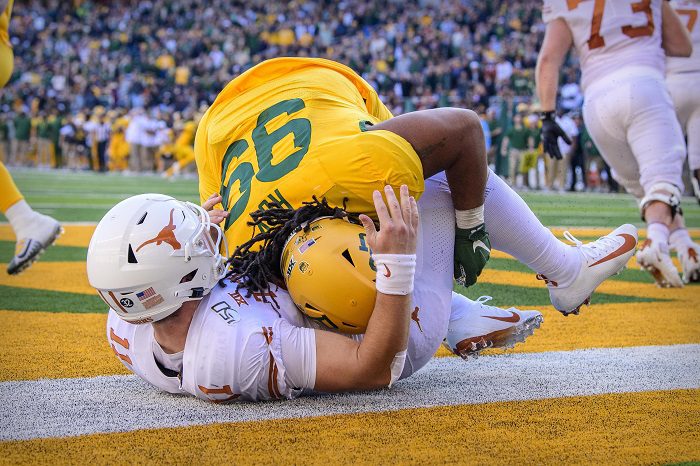 I hear it all the time, "Who has the best conference in college football?" SEC? Big 10? ACC? What about the Pac-12? Very rarely are you going to hear the words "Big 12" coming out of someone's mouth in that conversation. Whether you do it or not, there are plenty of folks out there who love to bash the Big 12 conference (cough, Paul Finebaum, cough). Week thirteen has come and gone and in the Big 12, there is never just a normal weekend and that once again proved to be true this past weekend. From good games, to eye sores, there was some good, some bad and some downright ugly.
The Good
Iowa State (Beat Kansas 41-31)
Depending on which Iowa State fan you talk to, this was a disappointing game in some people's eyes. Well not, me because you know the rule. If you win, you are in my good graces and in the good column. The Cyclones raked up nearly 500 yards of total offense in this one and quarterback Brock Purdy had a day with 372 yards and 4 touchdowns. His favorite target in this game? La'Michael Pettway who went off for 96 yards and 2 touchdowns. Of course, tight end Charlie Kolar had his fair share of targets too with 6 grabs for 100 yards. While the offense didn't always look great, they went off in the fourth quarter for 20 points. Meanwhile, the defense had a bit of a rough game as they allowed Kansas to get 493 yards. In the first half the defense held Kansa to field goals but in the second half, they allowed touchdowns. That was the biggest difference in the game. Still, Cyclone fans should still be grateful. They are now 7-4 with a chance to finish 8-4 and will be off to their third straight bowl game. Maybe it's not Jerry World but still, this program is trending up.
Oklahoma State (Beat West Virginia 20-13)
Let me start by saying this defense has been playing well as of late. In their last five games, they haven't allowed more than 27 points. On Saturday, they gave up just 13 points and 333 yards. I don't care who they play but if they keep this type of play up, then I can't wait to see what the do to finish the season and next year as well. With that said, the offense was what helped West Virginia stay in the game. I know that Tylan Wallace and Spencer Sanders are out but quarterback Dru Brown was just ok in this game. Sure, he didn't turn the ball over which is key but there wasn't that same pop to the offense with him running the show. With running back Chuba Hubbard leading the charge, this offense did just enough to escape Morgantown with a win. It's not often that you see Oklahoma State put up 20 points and win.
Baylor (Beat Texas 24-10)
Baylor simply dominated this game from start to finish. While the Charlie Brewer to Denzel Mims connection stayed hot, it was the running game for Baylor that really helped. However, this game wasn't about the Baylor offense. It was about the Baylor defense that held Texas to just three points before late in the fourth quarter. The Bears sacked Texas quarterback Sam Ehlinger five times on Saturday and did a great job all game long getting pressure on him. As usual for Baylor, the offense did just enough to win while the defense did the heavy lifting. With the win, Baylor has clinched a spot in the Big 12 title game against Oklahoma in Jerry World. Hats off to head coach Matt Rhule. From 1-11 in 2017 to now 10-1 in 2019. What a turnaround.
Kansas State (Beat Texas Tech 30-27)
I must give Kansas State some love here. They didn't run the ball very well which is the bread and butter on offense, but they made just enough big plays to win the game on the road. Whether it was the Skylar Thompson big throw to Chabastin Taylor, or Joshua Youngblood's big kickoff return for a score, this team made big plays when needed which hasn't happened much this season. While the defense played about as well as you could in the first half, the second half they fell apart a little bit. Not to mention the nine penalties they had on Saturday. Still, a win is a win and Kansas State got one on the road in Lubbock. You can't ask for much more if you are a Kansas State fan.
Oklahoma (Beat TCU 28-24)
It certainly wasn't always pretty but the Sooners got the job done. Quarterback Jalen Hurts didn't have his best game by any means either which makes this win big for Oklahoma. While the passing game struggled, the run game took over for the Sooners as they racked up 366 yards on the ground with Jalen Hurts and Kennedy Brooks leading the way. Without two turnovers from Jalen, Oklahoma probably wins this game more comfortably. With that said, I though the defense didn't play all that bad. They allowed just 65 passing yards on the game and jut 204 total yards. Not to mention, they held TCU to just 1 for 9 on third down. As crazy as it sounds, the defense won the game for Oklahoma. Also, it will help the Sooners that some other top ten teams lost this past weekend.

The Bad
Kansas (Lost 41-31 to Iowa State)
After settling for field goals in the first half, Kansas finally starting scoring touchdowns in the second half and led Iowa State at one point in the fourth quarter. The offense moved the ball well all game long and give credit to quarterback Carter Stanley who played a good game with 328 yards and 3 touchdowns. Also, Pooka Williams Jr. played well too gaining 154 yards on the ground. While the offense was doing their thing, it was the defense that collapsed in the fourth quarter. Through three quarters the defense allowed just 21 points before giving up 20 in the fourth quarter alone. Not to mention, they gave up almost 500 yards. Without question, the offense was good enough to win but the defense continues to struggle for Kansas. The Jayhawks are now 3-8 on the year with Baylor left at home.
West Virginia (Lost 20-13 to Oklahoma State)
Much like their opponent, I thought their defense played very well. I know the Cowboys were short handed but when you hold a team to just 20 points at home, that should be more than enough to win. They held the Cowboys to under 300 yards of offense as well. However, it's the offense that continues to struggle. Quarterback Jarret Doege threw for 301 yards and a score but there were too many times were the offense just stalled out. They would either go three and out or kick a field goal after a long drive. That's not going to cut it and not to mention, the run game continues to be a huge issue. The offensive line has been bad, and it shows as the Mountaineers had just 26 yards on 22 carries. With the loss, West Virginia falls to 4-7 and will miss out on a bowl game for just the second time since 2002.
Texas Tech (Lost 30-27 to Kansas State)
The offense scored three points in the first half. That should tell you just about everything you need to know for the first half of this game. While the offense scored just three points in the first half, the defense allowed only six points in the first two quarters. In the second half, both teams had an offensive explosion and Tech just came up short. Jett Duffey had one hell of a game with 334 yards and 2 scores and his favorite target was RJ Tuner who went off for 141 yards and a score. Heck, even the run game got going in the second half as well. But just when the offense started clicking, the rest of the team broke down. The defense gave up some big plays in the passing game and the kickoff team gave up a big kickoff return that went for a score. That's kind of been the story for this team this season. When one side of the ball does well, the other side collapses. While Tech will miss out on a bowl game this season, I will say that controversial incomplete call by the goal line was a complete joke. KeSean Carter caught it and scored. I don't care what the stupid Big 12 refs say. Yet again, the Red Raiders get the short end of the stick when it comes to officiating.
TCU (Lost 28-24 to Oklahoma)
I feel bad for TCU. Their defense kept them in the game by forcing turnovers although you can't give up over 300 yards rushing on the road and expect to win. With that said, they did enough to win the game I feel like. Holding Oklahoma under 30 points is no easy task and the Frogs somehow managed to pull that part off. Of course, it wasn't all sunshine and rainbows because the offense simply didn't do enough as usual. The passing game from Max Duggan was pathetic as he threw for just 65 yards and an interception. 204 yards of offense just simply isn't going to cut it in the Big 12 especially against a team like Oklahoma. This is nothing new for TCU because all season long, the offense has struggled. With that said, I though TCU got absolutely screwed on the late first down call for Oklahoma on third down to ice the game. It wasn't even close and while there were other moments where TCU could have one, I am not going to give a pass to the refs who reviewed the play and didn't even bother to change the call. With the loss, TCU falls to 5-6 and must beat West Virginia to reach a bowl game this year.
The Ugly
Texas (Lost 24-10 to Baylor)
What an absolute dumpster fire in Austin right now. The Longhorns pulled a complete no show in Waco and after a tough loss in Ames, they follow that with a beatdown in Waco. Not a good look for Tom Herman and company, especially considering he was head butting players before the game! The offense was a complete disaster. They didn't move the football well and it took nearly the entire game to get inside the red zone. Sure, they rushing stats look good but make no mistake, this offense was pathetic. There needs to be some serious staff evaluations come offseason. As for the defense, they did what they could be keeping them in the game but ultimately fell apart as the game went on. The essentially got zero help from the offense in this one. This team is a complete crap show right now. They are undisciplined in just about every aspect of the game right now and that falls squarely on the should of head coach Tom Herman.
Powered by RedCircle
**We now have FREE Big 12 Forums here at Heartland College Sports. Go sign up here and join our conversation! **