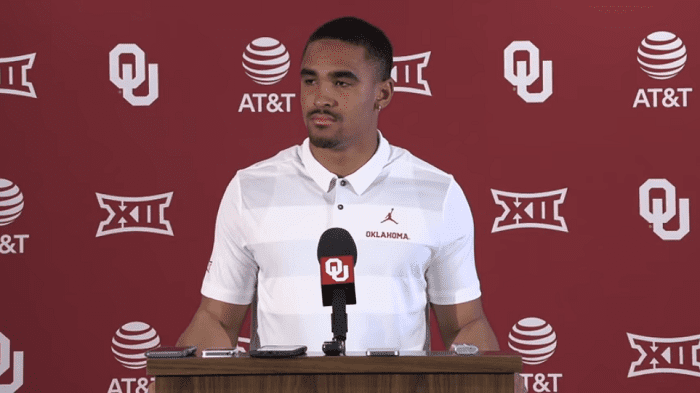 It's Beldman week. The state of Oklahoma is gearing up for a big match up on Saturday night in Stillwater.
For OU quarterback Jalen Hurts, it's his first, and will be his only time, playing in this rivalry game. Granted he spent time around Alabama-Auburn, so he knows intense rivalries.
But one thing Hurts does not know much about is Stillwater, Oklahoma. After being questioned during his Monday teleconference as to whether or not he's been to Stillwater, and responding, "no", Hurts was then asked if he had ever been to the Stillwater Staple, Eskimo Joe's. His response: "What's that?"
Jalen Hurts was asked if he's ever heard of Eskimo Joe's in Stillwater.

"What's that?"

Full Video ▶️ https://t.co/gG0GLcqUdN#OUDNA | #BoomerSooner pic.twitter.com/tyEG4NqLhl

— Sooner Gridiron (@soonergridiron) November 25, 2019
It was actually a pretty funny back and forth. And in fairness to Hurts, if you did not know what Eskimo Joe's was, which I didn't when I first moved too Oklahoma (Woodward) in 2011, would you assume it was a restaurant? Could it be a store with kinky bedroom items? Sure sounds like. A local gas station with good _____? Maybe. It could be anything. It could be nothing!
Hurts asked if it was "famous or something", and then the reporter asked if he liked cheese fries (an Eskimo Joe's staple), to which Hurts said, "No, I don't."
Hurts was underrated-ly funny in this conversation and this back-and-forth already has me juiced up for Saturday night in Stillwater.
**We now have FREE Big 12 Forums here at Heartland College Sports. Go sign up here and join our conversation! **