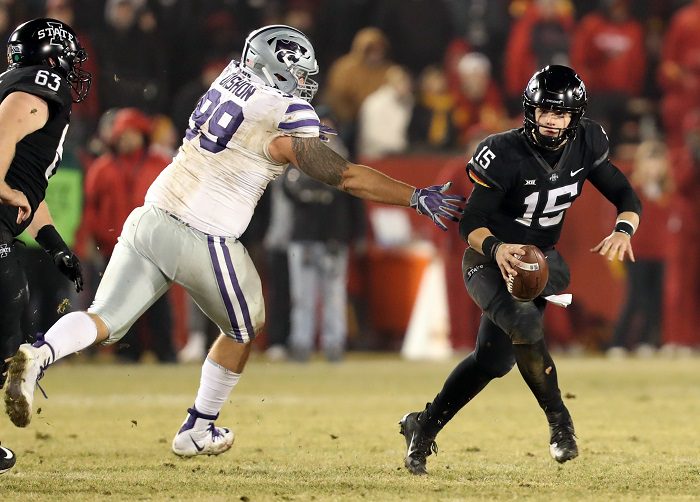 Here is everything you need to know about the upcoming Big 12 game in our Iowa State vs. Kansas State preview and prediction.
Game Info
6:00 p.m. Central Time, Saturday November 30th, 2019, Bill Snyder Family Stadium, Manhattan, Kansas.
TV: FS1
Iowa State Radio: Cyclone Radio Network
Kansas State Radio: K-State Sports Network
Spread: Iowa State (-4.5)
Fun Fact: This annual football matchup as been deemed as "Farmageddon" which is one of the best rivalry names in college football. Since 2008, Iowa State has beaten Kansas State just once (2018) and they have not beaten the Wildcats in Manhattan since 2004.
Key Players
Iowa State
QB Brock Purdy
Outside of his performance against Oklahoma State, Brock has been having an incredible season. He has thrown for 26 touchdowns on 9 picks and he is completing 67.5% of his passes this season which is incredible for a true sophomore. Not to mention, he has added 8 rushing touchdowns as well with over 250 yards rushing. He is going to need to have a solid performance on the road to beat Kansas State. I would say outside of Jalen Hurts, Brock Purdy is the next best quarterback in the Big 12.
DT Ray Lima
While he has had a quiet year, Ray is still one of the best interior defensive linemen in the Big 12. He is a guy who can eat up blocks and let other make plays but unlike your average interior player, he can create havoc on his own to disrupt an offense. He will need to help control the line of scrimmage against a Kansas State offense that loves to control the game on the ground.
Kansas State
QB Skylar Thompson
Maybe his arm won't scare you as he has just thrown 12 touchdown passes on the year while completing just 59% of his passes this season, but Skylar is a threat in the run game. He has a career high 10 rushing touchdowns this season and has been key for the Wildcats in the red zone. If he can't throw the ball well against Iowa State or if the running game struggles, Skylar may have to create a little magic of his own with his legs.
DE Wyatt Hubert
Kansas State doesn't exactly have a ferocious pass rush, but Wyatt Hubert appears to be their best pass rusher this season. He has seven sacks on the year and leads his team in tackles for loss. With this Iowa State's offense humming, Wyatt will be relied upon to get to Iowa State quarterback Brock Purdy early and often to cause havoc.
Game Plan
Iowa State
For the offense, I think being balanced will be key. For those who don't know, Iowa State has the number one passing offense in the Big 12 and while I am not saying Kansas State will match up perfectly, the Wildcats passing defense hasn't been all that bad this season. Perhaps the biggest weakness for the Kansas State defense has been against the run as the Wildcats rank towards the bottom of the conference. While I think the Cyclones should take advantage of that with running back Breece Hall, I think the running game will set up the passing game nicely and watch out for Charlie Kolar the tight end here. Defensively, it's all about stopping the run. You stop the run against Kansas State, good things will happen.
Kansas State
Iowa State can score some points with their air attack. That means Kansas State should try and do what they do best which is of course running the football and controlling the game. The Wildcats are first in time of possession in the Big 12 and it gives them the best chance to win ballgames against some of these good offenses. However, it may be tough sledding because Iowa State has the best run defense in the conference. It wouldn't hurt for Kansas State to get creative either. As for the defense, they need to pressure Brock Purdy. Don't let him get comfortable in the pocket or else he will pick you apart.
Prediction
Iowa State: 28, Kansas State: 24
While the passing game may not always be open, I think the Cyclones will use the ground game with Breece Hall to open the passing game. Kansas State's run defense is very suspect, and I expect Iowa State to try and exploit that. Kansas State will keep things close since this game is at home and their defense will be ready to play. I am just not sure that Kansas State will have the offense to outscore Iowa State and their stout run defense.
Powered by RedCircle
**We now have FREE Big 12 Forums here at Heartland College Sports. Go sign up here and join our conversation! **