Big 12 News
Big 12 Football Players of the Week: Sam Ehlinger, Shea Campbell Lead the Way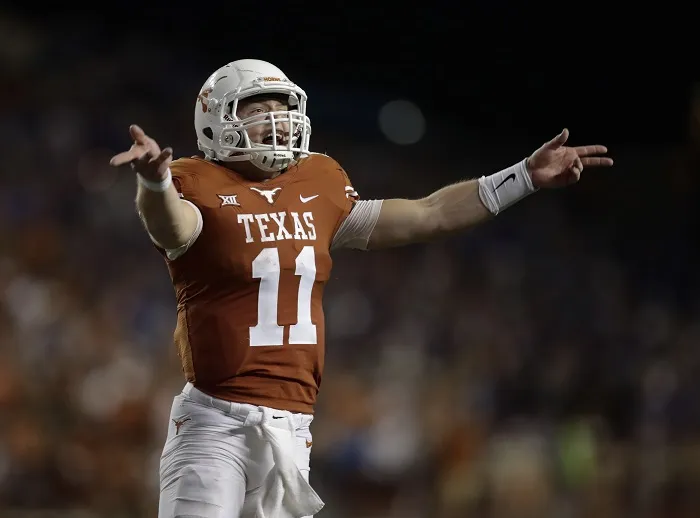 It's time to name our Big 12 Players of the Week as we look at the top performances on offense, defense and special teams. Yes, there are always several players to debate, but we try to make this as fair as we can, while backing up our decision with stats and facts.
Big 12 Offensive Player of the Week: Texas QB Sam Ehlinger
With his team down 14-0 in the first quarter of their Black Friday Senior Day against Texas Tech, Ehlinger did not let the afternoon turn into a total disaster for his Longhorns. Ehlinger responded with two-straight touchdown drives and four touchdowns drives of their final five in the first half against Texas Tech to turn the game around. Ehlinger finished 19 of 27 for 348 yards and two touchdowns, along with 10 carries for 83 yards and a rushing TD. A loss would've been a disaster for the program to close out the year with back-to-back losses against in-state teams Baylor and Tech. At 7-5, while still a disappointment, it's not a debacle. Ehlinger deserves the credit for that.
Big 12 Defensive Player of the Week: West Virginia LB Shea Campbell
Campbell played a huge role in West Virginia closing out the season with two wins in three games and pulling off a road upset against TCU, who were 13.5-point favorites. Campbell led the Mountaineers' stingy defense with eight tackles, while also racking up 2.5 tackles for loss and one sack of Max Duggan. It was, by far, the best game of the season for the senior, who ends his WVU career on a high note.
Big 12 Special Teams Player of the Week: K-State KR Joshua Youngblood
In Farmageddon, it was Youngblood who turned the game on its head out of the gates with a 93-yard kick off return to start the game and give the Wildcats a huge momentum boost early on. It was his third kickoff return for a touchdown this season in what turned into a year that wildly exceeding expectations in Manhattan. And to think that he is only a freshman, Special Teams coaches around the Big 12 will be having nightmares about Youngblood in seasons to come.
**We now have FREE Big 12 Forums here at Heartland College Sports. Go sign up here and join our conversation! **