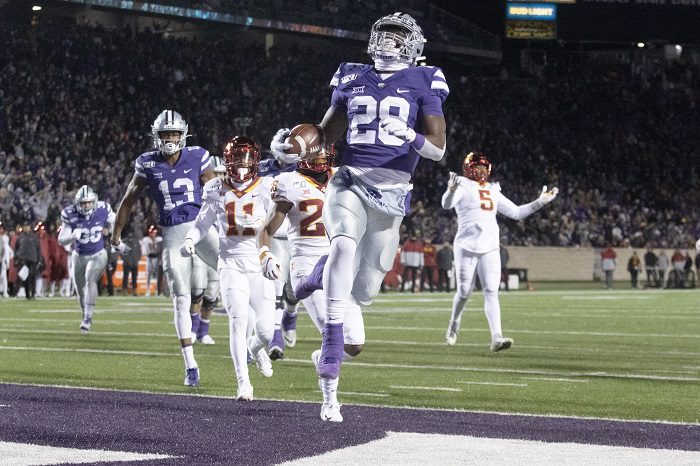 With rivalry week in full swing across the country, it was a perfect time for some Farmageddon. While it may not be celebrated nationally, this has always been one of the best rivalries in the Big 12 and one of my personal favorites due to the name. Sure, there isn't an official trophy in this game, but bragging rights in the heartland are on the line. Also, with both teams sitting at 7-4, bowl positioning is still very important in these late season games. Oh and not to mention, Iowa State has only beaten Kansas State once since 2008 and hasn't beaten the Wildcats in Manhattan since 2004. It was time for the streak to continue or come to an end in a very windy Manhattan, Kansas. 
It didn't take long for a crazy play to happen in this one as Kansas State's Joshua Youngblood took the opening kickoff back 92 yards for the touchdown to give the Wildcats an early 7-0 lead. That would be the only big play for quite some time as both teams then combined for five straight punts. Eventually, the Wildcats found the end zone again 13-play, 98-yard drive that took nearly seven minutes off the clock. The drive ended when running back Jacardia Wright scored from 12 yards out to give Kansas State a 14-0 lead early in the second quarter.
After a string of punts, Iowa State finally was able to put together a nice drive that resulted in its first points of the night. In fact, due to the wind, Iowa State was forced to go for it on a 4th and 13 at the Kansas State 26-yard line and converted. Just one play later, quarterback Brock Purdy hit Sean Shaw Jr. for a 15-yard touchdown pass to pull the Cyclones to within seven. Just one possession later, Iowa State found pay dirt once again as freshman running back Breece Hall ran for a short touchdown run to tie the game at 14, which was the score going into halftime. Even though the Cyclones outgained Kansas State 174-122, they went 0 for 6 on third downs, which made the difference. 
As good as the start of the game went for Kansas State, they had a rough start on their first two possessions of the second half as quarterback Skylar Thompson fumbled when he was sack by Will McDonald and threw an interception to Greg Eisworth. With the good field position, Iowa State kicker Connor Assalley knocked in a 36-yard field goal to put his team up 17-14 midway in the third quarter. However, Kansas State would respond with a field goal of their own when Blake Lynch drilled a 43-yard kick into the wind to tie it back up at 17. 
While Iowa State was busy punting the football, Kansas State was busy scoring as the Wildcats were able to put up 10 more points in the fourth quarter as running back Jordon Brown ran in a score from 15 yards out and then Blake Lynch knocked in another kick to put Kansas State up 27-17 with just three minutes left to play. Six plays later, the Wildcats got a big stop on defense and ran out the clock to win Farmageddon 27-17. 
This was a tough one for Iowa State as they simply committed too many penalties (8 for 55 yards) and dropped too many passes. The mental errors added up and the offense was stagnant. The Cyclones were also outgained on the ground 231 to 51. With the loss the Cyclones will finish the regular season at 7-5. Meanwhile the Wildcat finish the regular season at 8-4 and wildly exceeded many expectations after being picked 9th in the preseason Big 12 poll. Now, both teams await their bowl fate one week from Sunday.
**We now have FREE Big 12 Forums here at Heartland College Sports. Go sign up here and join our conversation! **