Big 12 News
Sam Ehlinger Has Message for Texas Fans After 7-5 Season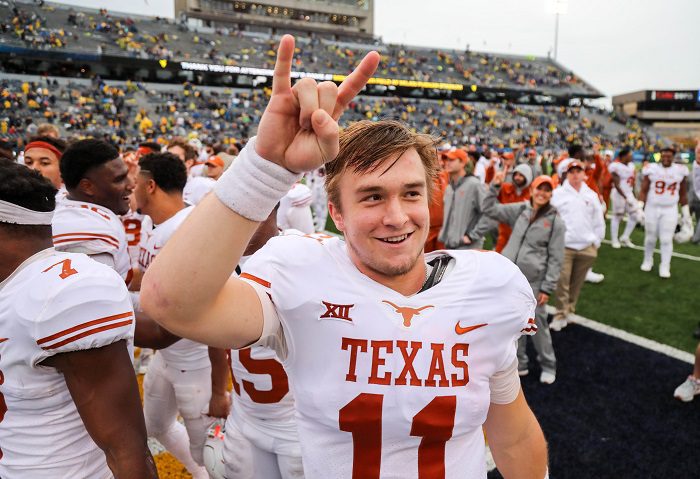 The Texas Longhorns wrapped up a once-promising season with a 7-5 record following a 49-24 win over Texas Tech on Friday in Austin.
While a win is a win, this is certainly not how Texas coaches, players or fans saw this season going. They were in the Top 10 in the preseason and played LSU to the wire back in September. But the season would unravel, and while injuries were a part of it, there is no doubt that this team underachieved.
After Friday's win, quarterback Sam Ehlinger shared a post on Instagram, where he wrote: "7-5 is not our standard nor our expectation, but means so much more to send these seniors out with a win at DKR. We're going to keep working and building."
Texas quarterback. #HookEm pic.twitter.com/gddg6jkA8x

— Justin Wells (@justinwells2424) November 30, 2019
It's a nice sentiment from Ehlinger, but if we are being fair, the standard of Texas football is far closer to 7-5 the past decade+ than 10 or more wins. Here are the records of Texas football since 2010: 5-7, 8-5, 9-4, 8-5, 6-7, 5-7, 5-7, 7-6, 10-4, and now 7-5 (bowl game pending).
I mean, 7-5 is par for the course the past decade of Texas football. There's no denying that. Of course, we all thought the Longhorns had turned the corner with the way last year went including a Big 12 Championship Game berth and a Sugar Bowl win. However, UT reverted back to the mean in 2019.
As a result, Tom Herman has that much more pressure on him heading into 2020. He has the best quarterback (Ehlinger) in a decade who will be a senior next season, plus a bunch of returning starters on defense.
Let's see how the bowl game goes and the offseason develops in Austin. It will be one of the most fascinating storylines to watch in the conference the next few months.
**We now have FREE Big 12 Forums here at Heartland College Sports. Go sign up here and join our conversation! **