Baylor Bears
Baylor Holds Worst National Championship Odds at 150/1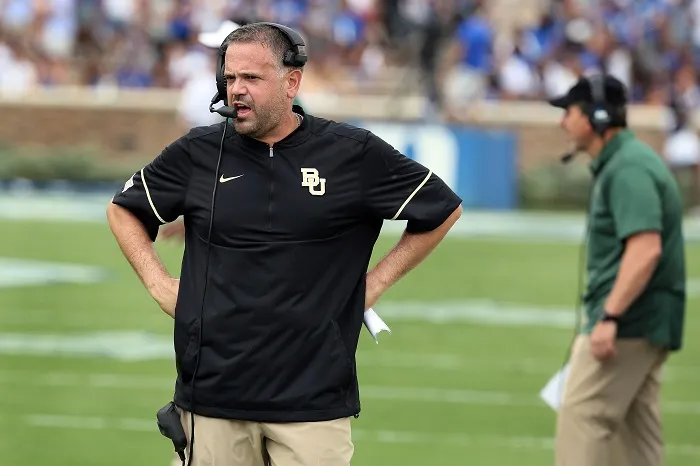 We know the Baylor Bears don't get the national love of the big state programs. That was evident back in 2014 when the Bears and TCU Horned Frogs both got hosed by the College Football Playoff committee in favor of Ohio State. Granted, Ohio State would go on to win the National Title, but the process still proved to be massively flawed.
So as we gear up for Championship Weekend, the most likely debate is going to be a 12-1 Utah as Pac-12 Champion vs. a 12-1 Big 12 Champion in Oklahoma or Baylor.
I admittedly like OU's chances better than Baylor's chances for the reasons mentioned above, but 12-1 Baylor will have a better win this weekend and a better loss than Utah (who lost to USC).
But the oddsmakers continue to show zero love for the Bears.
Check out the National Championship odds as of Monday.
2020 NCAA Championship – Odds to Win (Per BetOnline.ag)
11/25/19 Current (12/2/19)
Ohio State 7/4 3/2
Clemson 11/4 9/4
LSU 5/2 5/2
Georgia 8/1 12/1
Utah 25/1 20/1
Oklahoma                     16/1                   33/1                 
Baylor                           150/1                150/1               
Alabama 10/1 Off the Board
How is it possible the Bears have odds that are nearly five times worse than anyone else in the conversation?!
It literally seems unfathomable.
But, here we are. It's something Baylor fans know all too well. The Bears have a top 10 defense in the country in terms of efficiency, lead the Big 12 in turnovers and have an offense that is not Oklahoma's, but remains consistent with lots of options.
Yet Vegas thinks that: 1) They likely will lose to OU this weekend. 2) Even if they win, they aren't going to make the Playoff. 3) Even if they make the Playoff, they can't win a semifinal. 4) Even if they win the semifinal, they will surely get blown out in the National Championship.
Got it.
Sic 'Em?
**We now have FREE Big 12 Forums here at Heartland College Sports. Go sign up here and join our conversation! **