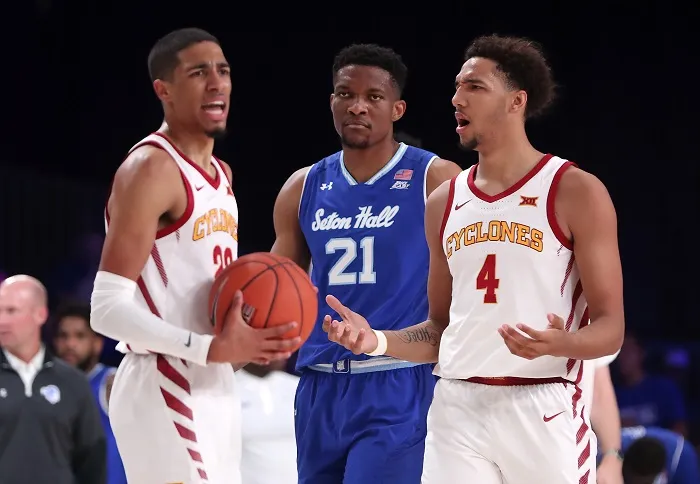 Oklahoma State seniors Lindy Waters III Cameron McGriff and Thomas Dziagwa are starting to be rewarded for their patience after last year's horrible season in Stillwater.
Up in Brooklyn, New York, this past weekend the Cowboys (7-0) won the NIT Season Tip-Off Classic, beating Syracuse the day before Thanksgiving, 86-72, and then defeating Ole Miss on Friday in the championship game, 78-37.
It's the clearest sign yet that the Cowboys are back to being a team to contend with in the Big 12.
Even coach got in on the fun 🕺#LetsWork | #GoPokes pic.twitter.com/a3ranoxpw0

— Cowboy Basketball (@OSUMBB) November 30, 2019
The seniors are off to fine starts. Waters is scoring 11.9 points and grabbing 5.3 rebounds per game. Dziagwa is the team's top 3-point shooter, with 19 made baskets from distance while averaging 10.3 points per game. McGriff is averaging 9.0 points and 6.3 rebounds per game.
But it's the development of two of the team's returning sophomores that is taking center stage and making life easier for the senior trio. Guard Isaac Likekele is the Cowboys' leading scorer through seven games (13.7 ppg), while averaging 5.3 rebounds and 5.0 assists per game. Center Yor Anei has grown leaps and bounds from a season ago. The MVP of the NIT Tip-off, Anei is averaging 12.9 points and 7.6 rebounds per game, while his 3.3 blocked shots per game is Top 10 in the nation.
The quality play of head coach Mike Boynton's starting five has made it less imperative to lean on his quality 2019 recruiting class early in the season. The Boone brothers — Keylan and Kalib — are each playing about 10 minutes per game, but each is putting up 4 points per game. Guard Chris Harris Jr. is actually drawing more minutes than any other OSU bench player, on average (13 minutes), and is averaging nearly 3 points per game. Graduate transfer Jonathan Laurent is averaging only 2.9 points per game with about 7 minutes on the floor per game. There will come a time that Boynton must lean on these players. But, right now, he can break them in slowly.
These wins in Brooklyn were the biggest of the season to this point for OSU. Syracuse is a traditional power. Ole Miss won 20 games, went to the NCAA Tournament last year (and lost to Oklahoma) and had just one loss going into the OSU game, which came to then-No. 16 Memphis.
The next three games represent tremendous opportunity for the Cowboys to burnish their resume further. On Wednesday the Cowboys host Georgetown — which beat Texas — and on Sunday they host Wichita State. Then, on Dec. 15, they head to Houston to face the Cougars.
THE NIT SEASON TIP-OFF FIELD FOR 2020 IS SET
And, like this season, it will include a Big 12 team that could well win the tip-off.
Back in the Big 🍎 for the fourth year in a row, in 2️⃣0️⃣2️⃣0️⃣!

🔴#4To1 | #WreckEm⚫️ pic.twitter.com/RL6fjB8zSB

— Texas Tech Basketball (@TexasTechMBB) November 27, 2019
KANSAS, TCU LOSE OUT ON K.K.
Earlier this week, as most expected, Bryant (Ark.) forward KK Robinson ended his recruitment and committed to the University of Arkansas. Robinson is an Arkansas native and head coach Eric Musselman has put together a Top 5 recruiting class for 2020, according to 247Sports.com. Robinson cannot sign until April.
Robinson had paid both Kansas and TCU a visit during the recruiting process, so both schools were considered options. With Robinson off the board, those two schools can turn their attention to other recruits, as both the Jayhawks and Horned Frogs have scholarships to give for 2020.
THE REMAINING UNDEFEATED
Along with Oklahoma State, only one other Big 12 team is undefeated going into December and that's resurgent West Virginia.
The Mountaineers jetted down to Riviera Maya during Thanksgiving week to take on Northern Iowa (60-55 win) and Wichita State (75-63 win) in the Cancun Challenge. By winning both games the Mountaineers took the title.
Forward Oscar Tshiebwe had another massive game, this time against the Shockers, as he scored 19 points and grabbed 18 rebounds. When Tshiebwe is on, he's ON. Along with the WSU double-double, Tshiebwe has also had huge nights against Pitt (20 points, 17 rebounds) and Boston University (21 points, 10 rebounds). Tshiebwe was the Cancun Challenge's MVP and another freshman, Miles McBride, was on the All-Tournament team.
So THAT'S why Hugs looks so jolly these days.
There's still time to take advantage of this special offer of $15 tickets for the TCU & OSU games!

➡️ https://t.co/3KhHjazkcE pic.twitter.com/bOAZLaf7iF

— WVU Basketball (@WVUhoops) November 30, 2019
Of course, Tshiebwe isn't the only reason the Mountaineers are undefeated after seven games after claiming a 86-81 win over Rhode Island on Sunday.
Jermaine Haley and Emmitt Matthews Jr. are both averaging double-figures in scoring. Derek Culver is averaging nearly 8 rebounds per game and had a huge game against Rhode Island — 25 points and 11 rebounds. McBride and Jordan McCabe have carved out roles as facilitators on offense.
Going into the season we expected a bounce-back from the Mountaineers. So far, so good.
STAT LINE FROM THE UPSIDE DOWN
It's not really a stat, but it's definitely the upset everyone is talking about. Stephen F. Austin defeated Duke in overtime last Tuesday (I went to Stephen F., so you're welcome America). But the upset did catch the eye of one Big 12 player in particular.
Love to see it! Congratulations @SFA_MBB on another historical win last night! 😤 Big s/o to @_kevonn22 @JOHNNNYYBOY21 @_LetMeBe_23

— TJ Holyfield (@teejayy_22) November 27, 2019
Texas Tech forward T.J. Holyfield spent three seasons at Stephen F. Austin and played against Texas Tech in the 2018 NCAA Tournament in Dallas. He missed all of last season with an injury, but Holyfield played with two of the most important players for SFA that night at Cameron Indoor Stadium — Kevon Harris, the Lumberjacks' leading scorer, and Nathan Bain, who hit the game-winning layup in overtime with 0.1 seconds on the clock.
So, theoretically, Holyfield could have been on the floor Tuesday night with the Lumberjacks. But he's doing just fine in Lubbock, where he's secured a starting role for the Red Raiders and is averaging 11.6 points and 4.7 rebounds for the Red Raiders, who are 5-2 after two losses in Las Vegas during tournament play this past week.
PERFORMANCE OF THE WEEK
Kansas went to the Maui Classic and won the Tournament, beating Chaminade, BYU and Dayton, with the title win over the Flyers coming in overtime. Devon Dotson and Udoka Azubuike shared MVP honors for the tournament, but Dotson was the more consistent player of the pair and perhaps the most consistent player of the week in the Big 12. Against Chaminade he put up 19 points, 5 rebounds and an assist. Against BYU he had 13 points, 2 rebounds and 8 assists. And, against Dayton — in a game in which he played all 45 minutes — Dotson dumped in 31 points, along with 6 rebounds and 5 assists. The 31 points was a career high for the sophomore, whose NBA Draft stock continues to rise.
Kansas is now 6-1 on the season, and has won six straight since losing to Duke on opening night.
LOOKING AHEAD
Taking a look at the next 7 days in Big 12 basketball:
GAME OF THE WEEK: There are plenty of good ones to choose from this week, but I'll take Arizona at Baylor on Saturday. It's a battle of ranked teams and Baylor's biggest test of the season to this point.
SNEAKY GOOD GAME OF THE WEEK: TCU lifts the lid on brand-new Dickies Arena in Fort Worth when it comes to basketball when the Horned Frogs host USC on Friday. TCU will continue to play at its on-campus arena, but they're helping to break it in for the Texas-Texas A&M game on Sunday.
BIG 12-BIG EAST CHALLENGE GAMES: We have the first Big 12-Big East Challenge this week. Oklahoma State hosts Georgetown and Texas Tech travels to DePaul on Wednesday. Then on Saturday West Virginia heads to New York City to take on St. John's and Kansas State hosts Marquette. On Sunday Iowa State hosts Seton Hall.
BIG 12 NOW GAMES: Big 12 Games on ESPN+ this week include Florida A&M at Kansas State on Monday, Maryland-Eastern Shore at Baylor on Tuesday and Georgetown at Oklahoma State on Wednesday. If you're not already a subscriber to ESPN+, now is a great time to get in on the action. Just click here to subscribe.
POWER RANKINGS: Will be out on Tuesday, Dec. 3.
**We now have FREE Big 12 Forums here at Heartland College Sports. Go sign up here and join our conversation! **