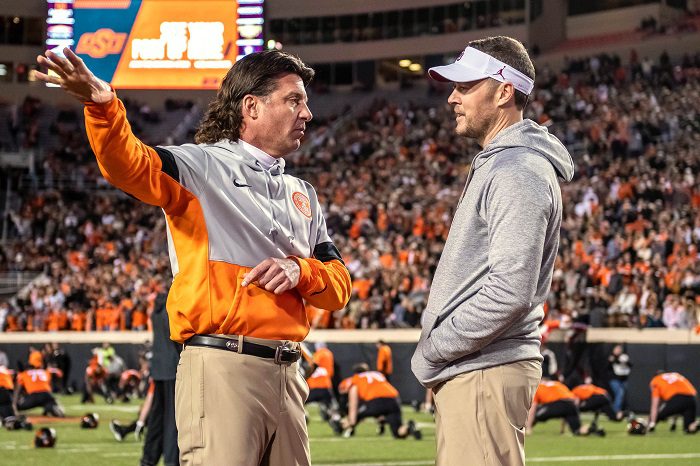 Ah yes, it's that time of year when the Big 12 Football Power Rankings return to Heartland College Sports. A reminder that these can flux drastically from week to week. These are not supposed to be a mirror image of that week's standings. It's based on the previous week's performance and the opponent when compared to the rest of the conference. So with Week 14 in the books, let's get into this week's Big 12 Power Rankings.
1. Oklahoma Sooners (Last Week: 1)
The Sooners went on the road and picked up a Top 25 win in Bedlam on Saturday night. And while it wasn't the sexiest of games, OU did it by wearing down the Pokes and flexing their muscles with guys like Kennedy Brooks, who had 22 carries for 160 yards and a touchdown. The defense also played well, keeping OSU in check for under 350 total yards and not allowing Chuba Hubbard to have a huge game. Sure, OSU was without it's starting QB, but the defense has played better since the first half of the Baylor game and Alex Grinch and the unit deserves credit for that. Now it's time for another trip to Arlington and a shot at a fifth-straight Big 12 title and a third-straight trip to the College Football Playoff.
2. Baylor Bears (Last Week: 2)
The Bears absolutely dominated the Kansas Jayhawks to end the season on a high note as they prepare for their first-ever appearance in a Big 12 Championship Game. There's no doubt this is a top 10 team in the country and it may be the most balanced team in the Big 12, with a defense that had four interceptions on Saturday and is top 10 in the country in efficiency, with an offense that may not be incredibly explosive, but has a veteran QB in Charlire Brewer and plenty of weapons at the skill positons. OU should be favored on Saturday, but this game has "toss up" written all over it. Frankly, their is a drop off in the Big 12 after these top two, so let's get on to them now.
3. Kansas State (Last Week: 5)
Chris Klieman overachieved beyond anyone's wildest expectations this season. 8-4 with a roster that, as I tweeted about on Saturday night, was probably the "less talented" team than at least half the teams they beat (Mississippi State, Oklahoma, TCU Iowa State). That's all about coaching and program building. I don't know what other coach in America could have won eight games with this roster. That's how darn impressive this team has been. On Saturday the Wildcats used all three phases with the offense (231 rushing yards), defense (holding ISU to 2.1 ypc) and special teams (Joshua Youngblood's 93-yard kickoff return) to pull off the upset against Iowa State, who they were seven-point underdogs against.
4. Oklahoma State (Last Week: 3)
The Cowboys got down early in Bedlam and unlike in previous years, it never felt like they were going to be able to climb out of that. Sure, part of that is due to injuries to Spencer Sanders and Tylan Wallace, but also, OU's defense was playing pretty darn well, forcing turnovers (two, but it should have been three) and keeping Chuba Hubbard in check (never a rush longer than 22 yards). Oklahoma State still ends the regular season at a solid 8-4, which Oklahoma State fans would've certainly signed up for at the halfway mark of the season, however it is still fair to wonder how the program is building for 2020 and beyond.
5. Texas Longhorns (Last Week: 7)
Speaking of building programs, Texas AD Chris Del Conte insisted after Friday's win over Texas Tech he is "pleased" with the direction of the program. But after winning 10 games in 2019, reaching the Big 12 title game and beating Georgia in the Sugar Bowl, while then entering 2019 as a top 10 team, no one can be pleased with 7-5. Yes, there were injuries that hampered this year, but Tom Herman certainly needs to get this thing back on track and start, at worst, competing for conference titles in 2020 and beyond. The Longhorns rolled Texas Tech on Saturday, but even that game wasn't without flaws, as UT found itself in a 14-0 hole early in the first quarter as the team looked indifferent to playing an 11 a.m. game on Black Friday. Thank goodness for Sam Ehlinger.
6. Iowa State Cyclones (Last Week: 4)
Here are the Cyclones. A 7-5 finish and a ten-point loss to Kansas State to close out the regular season. What makes this game different is it felt like they should have won it based on the talent on the field alone. Usually it's been Matt Campbell with the less-talented team pulling off upsets. Now it's being done to him. Considering myself, and many others, thought this team could play in a Big 12 Championship Game, even though the losses were all by small margins, the reality is they lost those games. And Saturday night in windy Manhattan, Kansas, they were the softer and less disciplined team. That is unheard of in recent seasons under Campbell. A quality bowl win will still keep the momentum going in the right direction for the program, but there's no denying the letdown this season was.
7. West Virginia Mountaineers (Last Week: 8)
A team that did not let down as it hit the home stretch was Neal Brown's West Virginia Mountaineers. WVU closed the season with two wins in three games, both on the road against solid opponents in Kansas State and thenTCU this past Friday. While QB Jarret Doege threw three picks, the offense just looks like it has a different element and confidence to it under his leadership than Austin Kendall's. West Virginia continued to get outstanding play down the home stretch from its defensive line and that's certainly something that coach Brown and his staff can build on. For this team to go into Fort Worth as a nearly two-touchdown underdog and pull out the outright win is a testament to the coaching staff who caps off a trying 5-7 season.
8. TCU Horned Frogs (Last Week: 6)
The Horned Frogs are still a quality program under Gary Patterson, but not getting bowl eligible this year is undoubtedly a disappointment, just like Friday's loss to West Virginia was. TCU's record the past four seasons look like this: 6-7, 11-3, 6-7 and 5-7. With how deep and competitive the Big 12 is, it's tough to see an obvious way for the Horned Frogs to dig out of the middle of the pack at the present time. The Horned Frogs closed the season with four losses in five games. Gary Patterson said that while he was upset he couldn't deliver a bowl game for his seniors, he is happy he can hit the recruiting trail right away. That's a good thing for TCU, because the pitch might be getting slightly more difficult.
9. Texas Tech Red Raiders (Last Week: 10)
The Red Raiders had a great start to Friday's game against Texas, jumping out to a 14-0 lead. However it unraveled as the Longhorns would go on to outscore Texas Tech 49-10 the rest of the way. Tech closed out the season with six losses in its last seven games and based on some of the crowds we saw at Jones AT&T Stadium down the stretch, it would appear as if the fan base remains in a malaise and is counting down to the conference basketball season getting underway. This team needs help at basically every position and even the one with a few solid options (quarterback) remains a question mark heading into 2020.
10. Kansas Jayhawks (Last Week: 9)
Well it depends how you want to spin it. KU won three games this year. But that's just as many games as David Beaty won in 2018. However this team did play clos(er) games against West Virginia, Texas and Iowa State. Then again, it got blown out by 56 points against Baylor on Saturday. I at least see a direction for the program under Les Miles, but he still has himself an enormous uphill climb in this conference that will take more than a couple years to complete.
Powered by RedCircle
**We now have FREE Big 12 Forums here at Heartland College Sports. Go sign up here and join our conversation! **