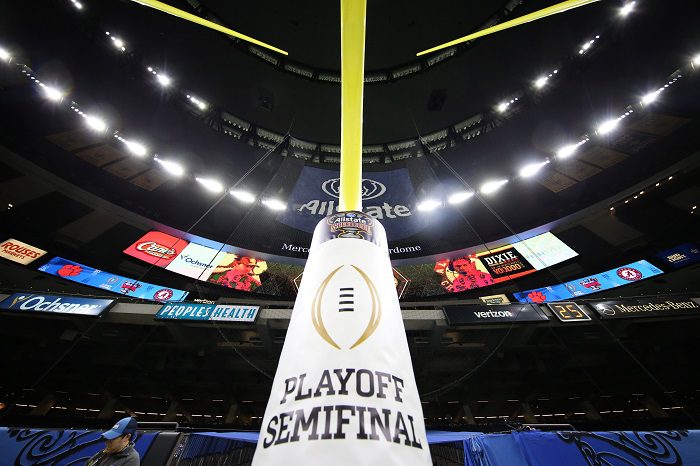 The postseason is the ultimate celebration for teams to celebrate their hard work through the course of the year. As we all know, the postseason for college football features a four-team playoff and several bowl games. Each conference has agreements with certain bowl games to send their respective teams to. Many websites use projections to show where they predict each team to go. Instead of projections, here is a version more similar to "bracketology". This is a live look at where teams would be if the season ended today.
Every Big 12 fan will be sporting green and yellow Friday night in support of Oregon. Notice I said every "Big 12" fan. We know there will be a few bitter Oklahoma State, Texas and TCU fans who will be rooting for Utah. Those fans might as well just cheer for the SEC, because let's face it: If the Big 12 gets left out, then they are happy that the SEC received a bid and the Big 12 didn't. Therefore, the SEC bolsters its recruiting and the Big 12 loses that battle. In that case, those bitter fans are happy the SEC gained an advantage over their very own teams. They could also be considered Pac-12 fans, but if Georgia wins, I think the Pac-12 is left out.
Yes, I left out Tech. I think Tech fans naturally have trouble rooting against Lincoln Riley. Even that Kent Hance can't root against someone with a Texas Tech degree (which Mike Leach did not have).
Anyhow, for the Big 12 to get a bid into the College Football Playoff, two teams must fall. The three teams that could miss the College Football Playoff are Clemson, Georgia and Utah. If LSU and Ohio State lose, they will likely remain in the top four. Thus, Big 12 fans want to cheer for LSU over Georgia and Oregon over Utah. It's unlikely, but there is a chance Virginia upsets Clemson. Now, I will say we should probably keep a close eye on the officiating if that game goes down to the wire. The officials will be from the ACC. Not to start any conspiracy theories, but we all know how this works. The ACC is desperate for Clemson to be in the College Football Playoff. If Clemson loses, the conference is officially vulnerable for the next realignment. It might not dissolve, but teams might be leaving. The conference has added five teams since 2004, which only one has won a conference championship. Virginia Tech won four titles from 2004-10. Since, they've struggled. All five of the teams came from the Big East Conference, which dissolved after the non-football schools revolted to take the name and create its own non-football conference. History has a way of repeating itself. If certain athletic directors dislike the direction the conference is heading with its football struggles, they may bolt (Hint: Florida State and Miami. Neither are founding members and have had massive on-field success as Independent programs.)
The good news for the Big 12 is the loser has an excellent shot at the Cotton Bowl. First off, the Cotton Bowl wants Oklahoma or Baylor. The fanbases are going to jampack the stadium against a Group of Five school whereas a Big Ten or a Pac-12 team may not want to pony up the money to travel for a game against an AAC team.
With two Big 12 teams into a New Year's Six bowl, Oklahoma State is the clear choice for the top bowl. Now, we understand how the Alamo Bowl would love to host Texas. However, I think they choose to go with a ranked team with a better record. Their opponent might be determined by Friday's Pac-12 Championship Game. If Oregon loses, then Oregon is definitely going to wind up in San Antonio. If the Ducks win, it is likely Utah. There is a chance the Utes go to the Cotton Bowl though. In that case, Southern California will be in and likely play Baylor.
If you haven't heard the news already, the CEO of Camping World really wants Texas to play in the Camping World Bowl. Despite Kansas State having a better record and having defeated Oklahoma, Texas will likely be chosen. There's a reason this guy is a CEO. Think of the business sense this makes. He can invite Notre Dame and Texas. Disney World would love this. Both schools have massive amounts of major donors, and you can bet many of them will want to rent the Cinderella Suite for their children and grandchildren (Yes, that suite inside the castle that Tom Cruise took Suri to). Orlando will receive a massive economic boom to start the year. Although Kansas State deserves the bowl bid, they will sadly be denied it due to big money.
The sad part is, Notre Dame likely beats a battered Texas team. Personally, I think Kansas State would take Notre Dame down. Not only does Kansas State get shafted by the Camping World Bowl, but the SEC shafts them too. Texas A&M is likely choosing the Music City Bowl, and they certainly aren't playing Kansas State after their latest humiliation at the hands of the Wildcats where Kansas State fans chanted "WE OWN TEXAS" after going 5-0 against Power Five teams from the State of Texas. Kentucky will choose the Liberty Bowl due to proximity and the fact that Texas A&M wants no part of Kansas State. If the Aggies don't want a piece of Kansas State, do you think Kentucky wants a piece of them? Additionally, Mississippi State has already been embarrassed once this season by the Wildcats. It came in Starkville. The Bulldogs are saying "no thanks" and choosing the Belk Bowl. Thus, Kansas State is stuck with a fill-in from Conference USA. Southern Miss fans may actually see this as a home game for themselves. Little do they understand how well Kansas State fans traveled to the Texas Bowl last time. I was on the field for the post-game celebration. That "WE OWN TEXAS" chant was loud!
As for Iowa State, the team that likely should be in the Texas Bowl, shouldn't be too disappointed. Let's face it. Memphis loves Iowa State. The bars will be ready this time. Memphis will be flowing with Busch and Kentucky bourbon. This is going to be a bowl that is much more fun than the nation realizes.
Alas, the current bowl picture is below.
College Football Playoff
Peach Bowl Semifinal: No.2 LSU (12-0) vs. No.3 Clemson (12-0)
Fiesta Bowl Semifinal: No.1 Ohio State (12-0) vs. No.4 Georgia (11-1)
Sugar Bowl, Big 12 Champion vs. SEC Champion
No.6 Oklahoma (11-1, 8-1 in Big 12) vs. No.9 Florida (10-2, 6-2 in SEC)
-Oklahoma holds the head-to-head tiebreaker over Baylor.
-Florida is ranked higher than Alabama.
Cotton Bowl, At-Large vs. Highest Ranked Group of Five team
No.7 Baylor (11-1, 8-1 in Big 12) vs. No.17 Memphis (11-1, 7-1 in The American)
-Baylor is the highest ranked team remaining.
-Memphis is the highest ranked Group of Five team.
Alamo Bowl, Big 12 No.2 vs. Pac-12 No.2
No.25 Oklahoma State (8-4, 5-4 in Big 12) vs. No.14 Oregon (10-2, 8-1 in Pac-12)
-Oklahoma State has a better overall record than Iowa State
-Oregon is the only remaining team with one loss in Pac-12 play.
Camping World Bowl, Big 12 No.3 vs. ACC first tier selection
Texas (7-5, 5-4 in Big 12) vs. No.16 Notre Dame (10-2)
-Texas is higher than it should be. The Longhorns are literally placed here because the CEO of Camping World has been dropping hints that he wants to see Texas in the bowl. He actually did come out and say he wants to see Mack Brown and North Carolina play Texas, but UNC is 6-6 and is not allowed to be chosen by this bowl.
-Notre Dame is allowed to fill in for ACC teams, except in the Orange Bowl. The Fighting Irish are ranked, unlike every ACC team with the exception of Clemson and Virginia. Because of Notre Dame's ranking and the poor performance by the conference, the Camping World Bowl chooses Notre Dame. Also, a Notre Dame vs. Texas match up will draw massive amounts of attention.
Texas Bowl, Big 12 No.4 vs. SEC first tier selection
Kansas State (8-4, 5-4 in Big 12) vs. *Southern Mississippi (7-5, 5-3 in Conference USA)
-Kansas State should be in Orlando. Because of Texas, they fall to the Texas Bowl. Worst of all, Missouri received a bowl ban. This leaves three SEC teams choosing between four bowls. Mississippi State isn't about to ask for a rematch. Kentucky chooses the Liberty Bowl. Texas A&M has also suffered recent embarrassment by Kansas State. Ultimately, everyone available is afraid to play Kansas State.
-Southern Mississippi is close in proximity to the Texas Bowl compared to other fill-ins available. It's a no-doubter for the Texas Bowl to have them fill in for an SEC team.
Liberty Bowl, Big 12 No.5 vs. SEC first tier selection
Iowa State (7-5, 4-5 in Big 12) vs. Kentucky (7-5, 3-5 in SEC)
-Iowa State has the head-to-head tiebreaker over Texas. Normally, the Cyclones would be in the Texas Bowl under this situation. I think Memphis bars will be happy to host Iowa State again, and this time, they'll be prepared with plenty of Busch.
– Texas A&M chooses to play in the Music City Bowl. Louisville is in the Belk Bowl and Kentucky doesn't want a rematch. If Kansas State has recently humiliated both Texas A&M and Kansas State, then Kentucky wants no part of them. It only helps that the Liberty Bowl is also closer in proximity than the Texas Bowl.
Ineligible: Kansas, TCU, Texas Tech, West Virginia
**We now have FREE Big 12 Forums here at Heartland College Sports. Go sign up here and join our conversation! **