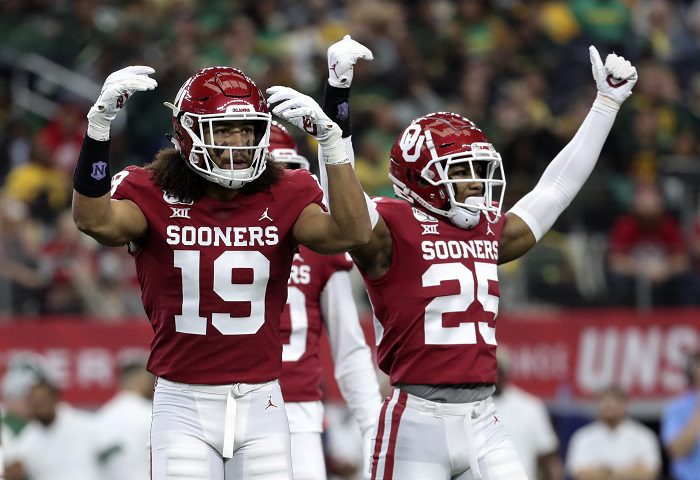 ARLINGTON, TX — In the last few years of the Bob Stoops era and to start the Lincoln Riley era, we heard the same thing week and week out: "Well, Oklahoma has a high-powered offense, but their defense just isn't there yet." In fact, it was one of the main talking points as to why the Sooners should have been left out of the 2018 College Football Playoff. While the TV talking heads pounded their fist against the table as to why they should have been left out, the Playoff Committee gave the Sooners their shot against Alabama. While some of the things that were said shouldn't have impacted Oklahoma's shot at the playoffs last season, there was no hiding that atrocious 2018 defense that the Sooners rolled out one year ago. Of course, we all know how it ended and Oklahoma was sent packing from Miami early on when they found themselves down 28-0.
However, this isn't 2018 anymore. No matter how many people at ESPN, like Jim Mora Jr., say that Oklahoma is "flashy" and "can't tackle", the fact of the matter is that they likely have not watched a single minute of Oklahoma football this season. When defensive coordinator Alex Grinch was hired, the weight of the world seemed to rest on his shoulders. If Oklahoma was to be talked about like a national championship contender, things needed to change defensively from top to bottom.
Change would be an understatement when talking about this year's Oklahoma defense, which was on display in Saturday's Big 12 Championship win. You will hear tons of praise when it comes to LSU's offensive turnaround, but NOBODY is talking about the job Alex Grinch has done with this defense. In fact, the numbers will show that the jump the Oklahoma defense has made from last year to this year has been bigger than the jump the LSU offense has seen in the same time period. Look at some of these numbers from the past two seasons for the Sooners (note: 2019 stats were heading into the Big 12 Championship Game).
| | | |
| --- | --- | --- |
| | 2018 | 2019 |
| Points allowed per game | 33.3 | 25.6 |
| Rushing yards allowed per game | 159.8 | 146.5 |
| Passing yards allowed per game | 294 | 189.3 |
| Opponent's Third Down conversion rate | 46.3% | 32.8% |
Not only are the results on the field amazing, but the difference you see on these guys' faces when you speak with them is night and day. No more long faces. No more "We will turn it around". No more, "We have to play better next week." And mostly importantly, no more worrying about your defensive coordinator's job.
Those days seem like a distance memory and the reason why is probably simpler than one would think. Head coach Lincoln Riley said after their Big 12 Championship win, "We are an effort-based defense." Heck, I thought Oklahoma defensive lineman Neville Gallimore said it best after the game when he said "We have guys buying in on every level of this defense. It's great to see us do our job to the best of our ability and believe in the coaching." This shows that it was not just an effort turnaround. This was a culture turnaround.
What Oklahoma has done on the defensive side of the football has been incredible to see. The craziest thing to me is the fact that over their last four games, Oklahoma has given up a combined twenty-seven points in the second half. That's not normal in this conference. Heck, with all these spread offenses in college football today, that's something very few programs and teams are able to do when we get late into the season.
Is the offense as good as when Baker Mayfield or Kyler Murray were running the show? No, but this Alex Grinch defense is picking up some of the mistakes that the offense has gone through this season with turnovers. It seems like when this defense has its back against the wall, it comes through instead of falling apart. Watch out college football playoff, these Sooners aren't afraid to hit people.
As crazy as it sounds, this defense is twice as good as any defense the program has rolled out since 2015 during this remarkable Big 12 title run. Five Big 12 Championships sounds great and it's something that you don't see everyday, but this team has bigger goals and the difference between 2015 through 2018 and now is that this team is more complete. And if it all clicks right, it could give the Big 12 their first title since the 2005 Texas Longhorns.
Powered by RedCircle
**We now have FREE Big 12 Forums here at Heartland College Sports. Go sign up here and join our conversation! **