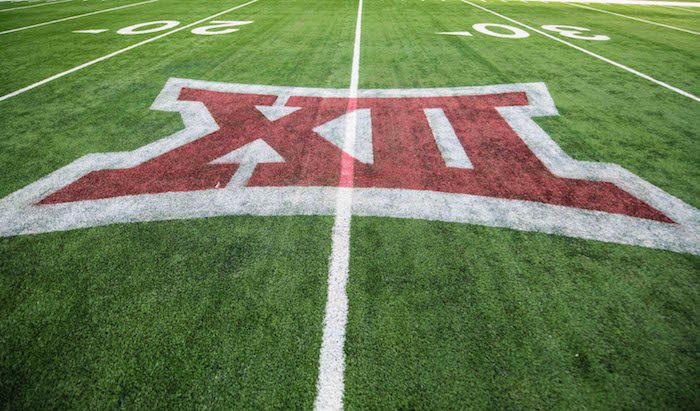 The bowl matchups have been announced. For the third consecutive season, the Oklahoma Sooners will play in the College Football Playoff. Baylor will play in a New Year's Six Bowl for the second time in program history and the first time in the Matt Rhule era. The Bears are just two seasons removed from a 1-11 season, which is a remarkable turnaround after the destruction and rubble left from the rampant sexual assault scandal that ended in the firing of Art Briles.
While the Big 12 certainly won with Oklahoma and Baylor, the Big 12 also lost in some ways.
First off, the Alamo Bowl is the No.1 loser in bowl match ups. Sure, they snagged Texas. However, Texas probably sat on the phone like a girl who was asked to homecoming by her best friend before her dream crush made his move. Yes, Texas and the Big 12 Conference have an amazing relationship with the Alamo Bowl. However, Texas could've easily played Notre Dame in Orlando and the fan base would be ecstatic. The deflation of the bowl announcement has been noticeable by both Utah and Texas fans. This is a staycation to those who live in Austin. Many donors were willing to pony up the money to spend time at Disney World. Now, many will probably save their money instead of paying for hotels and flights. Quite honestly, the American economy lost with this match up.
The Camping World Bowl feels like a loser right now. Iowa State is not a brand name. We, at Heartland College Sports, love Iowa State. Cyclones fans know how to have a good time, just as Pete Mundo and Derek Duke, who both ventured to Ames this season. It's a passionate fan base. However, the bowl itself probably feels like it lost out on massive ratings. While the Cyclones fan base is jacked up, most people in this country will assume Notre Dame will mop the floor with the Cyclones. This is interesting, because it couldn't be further from the truth. Iowa State is going to surprise a lot of people in Orlando and a lot of people tuning into them for the first time.
I'll be honest. The Alamo Bowl's selection blew up my bracketology. There was one thing I got correct though. I made it clear that the SEC was going to avoid playing Kansas State. Of course, Kansas State now plays a Group of Five school. It's a much better opponent that what could have been. Navy could enter this game as a 10-win program. If they beat Army this week, it will be a 10-win Navy team against a Kansas State team who upset a College Football Playoff invitee. This is a winner.
As for the Texas Bowl, well. You can read below. Alas, the bowl games ranked from most intriguing to least intriguing.
1.Peach Bowl (College Football Playoff Semifinal)
No.4 Oklahoma (Big 12 Champion) vs. No.1 LSU (SEC Champion)
Saturday, December 28th, 2019
Mercedes-Benz Stadium, Atlanta, GA, 3:00 p.m. CST kick off
This Is the most intriguing bowl by default. A trip to the National Championship is on the line. These teams have met in a National Championship setting before. The atmosphere will be electric. Perhaps the only sad part about it is that it's in Georgia. Personally, I've never been to Atlanta. Many people enjoy Atlanta. I have driven on I-95 from Florida to New Jersey before. The state itself did not impress me. Outside of that, this bowl is going to be fun!
2.Sugar Bowl
No.7 Baylor (Big 12 Finalist) vs. No.5 Georgia (SEC East Champions)
Wednesday, January 1st, 2020
Mercedes-Benz Superdome, New Orleans, 7:45 p.m. CST kick off
This game may be more fun to watch than the College Football Playoff. Baylor is excited to be here. Yes, the Bears would have loved to be in the College Football Playoff. However, just two years ago, Baylor was 1-11. They're going to be fired up and face what may be a dejected Georgia team. The SEC is a spoiled conference. The conference is like Veruca Salt. In the words of Willy Wonka, "She was a bad egg." If Georgia shows up to play, this will be a solid game with some nasty defense. If the Bulldogs "want a golden goose now", then Baylor is going to humiliate the Bulldogs. We know Matt Rhule is an excellent coach. Let's see how good of a motivator Kirby Smart is.
3.Camping World Bowl
Iowa State (7-5) vs. No.15 Notre Dame (10-2)
Saturday, December 28th, 2019
Spectrum Stadium, Orlando, FL, 11:00 a.m. CST kick off
The CEO of Camping World must be a terrible poker player. He played his hand early and the Alamo Bowl swiped up Texas. He will likely feel dejected, but there isn't any good reason for that. What he should do is reach out to every single bar in Orlando and tell them to stock up on Busch. Iowa State fans are going to travel and show Orlando how to have a good time they never thought existed. That's funny when you think of the fact that Orlando is the home of Disney World and once housed Nickelodeon. As for the match up, Iowa State almost always plays up or down to its competition. The Cyclones are a gut-wrenching team to watch, but Notre Dame is always overrated. This should be a whacky-fun, ridiculous game. Also, if Notre Dame players have to ask "who" they are playing, then the Cyclones have already won this game. Let's hope Notre Dame shows up to play, so we can see some excellent football. It's not a big deal if they don't though. It will be thoroughly enjoyable to see Iowa State humiliate the most overrated program in college football.
4.Liberty Bowl
Kansas State (8-4) vs. No.23 Navy (9-2)
Tuesday, December 31st, 2019
Liberty Bowl Memorial Stadium, Memphis, TN, 2:45 p.m. CST kick off
First off, that Navy record is not a typo. The Midshipmen still have their annual Army-Navy Game to play. This is a low-key awesome match up. Much of the country will look at the match up as a snoozer (like the Notre Dame fans who still don't know there is an Iowa State University). However, Navy is one of the best teams from the American Athletic Conference. I would argue that the conference is better than the Atlantic Coast Conference. Chris Klieman did an exceptional job in his first season at Kansas State. Both fan bases travel well (Navy, partially because of all the donated tickets they receive. Hey, it's a small gift for their defense of our freedoms. I'm happy people do provide those tickets to them.) There will not be much passing in this game, but that might make it one of the more intriguing games. This is going to be smash-mouth, pound the rock football. It will be a breath of fresh air from the typical air show we see nowadays.
5.Alamo Bowl
No.11 Utah (Pac-12 South Champions) vs. Texas (7-5)
Tuesday, December 31st, 2019
Alamodome, San Antonio, Texas, 6:30 p.m. CST kick off
There is a massive drop off in excitement from No. 4 to No. 5. The Alamo Bowl is an excellent bowl game. Sadly, neither team will care or want to be at the Alamo Bowl. First off, many Texas fans were gearing up for a trip to Orlando. San Antonio is a fine city, but Texas fans can take a day trip there anytime. The Longhorns don't even deserve to be in the Alamo Bowl. Kansas State and Oklahoma State have better records. Iowa State beat Texas. The Longhorns are not going to be at full health, and some of the players may decide to skip it for the draft. Meanwhile, Utah feels dejected that it could have been in the College Football Playoff. Had they defeated Oregon, they probably get in. The loss not only kept them from the College Football Playoff, but dropped them outside of a New Year's Six Bowl. Utah will probably win this bowl. I can tell you for a fact, Tom Herman doesn't care to be in the Alamo Bowl. If Kyle Whittingham has his team ready to go, Utah will demolish Texas. If not, then the only reason to view this game is for the laughter of follies that will take place.
When the Alamo Bowl extended an offer to Texas, everyone lost except for the Alamo Bowl executive who can't couldn't contain his evil laughter when he was able to swipe up Texas before the Camping World Bowl could. This bowl game is a disaster.
6.Texas Bowl
No.25 Oklahoma State (8-4) vs. Texas A&M (7-5)
Friday, December 27th, 2019
NRG Stadium, Houston, TX, 5:45 p.m. CST kick off
I'm going to rank this bowl game at the bottom and allow myself to be pleasantly surprised. First off, we know that Spencer Sanders recently had season-ending surgery on his thumb. Even if he were to suit up, how well would his throwing capabilities be? Can he grip the ball well enough by that time? Now here's why this game is really at rock bottom: There is a chance Chuba Hubbard might skip out. Upon first hearing this, I was going to play it off as conjecture. Then, I searched Chuba's name into Google and found an article from the Tulsa World with the headline "As fatigue wears on Chuba Hubbard, so does the decision of playing in OSU's bowl game". Without Sanders, Hubbard and Tylan Wallace, what's the point of even traveling to this bowl? If I had to listen to the "Aggie War Hymn" and watch their band full of what Jesse "The Body" Ventura would call "The Marching Morons" bask in the happiness of beating the B-team of a solid Big 12 program, it would be miserable. Hopefully Hubbard plays. Hopefully, he also gives Texas A&M the Barry Sanders treatment. If Hubbard plays, this bowl shoots up to No. 4. The fact that Sanders and Wallace are out still hurts the intrigue of this game.
**We now have FREE Big 12 Forums here at Heartland College Sports. Go sign up here and join our conversation! **