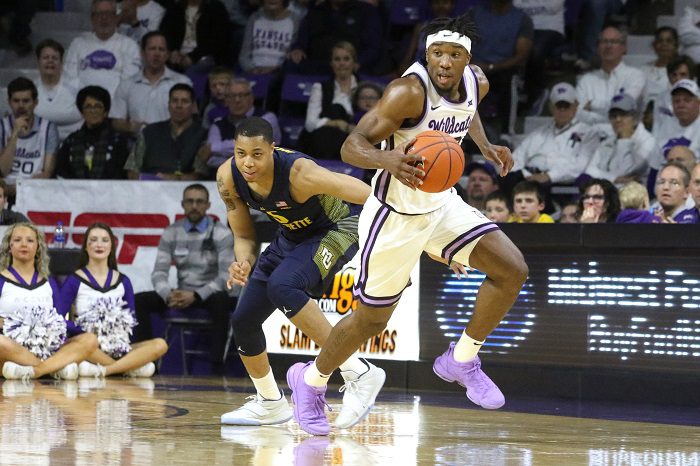 West Virginia forward Derek Culver knows he got by last season on his athleticism. This offseason he worked to change that as he entered this season for the Mountaineers.
The early returns are promising.
Culver, at 6-foot-10, has started six of the Mountaineers' eight games entering this week and is averaging 11.3 points and 9.4 rebounds per game. He's part of a young and balanced attack that has four Mountaineers scoring in double figures, but none scoring more than 12 points per game.
Culver's last four games have been stellar, especially when you consider he has to compete for touches with 6-foot-9 star freshman Oscar Tshiebwe. Culver has notched a double-double in three of his last four games, including a 12-point, 18-rebound performance against St. John's in the Big 12-Big East Challenge. He had a season-high 25 points in the game before that against Rhode Island.
Between the end of last season — in which Culver was one of two Big 12 players to average a double-double in league play — and the start of this season, the watchword was patience.
"I felt I really needed to improve on my patience in the post last year because I rushed shots and didn't see what I had around me," Culver said. "There were teammates that were open and I didn't get them the ball because I didn't have my head up. (So it's) Me, (improving) in the post, my patience and knowing what I wanted to do before I did it. Last year I just felt like sometimes I did things and just lived with the results."
After eight games it's clear the Mountaineers have improved at other things, too. Culver didn't feel WVU was a good team rebounding team last year. That has changed to the point where the Mountaineers have an eight-board advantage of the glass. Culver's growth as a player and Tshiebwe's addition helps, certainly. But Culver says that all five players go to the boards now, and that wasn't always the case last year.
But Culver's growth helps give the Mountaineers one of the most impressive frontcourts in the Big 12 between himself, Tshiebwe and Jermaine Haley, who at 6-foot-7 is listed as a guard but is the team's third-leading rebounder. And with a 7-1 start, WVU looks well on its way to returning to the NCAA Tournament after a one-year absence.
BIG 12-BIG EAST CHALLENGE UPDATE
The first Big 12-Big East Challenge got underway last week with five games and the Big 12 is 1-4 to this point. It's not a good start for the Big 12 in the first year of this four-year scheduling agreement.
Georgetown 81, Oklahoma State 74: The Cowboys suffered their first loss of the season and Georgetown got its second win over a Big 12 team this season. Lindy Waters III went off for 29 points and Cameron McGriff added 20, but it wasn't enough.
DePaul 65, Texas Tech 60: Freshman Terrance Shannon Jr. had 24 points for the Red Raiders in the loss. Forward T.J. Holyfield was held without a point.
St. John's 70, West Virginia 68: Despite Derek Culver's 12-point, 18-rebound game, the Mountaineers lost their first game of the season in their visit to New York City. Rasheed Dunn had 13 points off the bench for SJU.
Marquette 73, Kansas State 65: Cartier Diarra had 14 points, while Xavier Sneed and Makol Mawien had 11 points each in the eight-point loss.
Iowa State 76, Seton Hall 66: The Cyclones salvaged the week on Sunday with a 10-point win over No. 16 Seton Hall. George Conditt IV was as efficient as one could possibly be, scoring 17 points and grabbing 6 rebounds in just 19 minutes of action.
The remaining Big 12-Big East Challenge games include:
Dec. 10: Butler at Baylor
Dec. 17: Oklahoma at Creighton
Dec. 21: Kansas at Villanova
Dec. 21: Texas at Providence
Dec. 22: Xavier at TCU
TRYING TO MAINTAIN THOSE RECORDS
This is the time of holiday and exams, so the teams that have great records right now are entering a time of the season where they're hoping to maintain those near-pristine records before getting into Big 12 play, where the margin for error really grows.
Entering Monday there are six one-loss teams in the Big 12. That's impressive. Here, I handicap which of these teams has the best chance of reaching Big 12 play with just one loss, ranked from least likely to most likely.
Least likely — Oklahoma: Wichita State and Creighton on the road in the next 10 days? I could see the Sooners losing one of those. After that it's UCF and UT-Rio Grande Valley at home, both of which should be winnable.
Oklahoma State: On the road against Houston, then home against Minnesota and home against Southeastern Louisiana. Oklahoma State lost to Minnesota last year on the road. The odds are against OSU having just one loss when they go to Lubbock on Jan. 4 to face Texas Tech.
West Virginia: The Mountaineers should be able to take care of Austin Peay, Nicholls State and Youngstown State. Now, Ohio State on Dec. 29? That's another matter. That one game on its own could keep WVU from being a one-loss team entering Big 12 play.
Texas: The Longhorns host Central Michigan, then travel to Providence and then host High Point. The trip to Providence, four days before Christmas, is a dangerous one for the Longhorns. But they've made an equivalent trip already this season to face Georgetown. Of course, they also lost that game.
Kansas: Four games remain. Two should be easy, and that's this week (Milwaukee and UMKC). Then, it's road games against Villanova and Stanford sandwiched around Christmas. Those are stumbling blocks, but blocks the Jayhawks can navigate.
Most likely — Baylor: With three games remaining, the only real stumbling block is this week's game with Butler, which is ranked. Fortunately the Bears are 2-0 against ranked teams (Villanova, Arizona) and this game is in Waco. The Bears have a real chance to be 10-1 in January.
PERFORMANCE OF THE WEEK
Oklahoma forward Kristian Doolitte was the Big 12's Most Improved Player a year ago. He's starting to assemble a resume to contend for Player of the Year this season. Against North Texas he put up 28 points, 7 rebounds, 3 assists and a steal in the 80-78 victory. Doolittle isn't known for his 3-point shooting. But he went 3-for-3 from the arc, including the game-winner. And he wasn't shy about sharing it on Twitter.
Great team win!! My Best @KingJames impersonation after the shot.. 🤣🤣 pic.twitter.com/IhUcQmw0fb

— Kristian Doolittle (@kristiandoolit1) December 6, 2019
LOOKING AHEAD
Taking a look at the next 7 days in Big 12 basketball:
GAME OF THE WEEK: Texas Tech is at No. 1 Louisville on Tuesday. No better way for the Red Raiders to get back in the Top 25 than to upset the nation's No. 1 team. Hey, you know T.J. Holyfield used to go to SFA and knows some people. The Lumberjacks know a little bit about beating No. 1 teams on the road. Just sayin.'
SNEAKY GOOD GAME OF THE WEEK: Iowa faces Iowa State in Ames on Thursday. The Hawkeyes have already beaten one Big 12 team (Texas Tech). That would make beating their in-state rival a nice feather for the Cyclones.
BIG 12 NOW GAMES: Big 12 Games on ESPN+ this week include Milwaukee at Kansas on Tuesday, Alabama State at Kansas State on Wednesday and UMKC vs. Kansas on Saturday (in Kansas City). If you're not already a subscriber to ESPN+, now is a great time to get in on the action. Just click here to subscribe.
POWER RANKINGS: The next edition will be out on Tuesday, Dec. 17.
**We now have FREE Big 12 Forums here at Heartland College Sports. Go sign up here and join our conversation! **