Baylor Bears
Matt Rhule Shoots Down NFL Speculation, Cites 'Unfinished Business' at Baylor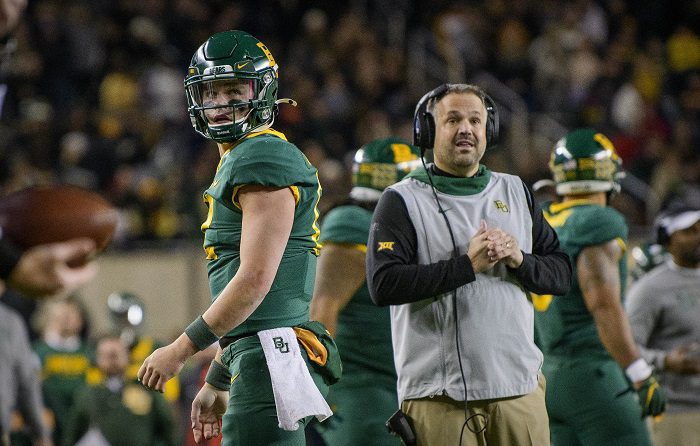 Matt Rhule is one of the hottest coaches at any level of football right now. He's two seasons removed from his first year with the Baylor Bears where he went 1-11 and just wrapped up an 11-2 campaign, which included a trip to the Big 12 Championship Game and included two loses, both to No. 4 Oklahoma.
So the speculation is running rampant as to whether or not Rhule might scratch his NFL itch, or the itch of a more prominent college job. Rhule is a Penn State grad and has had NFL interest the past two offseasons from the Indianapolis Colts and New York Jets.
But after joining ESPN Radio's Golic and Wingo on Tuesday morning, Rhule said, "I'm really committed to being at Baylor. It's a great, great place. You know, when college jobs have come at me this year I've said, 'Hey, absolutely not.'"
Rhule explained his past flirtations with the NFL, saying, "I think anytime an NFL team has called in the past, people have kind of assumed that I wanted to go. I think when an NFL team calls you're foolish if you don't at least hear them out or listen to them, but I don't think that's the time or place for me right now."
Rhule and the Bears will take on the 5th-ranked Georgia Bulldogs in the Sugar Bowl on January 1st.
But Rhule doesn't expect this season to be an outlier for Baylor, adding, "I think that we are in the middle of building something really, really special at Baylor and I think it can be even better next season."
Rhule put his money where his mouth is earlier this season when he agreed to an extension with Baylor, and went on to tell ESPN he absolutely wants to see this through in Waco, commenting, "When you do these jobs and go from one win to seven wins to 11 wins, a lot of people have to sacrifice a lot and you want sometimes to enjoy the fruits of your labor. We have a tendency as coaches to leave before we have a chance to enjoy in the winning."
"I think next year we're going to have a great team. I think the Sugar Bowl is going to be a big start to that, so I'll always be respectful when people call me, but I think for my family and what we're trying to do, we have unfinished business at Baylor."
Let the good times roll in Waco.