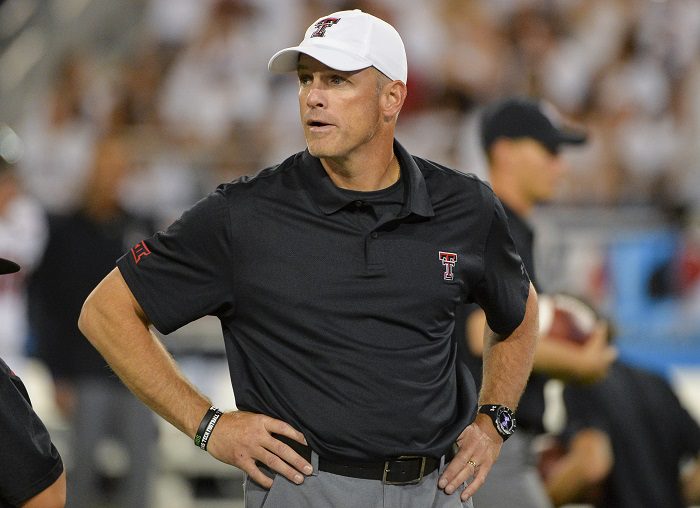 Unfortunately, it is that time of year again. It felt like just yesterday the Big 12 football season was kicking off and within the blink of an eye it's gone. Of course, some fans don't mind when the season is flying by because when your team is bad, you are likely wanting it to be over as soon as possible. Now that isn't the case for every team in the Big 12 but for these four teams that I will recap in the next two weeks, it appears to be that way. So, for Kansas, Texas Tech, West Virginia and TCU, you are the first four teams in line for my season recaps before the bowl season gets here. I know there is still time before the season is "officially" over but for these four teams that time has already come. Next up, is Texas Tech who finished the 2019 campaign at 4-8. 
Season Summary
The Red Raiders season started exactly we everyone imagined. It started with two easy victories over Montana State and UTEP where they outscored these teams 83 to 13 to get off to a smooth 2-0 start. Then the problems started to rear their ugly head. Tech visited the desert to take on a bad Arizona team and lost and not only did they lose on the scoreboard, they lost their starting quarterback Alan Bowman for the year. Things went from bad to worse following their trip to Arizona as Oklahoma put a beatdown to remember as Tech got spanked 55-16 in Norman. However, that lit a quick fire under the team as the very next week, they pulled off a massive upset at home against Oklahoma State. Unfortunately, the momentum didn't last as the Red Raiders would finish their final seven games with a 1-6 record with their only other win coming against West Virginia on the road. Not to mention, losing to Kansas. While things seemed extremely bad, this team only lost by three points or less in four of their final six losses but overall finished with a 4-8 record in Matt Wells first season.
High Point
With only two power five wins on the year, there is no doubt that the Oklahoma State victory was the high point of the season for Texas Tech. Coming fresh off a bad beatdown in Norman, Tech came back home and just dominated a good Oklahoma State team 45-35. In that game, Texas Tech jumped out to a 20-0 lead and quarterback Jett Duffey threw for 424 yards and four touchdowns on the day. Not to mention, the Red Raider defense forced five turnovers to help them seal the deal. It was a HUGE win for Matt Wells early in the season.
Low Point
If not for this game, I would have gone with the Oklahoma game but losing to Kansas was a low blow for this football team. Before the Kansas game, Tech took Baylor to double overtime and had a case to win if not for a blown call from the refs, but I won't get into that again. Then came a loss to Iowa State before traveling to sleepy Lawrence, Kansas. In that game, both teams were tied at thirty-four and with thirteen seconds left, Kansas lined up for a field goal from forty-yards-out. A Tech player blocked the attempt and another Red Raider picked the football up to try and run with it but accidentally fumbled the football as Kansas recovered and had enough time left to kick a game winner as time expired. I am sure if you are a Texas Tech fan reading this, you want to move on and I don't blame you.
What Went Right
How about the offense? Believe it or not, the Red Raiders finished second in the Big 12 conference in average yards per game (474.2) and had the number one ranked passing offense as well. While the run game wasn't always solid, quarterback Jett Duffey put together a nice season as he threw for eighteen touchdowns and cut back on his turnovers this season with five picks on the year. Not to mention, he completed 65.1% of his passes. He really improved this season as a passer. Of course, the good play of the offensive line helped as well. In previous years, the offensive line was shaky at best as they were always near the bottom in terms of pass protection and this, they gave up the second fewest sacks in the Big 12. I am not going to lie; I didn't think the offensive numbers would be this good.
What Went Wrong
Defense, defense and oh yeah, did I mention the defense? It was a disaster for most of the year but there were times where they weren't all that bad but when you look at it from a number standpoint, it doesn't make it look pretty. Texas Tech was ninth in the conference in rush defense giving up 172.5 yards per game on the ground while being dead last in pass defense giving up a whopping 307.8 yards per game through the air. In fact, in terms of total yards allowed, they were the worst defense in the Big 12.
What's Next?
The good news is that both Jett Duffey and Alan Bowman will be back at quarterback next season. Not to mention, running back SaRodorick Thompson who was their leading rusher this season will be back as well. Throw in wide outs T.J. Vasher and Erik Ezukanma and the Red Raiders have a nice nucleus on offense. The issue on offense will be replacing three senior starters up front and possibly a fourth starter if junior right guard Jack Anderson decides to enter the NFL draft possibly.
As for the defense, the defensive line will comeback outside of Broderick Washington who is their best defensive lineman. Just like the defensive line, Tech will be without superstar linebacker Jordyn Brooks who not only is the best player on defense, but the leader. And if Brooks is the toughest player to replace on defense then consider losing first team All-Big 12 safety Douglas Coleman 1-B. Tech has plenty of guys returning but the issue is that the guys they are losing are crucial parts of the defense. Without a doubt, the biggest thing the staff needs to do is recruit their tails off to build up these missing pieces on both sides of the football.
**We now have FREE Big 12 Forums here at Heartland College Sports. Go sign up here and join our conversation! **