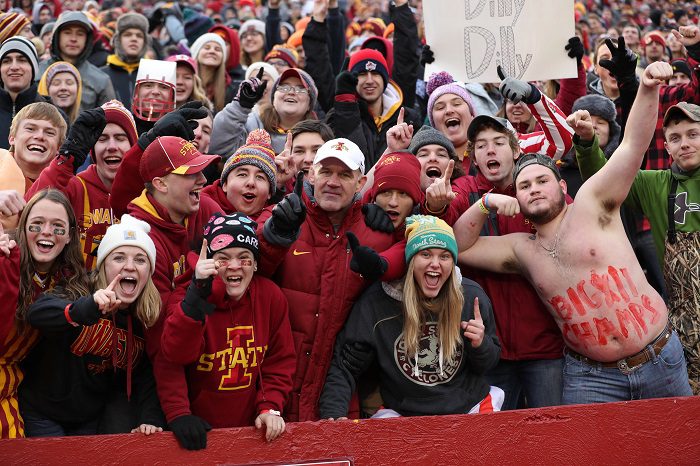 Once in a while I feel the need to build on a point I made and expand on it. Maybe it's re-explaining myself.
Regardless, Kansas State fans, and I heard from many of you, were upset by what I was discussing in this past week's podcast regarding why Kansas State was passed over for the Alamo Bowl (in favor of Texas) and the Camping World Bowl (in favor of Iowa State).
Here is a part of what I said.
"I hate to break it to you K-State fans. And not to knock you but this stuff is determined by money and TV ratings and that's it. It's nothing personal… there is so much to look at this year and say, 'What a year for the Wildcats.' But if you're the Alamo Bowl and you've got a chance to take the Texas Longhorns, you do it, and if you're the Camping World Bowl, Iowa State fans have developed a reputation as a fan base that will travel. Not just that reputation in terms of people talking about them, but they've got the social media following on this stuff."
You can listen to the entire podcast here (or just go subscribe on iTunes, Spotify, Google Play, or wherever you get your podcasts).
Powered by RedCircle
I got plenty of feedback, but one email I received, which was written professionally and not obnoxiously, said the following: Pete, I was really rubbed the wrong way by your commentary on the bowl selections this year, especially your comments on Kstate vs Iowa State. Now I can't deny any of the things you said about Iowa State and all the effort they and their fans put in, and quite frankly happy a fellow Big 12 fan base can rep so well, but I took great concern with how you portrayed the Kstate fan base."
But I think Kansas State fans are missing something.
My entire point was to compliment the reputation the Iowa State fan base has built for itself. Right now, the Iowa State fan base should be viewed as the most passionate and willing-to-travel fan base in the entire Big 12 Conference. Yes, that's above OU, Texas and everybody else.
Now OU fans will undoubtedly show up in Atlanta for the College Football Playoff. But would they show up to Orlando for the Camping World Bowl? Debatable. Iowa State, by its standards, is playing at a historic level for its football program, which has further juiced the fans' passion and willingness to hit the road. That's a factor as well.
So this was not a slight against Kansas State. It was simply a testament to the Cyclones.
The Kansas State fan base is certainly passionate and has a great following. I would argue its fan base and following is underrated both regionally and nationally.
But it's reputation is not Iowa State. The Cyclones got national attention after there was controversy as to whether or not the Alamo Bowl ran out of Busch Light last year.
This year, the Busch Light guy showed up for College GameDay in Ames, and then the Carson King story went viral, which was partially tied to, once again, Busch Light. There was this story from Busted Coverage, saying, "bowl cities will be begging for the Cyclones next year."
You might argue this is all just Iowa State doing a good job branding itself and its fan base and nothing more, and that they really don't drink any more beer or have a more passionate fan base than your run-of-the-mill Power 5 team.
However, it's hard to argue after the Cyclones just sold out their ticket allotment for the Camping World Bowl. Sure, Kansas State might've as well, or any other Big 12 fan base who would've had the chance to go to Disney World and play Notre Dame. But that's not the point, the point is that the Camping World Bowl was most confident that based on its choices, Iowa State gave them the best chance to accomplish that.
So my original thesis was never a knock on Kansas State fans. I've been to multiple games in Manhattan and I love the fans and we've had a successful Heartland College Sports tailgate there as well. But if I was a bowl game and I could pick the Iowa State fan base right now, if all else was relatively equal (wins, etc.), based on what we know they've done lately, how they've traveled, etc., I'd do it over every other fan base in the conference.
And maybe that's just a false perception or a great marketing and branding job by Iowa State.
But whether you like it or not, it's a cliche, perception is sometimes reality. And it's my belief that is what's going on here.
**We now have FREE Big 12 Forums here at Heartland College Sports. Go sign up here and join our conversation! **