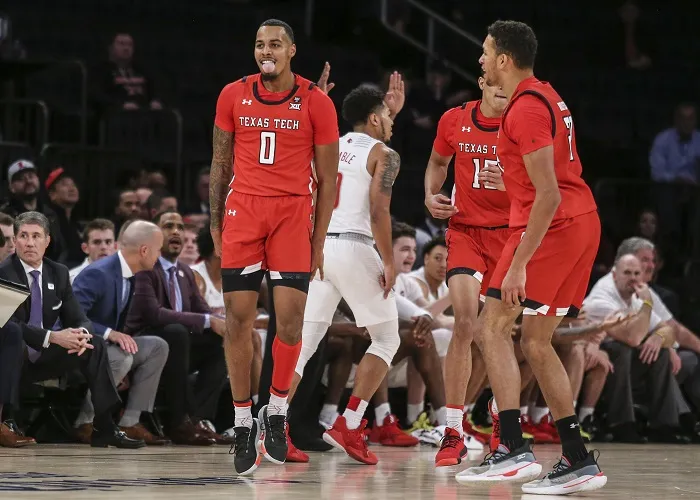 I have a life outside of covering Big 12 basketball for Heartland College Sports. It's not much of a life mind you, but it's a life, nonetheless. And on Tuesday night that life took me to the American Airlines Center to see the Dallas Stars take on the New Jersey Devils (Stars won, 2-0, if you care). 
During the second period I got a DM from a co-worker who is a Texas Tech fan. Her message was simple – two emoji fingers signaling No. 1 and wreck em.
I knew what Tuesday night meant and I knew why she was happy — Texas Tech defeated No. 1 Louisville at the Jimmy V up in New York City. It was the second time this season that a Division I men's basketball team from Texas upset the No. 1 team in the nation (Stephen F. Austin did it two weeks prior to that against Duke — you didn't really think I was going to let you forget my alma mater did that, did you?). Of course, 'upset' is in the eye of the beholder. Yes, Tech had lost three games going into that contest with Louisville, but they were by no means a chump team. That was a game I could have seen Tech winning.
Shortly after, I had to figure out why Avery Benson was clogging up my Twitter feed.
Tuesday night Jahmi'us Ramsey was unable to play due to injury for the third straight game. When someone goes down to an injury a coach must shuffle his lineup. Finding a new starter is actually the easier part of the equation. On a team like Texas Tech, there's a quality player there to take that spot (Beard moved Chris Clarke into the starting lineup). The harder part is finding the player on your bench that will pick up the minutes left behind by the player moving into the starting lineup. Sometimes you pick the best player, sometimes you pick the best matchup.
Sometimes a guy like Avery Benson steps up. So WHO is Avery Benson, you ask? Good, because I kind of had to ask the same thing. I mean I know the conference well, but when we start talking about the end of the bench, it can be a little challenging.
Benson is a 6-foot-4 guard from Springdale, Ark., who is doing it the hard way. He walked on at Texas Tech before the 2017-18 season and redshirted. Why on earth would a kid from Arkansas decide to walk on at Texas Tech? Red Raiders head coach Chris Beard, that's why. One of the schools that offered Benson a scholarship coming out of high school was Arkansas-Little Rock. At that time Beard was the head coach at UALR. Neither forgot the other when Beard was filling out his roster after his first season in Lubbock and Benson was looking for a college home.
Last season Benson played a whopping 70 minutes for the Red Raiders. He scored a total of 11 points, including a season-high five against Baylor. Frankly, there wasn't much room for him on the floor when you consider how that edition of the Red Raiders came together.
This season? He's already played more minutes (109) and scored more points (34) than all of last season. But Tuesday's game against Louisville capped a three-game stretch in which Benson had played at least 20 minutes in each game. Turns out it was Benson who picked up the bench slack left by Clarke.
Benson had a beautiful outing at Madison Square Garden (I remembered to record the game and watch it the next day). He hit all three shots, including a 3-pointer, along with all three free throws to score 10 points. He also had four rebounds, two blocked shots and a steal. Red Raider nation and his teammates loved the effort.
TONIGHT ON @fox34: Full recap of #TexasTech's win over #1 Louisville, including Avery Benson's big role in the win.

"Tonight it was my time. I have been here for three years and I couldn't have done it without my guys or coach Beard." –@TheRealADB_3 #WreckEm pic.twitter.com/GneEiAaD3D

— Jon Sokoloff (@JonSokoloff) December 11, 2019
It was exactly what the Red Raiders needed after a lull that started around Thanksgiving, with losses to Iowa, Creighton and DePaul, which basically coincided with Ramsey's absence from the lineup (he played 25 minutes against Iowa before the injury).
Every team has a player like Benson, one that everyone on the team loves and everyone roots for. It gets even better when that player can contribute something to the team on the floor. I encourage you to read Rob Dauster's piece at CollegeBasketball.NBCSports.com about Benson. One of the anecdotes Dauster collected was about how the Red Raiders went into the stands after their Sweet 16 victory two seasons ago to celebrate with Benson, who could not sit with the team but was sitting with friends and family while wearing a Cowboy hat.
I guess that explains what T.J. Holyfiled tweeted after the game.
I'm buying a cowboy hat just because of Avery Benson.

— TJ Holyfield (@teejayy_22) December 11, 2019
KANSAS IS NUMERO UNO AGAIN
When the No. 1 team in the nation loses, there's a natural inclination to assume that the No. 2 team will move up to No. 1. This time, it's Kansas. Yep, the Jayhawks are No. 1 once again in the Associated Press Top 25.
Kansas assumed the top spot on Monday after Louisville fell back in the poll after its loss to Texas Tech. The Jayhawks' ascension to the top spot means KU starts at No. 1 for the 70th week in program history, according to its media guide. For current head coach Bill Self this week marks the 30th week the program will serve as the nation's No. 1 team.
Kansas puts that No. 1 ranking on the line against Villanova on Saturday in Philadelphia.
BIG 12-BIG EAST CHALLENGE UPDATE
The first Big 12-Big East Challenge continued this past week with one game and the Big 12 is now 2-4. Baylor secured the conference's second win over the Big East in the challenge.
Baylor 53, Butler 52: Despite an abysmal shooting night (35 percent from the floor and 45.5 percent from the free-throw line), the Bears led the entire game and won by a point. MaCio Teague and Devonte Bandoo each had 10 points. Mark Vital had a huge blocked shot in the game's final sequence to protect the lead. It was Baylor's second win over a Top 25 team in as many games.
The remaining Big 12-Big East Challenge games include:
Dec. 17: Oklahoma at Creighton
Dec. 21: Kansas at Villanova
Dec. 21: Texas at Providence
Dec. 22: Xavier at TCU
Oh, and there was this note before the Baylor-Butler game:
🚨CRAZY STAT ALERT🚨

Tomorrow night, #Baylor Men's Basketball will be playing in its 220th game as a ranked team under Scott Drew (@BUDREW). The Bears were ranked in 2 of 2,197 games over 97 seasons prior to Coach Drew. #SicEm pic.twitter.com/ZYOXoNkrNK

— Nick Canizales (@NickCanizales) December 9, 2019
THE BATTLE TO REMAIN A ONE-LOSS TEAM ENTERING BIG 12 PLAY
Entering Monday there are six one-loss teams in the Big 12. That's impressive. I handicapped which of these teams has the best chance of reaching Big 12 play with just one loss, ranking them from least likely to most likely. How am I doing so far? Pretty darned good, actually.
Oklahoma State fell from the ranks of the one-loss teams with a loss to Wichita State and I had them as the second least-likely team to reach Big 12 play with just one loss. Then, on Saturday, the Oklahoma Sooners lost to, of all teams, Wichita State, and I had the Sooners as the least likely team to reach January with just one loss.
The rankings from least likely to most likely, with games remaining entering this week is below:
Oklahoma: Second loss came against Wichita State.
Oklahoma State: Second loss came against Wichita State.
West Virginia: Youngstown State (road), Ohio State (neutral site).
Texas: Providence (road), High Point (home).
Kansas: Villanova (road), Stanford (road).
Baylor: UT Martin (home), Jackson State (home).
PERFORMANCE OF THE WEEK
This week I tip my hat to Kansas forward David McCormack, who had 28 points and 7 rebounds on 11-of-14 shooting against Missouri-Kansas City on Saturday. Sure, UMKC isn't exactly Villanova (that's foreshadowing, as you'll see), but a game like that for McCormack is important. Kansas needs both McCormack and Udoka Azubuike firing well to be successful in conference play. Now, McCormack hasn't gone for big points against a big opponent yet, but he did grab 13 rebounds in the opener against Duke. So he's capable of rising to the occasion against a quality team. A performance like Saturday's can be a springboard into Big 12 action for the sophomore, who is firmly entrenched as a starter at this point.
LOOKING AHEAD
Taking a look at the next 7 days in Big 12 basketball:
GAME OF THE WEEK: Kansas, now the nation's No. 1 team, travels to Philadelphia to take on Villanova on Saturday. Villanova hasn't lost a home game and Kansas hasn't lost on the road. But this game will be at the Wells Fargo Center, Villanova's home away from home. So expect a packed house at the home of the Philadelphia 76ers.
SNEAKY GOOD GAME OF THE WEEK: Also that Saturday Oklahoma hosts UCF. While the Knights don't have the skyscraper that is Tacko Fall, the Knights are 7-2 entering this week and should give the Sooners a nice test at home.
BIG 12 NOW GAMES: Big 12 Games on ESPN+ this week include Saint Louis at Kansas State on Saturday. If you're not already a subscriber to ESPN+, now is a great time to get in on the action. Just click here to subscribe.
POWER RANKINGS: The next edition will be out on Tuesday, Dec. 17.
**We now have FREE Big 12 Forums here at Heartland College Sports. Go sign up here and join our conversation! **