Baylor Bears
Big 12 Basketball Power Rankings: Non-Conference Edition Week 6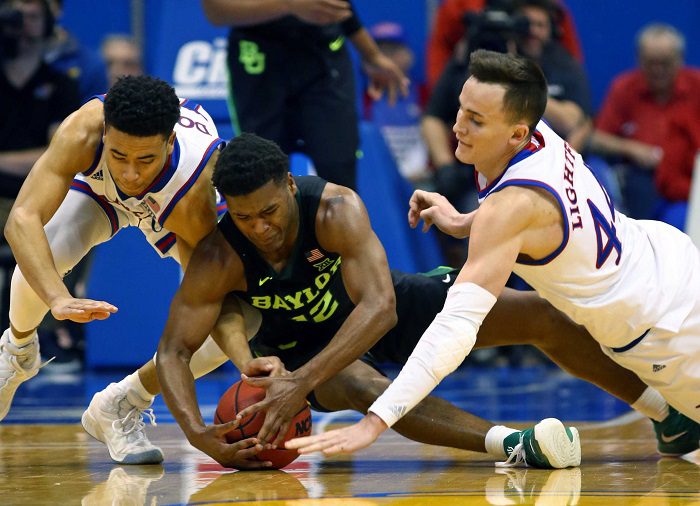 With the 2019-20 Big 12 Men's Basketball season heading toward the holidays, here are the HeartlandCollegeSports.com power rankings after six weeks. Updates will come every two weeks before weekly updates during the conference season.
No. 1 should be no surprise. No. 10 nearly moved up. In the middle, there is some significant movement.
1. Kansas (Last rankings: 1)
Top players: G Devon Doston (19.6 ppg), F Udoka Azubuike (14.1 ppg), G Ochai Agbaji Garrett (11.4 ppg).
When you're the nation's No. 1 team, then you have to be No. 1 in the conference power rankings, right? It's pretty much the law. The Jayhawks' entire starting lineup is averaging at least 9 points per game. Now we can quibble about free throw shooting (under 70 percent) and turnover ratio (Kansas has 140 turnovers, but their opponents only have 164, so the ratio isn't great). But overall the Jayhawks are humming along.
Next two weeks: The Jayhawks face Villanova on Saturday, their first game since becoming the nation's No. 1 team, and then travel to Stanford on Dec. 29. Bad news for Kansas is the No. 1 ranking has not been kind this season. But the Jayhawks are used to have a target on their backs.
2. Baylor (Last rankings: 2)
Top players: G Jared Butler (17.4 ppg), G MaCio Teague (14.8 ppg), F Freddie Gillespie (9.2 ppg).
First, a word from Baylor athletics.
✅ Top-10 for first time since March 9, 2017.

✅ First time at No. 10 spot in AP Poll

✅ 35th time voted into AP Top 10 – all since Dec. 13, 2010

🔗: https://t.co/cGVty5X0O4#SicEm 🐻 | #1TGF 🏀 pic.twitter.com/yF5Byq8bzV

— Baylor Basketball (@BaylorMBB) December 16, 2019
Yep, the Bears are rolling with just one loss in nine outings. The Bears now have two straight wins over ranked teams and are Top 25 in both offense and defense nationally. It's time to stop writing "wait until Tristan Clark hits his groove" and start writing about the incredible chemistry on this team (but seriously, I'm still banking on Clark making a serious impact in Big 12 play).
Next two weeks: Things should be easy-peasy for the Bears the next two games, with home game against UT Martin (Dec. 18) and Jackson State (Dec. 30). Odds are the Bears will be 10-1 when Big 12 play opens Jan. 4 at the Ferrell Center against Texas.
3. Texas Tech (Last rankings: 3)
Top players: G Jahmi'us Ramsey (17.3 ppg), G Davide Moretti (14.2 ppg), G Terrence Shannon Jr. (11.6 ppg), G Kyler Edwards (10.6 ppg).
The record doesn't always tell you about the quality of the team. The Red Raiders lost three games in a row and then followed that be beating the No. 1 team in the nation — Louisville — on a neutral site. The nice thing about the injury to Ramsey is that it's allowed Chris Clarke to get into the starting lineup, Shannon to take on a bigger role and bench players like Avery Benson the opportunity to show they can be used more. The Red Raiders moved back into the AP Top 25 as a result of the win over Louisville, and defeated Southern Miss on Monday night.
Next two weeks: The Red Raiders have two more home games against UT-Rio Grande Valley (Dec. 21) and CSU-Bakersfield (Dec. 29) before settling in for their Big 12 opener against Oklahoma State on Jan. 4.
4. West Virginia (Last rankings: 6)
Top players: F Oscar Tshiebwe (12.3 ppg), G Jermaine Haley (11.1 ppg), F Derek Culver (11.0 ppg), F Emmitt Matthews Jr. (10.6 ppg).
The Mountaineers slipped back into the AP Top 25 this week, and they might stay there for at least another week. They leap up two weeks in part because of the ranking, but also because this team, quite simply, has gelled quicker than I expected. You have Tshiebwe and Culver, who are both nearly averaging double-doubles (I mean, at this point, we can round up and give it to both of them). Haley and Matthews are providing consistent performances, while Miles McBride and Chase Harler are facilitating well. I also had to factor in ESPN's basketball power index because I was toggling between the Mountaineers, Texas and Oklahoma State in the middle of these rankings. The Mountaineers are ahead of both in the BPI, ranked No. 32. Now, WVU isn't that far ahead of either one of them, and Oklahoma State has a slightly better strength of schedule. But WVU has a better strength of record that both the Longhorns and Cowboys, and just as good a record as Texas. So, for now, the Mountaineers slip up ahead of both.
Next two weeks: The Mountaineers host Youngstown State (Dec. 21) before heading to Cleveland, Ohio, to face Ohio State on Dec. 29. The Buckeyes are one of the nation's top teams at the moment and this provides a great litmus test game for the Mountaineers on eight days' rest.
5. Texas (Last rankings: 5)
Top players: G Matt Coleman III (13.0 ppg), G Andrew Jones (11.8 ppg), G Jase Febres (10.9 ppg), G Courtney Ramey (10.6 ppg).
The Longhorns have four double-digit scorers are all are on the backcourt. That doesn't mean that Texas hasn't found pieces in the frontcourt — forward Jericho Sims has settled in nicely after losing his starting job last year to Jaxson Hayes and Gerald Liddell has carved out a nice role. But that was something I took into account as I was trying to decide where to put Texas and West Virginia. The Mountaineers look more balanced right now than Texas. If I had to see Texas and West Virginia play straight up right now, because of that balance, I'd probably take the Mountaineers in a close win. Texas still has time to grow the frontcourt depth. I'd like to see more of Will Baker and Kai Jones at this point. Perhaps I overestimated how much Baker would be able to contribute as a true freshman.
Next two weeks: The Longhorns travel to Providence on Saturday and host High Point on Dec. 30. Then it's Big 12 play at Baylor on Jan. 4.
6. Oklahoma State (Last rankings: 4)
Top players: G Isaac Likekele (13.7 ppg), F Lindy Waters III (13.4 ppg), F Yor Anei (12.1 ppg), F Cameron McGriff (10.5 ppg).
We should note right off that the Cowboys picked up a win over Houston on Sunday. But in the ramp-up to that road game the Cowboys lost their first two games of the season — against Georgetown and Wichita State. We should also keep in mind that while both Oklahoma State and Oklahoma lost to WSU, the Mountaineers — who played the Shockers in Cancun last month — did not. Still, there is plenty of like about this OSU team, especially the development of Anei and a bench that is growing more solid by the game. Head coach Mike Boynton has been able to play 11 players in at least 7 games.
Next two weeks: Saturday's game with Minnesota will be a challenge. Then it's a non-conference home finale against Southeastern Louisiana on Dec. 29.
7. Iowa State (Last rankings: 8)
Top players: G Tyrese Halliburton (16.8 ppg), G Rasir Bolton (14.4 ppg), F George Conditt IV (10.1 ppg), G Prentiss Nixon (10.0 ppg).
The debate gets tricky when you get to this point. Iowa State doesn't have as good a record as Oklahoma or TCU. But I would also argue that ISU has played one of the toughest schedules in the Big 12, and ESPN's BPI index backs that up (Iowa State is at No. 79, and Texas Tech and Kansas are both in the 70s as well). So the Cyclones have four double-digit scorers against a schedule that is considered one of the nation's Top 100. Plus, the Cyclones have a win over a ranked team in Seton Hall, which came after losing to the Pirates in a tournament. That win over a ranked team means something to me. The rise of George Conditt IV over the last month is going to help this team significantly in Big 12 play.
Next two weeks: The Cyclones should have two winners coming up — at home against Purdue-Fort Wayne (Dec. 22) and Florida A&M (Dec. 31). Lose either and the Cyclones would likely drop here before their Big 12 opener against TCU.
8. Oklahoma (Last rankings: 7)
Top players: G Austin Reaves (17.1 ppg), F Kristian Doolittle (16.8 ppg), F Brady Manek (14.0 ppg).
Here's where we get into splitting hairs. The Sooners have a better strength of schedule than Iowa State (61st to 79th). But the Cyclones' win over a ranked team played a role in me moving ISU up one spot. The other is that Iowa State's overall ESPN BPI is quite a bit better than Oklahoma (No. 38 to No. 64). Again, this is one of those situations, like with Texas and WVU, where I envisioned the matchup right now. I see the Cyclones taking the close win, so that's why OU is No. 8. But it underscores the depth of this conference right now that we're debating ISU and OU as Nos. 7 and 8 in these power rankings.
Next two weeks: The Sooners travel to Creighton Dec. 17, host UCF Dec. 21 and host UT-Rio Grande Valley on Dec. 30. The Sooners are one of the few Big 12 teams with three games left on the schedule before the new year. The Sooners host Kansas State on Jan. 4 in their Big 12 opener.
9. Kansas State (Last rankings: 9)
Top players: G Xavier Sneed (14.4 ppg), G Cartier Diarra (12.2 ppg).
Before we get into K-State I had to figure out if TCU deserved to move up a spot with a better overall record than K-State. Ultimately I decided it didn't. Their ESPN BPI is practically the same (No. 72 to No. 79) and TCU's strength of record is better than K-State's. But you have to look at the schedule and K-State's strength of schedule (225) is superior to TCU's (348). Yes, K-State doesn't have a win over a Power 5 team, but neither does TCU. The Wildcats are at least playing a more challenging schedule. The good news for K-State is they're attacking a depth problem that has hurt them in recent years. Eight Wildcats have double-digit averages in minutes played. The departure of Shaun Williams to the transfer portal really doesn't hurt this team a bit.
Next two weeks: The Wildcats host Saint Louis on Dec. 21 and Tulsa on Dec. 29.
10. TCU (Last rankings: 10)
Top players: G Desmond Bane (16.1 ppg), G R.J. Nembhard (12.9 ppg), F Kevin Samuel (11 ppg),
As I wrote in the K-State paragraph, the Horned Frogs have one of the worst strengths of schedule in the nation. Their only two losses are against their most challenging teams — Clemson and USC. Both losses were by two points, so that's something to build on. But the wins have come against a steady diet of mid-majors. The best part of this non-conference schedule has been the emergence of Nembhard as a third option offensively. Jaire Grayer (9.1 ppg) and Edric Dennis (8.8 ppg) have grown as solid guard depth for the Frogs. Still, I think on a neutral court K-State gets the better of TCU, and that was a determining factor in keeping the Frogs here.
Next two weeks: The Xavier game on Sunday is huge for the Frogs if they want to build some credibility on the resume. Otherwise, George Mason comes to town on Dec. 30.
Note: Our final non-conference power rankings will return on Jan. 2, two days before the start of Big 12 play.  
**We now have FREE Big 12 Forums here at Heartland College Sports. Go sign up here and join our conversation! **