Big 12 News
Oklahoma Sooners Suspend Three Players for College Football Playoff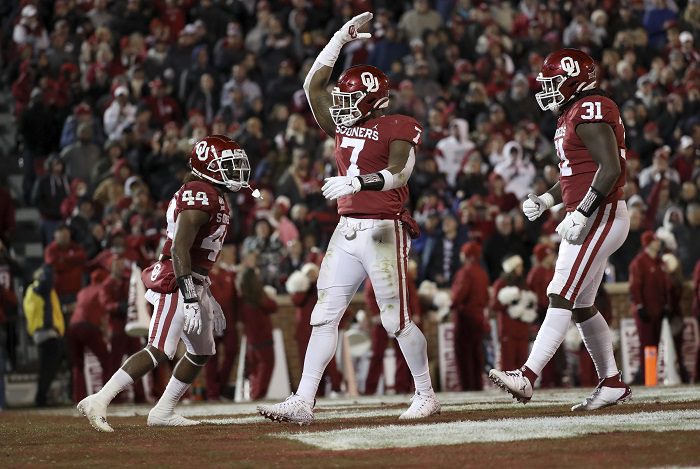 The Oklahoma Sooners are already nearly two-touchdown underdogs against the LSU Tigers in the College Football Playoff, but it's likely that spread may go up after some disappointing news was confirmed on Wednesday.
As first reported by Sooner Scoop, Ronnie Perkins, Rhamondre Stevenson,  and Trejan Bridges have all been suspended for the Peach Bowl. It's also rumored that Tre Brown, A.D. Miller could also face suspensions as well.
Multiple sources have confirmed to SoonerScoop that Rhamondre Stevenson, Ronnie Perkins and Trejan Bridges have been suspended for the Chick-fil-A Peach Bowl.

— SoonerScoop.com (@SoonerScoop) December 18, 2019
Perkins is probably the biggest loss at this point. He's second in the team with 13.5 tackles for loss and is seventh on the team with 37 tackles. He also has six sacks and one forced fumble on the season. He'll likely have to be replaced by a Marcus Stripling, LaRon Stokes or Isaiah Thomas.
Stevenson is third on the team with 515 rushing yards and six touchdowns. He's averaging 8.0 yards per carry, which is the best on the team. This likely means T.J. Pledger will need to step up as the back up for Kennedy Brooks. Meantime, Bridges has 82 receiving yards on seven catches and two touchdowns on the season.
Regardless, this is a tough blow for OU as it tries to win its first College Football Playoff game in what will be its fourth appearance in five years.
**We now have FREE Big 12 Forums here at Heartland College Sports. Go sign up here and join our conversation! **