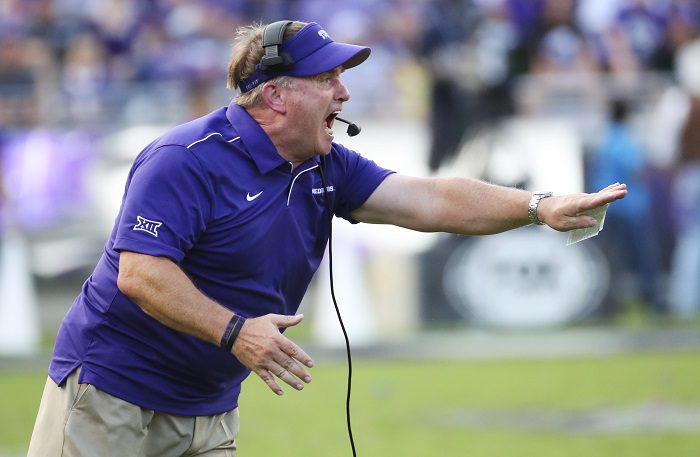 Unfortunately, it is that time of year again. It felt like just yesterday the Big 12 football season was kicking off and within the blink of an eye it's gone. Of course, some fans don't mind when the season is flying by because when your team is bad, you are likely wanting it to be over as soon as possible. Now that isn't the case for every team in the Big 12 but for these four teams that I will recap in the next two weeks, it appears to be that way. So, for Kansas, Texas Tech, West Virginia and TCU, you are the first four teams in line for my season recaps before the bowl season gets here. I know there is still time before the season is "officially" over but for these four teams that time has already come. Next up, is TCU who finished the 2019 campaign at 5-7.
Season Summary
The Horned Frogs couldn't have asked to a better start to the season in their first two games as they started off 2-0 with a win over Arkansas Pine Bluff and a beatdown of Purdue on the road. Little did we know that the rest of the season wouldn't go so well. TCU lost at home to cross town rival SMU 41-38, before picking themselves back up with a big win over Kanas the next week at home. From there, TCU would drop their next two games against Iowa State and Kansas State on the road. Just like after the SMU loss, the Horned Frogs refocused a bit and somehow managed to beat Texas at home to end the two-game losing streak.
Sitting at 4-3 through their first seven games, TCU would end the season going 1-3 in their final four games. Although the won just once in that time span, the last four games were all decided by six points or less with close losses to Baylor, Oklahoma and West Virginia to end the year. Their lone win in the final four games came against Texas Tech on the road. It certainly wasn't a season to remember in Fort Worth as the Horned Frogs missed out on a bowl game for just the third time since Gary Patterson took over full time in 2001.
High Point
With a 3-6 conference record, there wasn't a lot of "high points" in the season for TCU. Although I will say that victory against Texas at home was impressive. Not only did the defense force four turnovers that day, but it felt like it was the coming out party for true freshman quarterback Max Duggan who lit up the Texas defense whether it was on the ground or through the air. With TCU grabbing a 37-27 win, I thought the Horned Frogs could maybe finish the season strong and get to at least a bowl game.
Low Point
I could have went with the Kansas State game because I felt like TCU should have easily won that game but I have to go back to recent memory as the Horned Frogs sat at 5-6 with just one final game against West Virginia left at home. Keep in mind going into that game, the Mountaineers were sitting at 4-7 with no shot of going to a bowl game. Somehow, the TCU offense pulled a no show as quarterback Max Duggan finished the game with just 144 yards and two interceptions as they put up just seventeen points. With the loss, TCU finished the year at 5-7 and missed out on a golden opportunity to reach a bowl game. Instead, they lost and are moving on to 2020.
What Went Right
There is no question which side of the ball carried this football team this season. As usual, Gary Patterson worked his magic on the defense. The Horned Frogs defense kept them in ball games all season long and once again finished highly in nearly every defensive category. In fact, TCU had the third best rush defense and the second ranked passing defense in the Big 12 this season. Not to mention, they finished second in total defense and allowed opponents to convert just 34.9% on third down. I mean just go look at the All-Big 12 team that the conference released a couple weeks back. They had four first team All-Big 12 selections with DL Ross Blacklock, LB Garret Wallow and defensive backs Jeff Gladney and Trevon Moehrig. This was a Big 12 championship caliber defense numbers wise.
What Went Wrong
As good as the defense was, the offense just couldn't even come close to keeping up. While true freshman quarterback Max Duggan had his moments (Mostly running the football), he finished the season tossing fifteen touchdowns on ten interceptions. Without a doubt, the passing game was pathetic as the finished ninth in the conference in terms of passing yardage. The group who perhaps suffered the most from the lack of a passing game were the wide outs. In particular, Jalen Reagor who had just 611 yards and five scores after putting up monster numbers last season. Not just Jalen either, because outside of Jalen, no other wide out had over 400 yards receiving.
What's Next?
Hopefully for TCU, the offense can get back up to speed but it's going to be tough next season as well with the way things are looking right now. The Horned Frogs will lose just about their entire offensive line next season outside of center Coy McMillon. Not to mention, they will lose their top two backs (Darius Anderson & Sewo Olonilua) as well as their best player, wide receiver Jalen Reagor. The focus will be trying to improve Max Duggan as a passer this offseason. With a lot of pieces around him gone, Max may have to carry the offense next season unless someone else steps up big time.
As for the defense, they will return most of their defensive front as well as their linebackers which includes Garret Wallow. We will find out if first team All-Big 12 defensive lineman Ross Blacklock will stick around and if he does, then I would not even be worried about the defensive line or the linebackers. In fact, they could be better next season in these two areas. The one area I would be a little concerned about is the secondary as the Frogs will lose nearly their entire starting secondary including Jeff Gladney. However, TCU doesn't rebuild on defense, they reload.
**We now have FREE Big 12 Forums here at Heartland College Sports. Go sign up here and join our conversation! **