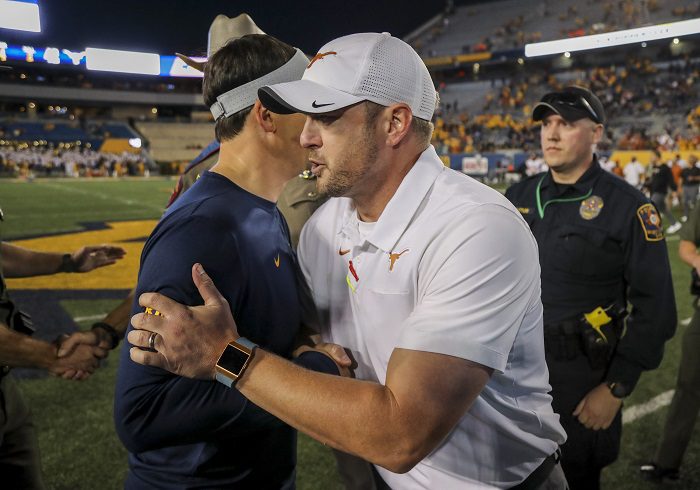 It's that time of year again, it's National Signing Day! I am wrong, it's National Signing "Period". This three-day period gives a chance for prospects to sign with schools officially. This makes year three of the early signing period and no matter what, every single year I must ask myself, where has the season gone? Anyways, that's not what I am here to talk about. I am here to let you know what all went down from day one of the early signing period. Even though it's not "February", there were plenty of interesting storylines around the Big 12 on Wednesday and I thought I would share some of my favorites with you.
5. Oklahoma's Suspensions
I put this at number five because this so happened to break out on the first signing day on Wednesday. Oklahoma will be without defensive end Ronnie Perkins, running back Rhamondre Stevenson and wide receiver Trejan Bridges for the Playoff game against LSU and the national championship game if the Sooners advance. Head Coach Lincoln Riley held his signing day presser on Wednesday and although he was more than aware about the reports out there, he wasn't going to comment on the ongoing situation. Riley's next press conference won't be until next week when the team arrives in Atlanta so maybe by then, he will fully address it.
4. Big Flips/Keeps
No matter what, there always seems to be some drama on the first signing day and that's exactly what we saw on Wednesday. Look at some of the top classes in the Big 12 where you will find most of the four-star guys. While Oklahoma lost top running back commit Jase McClellan (Aledo, TX) to Alabama, they did manage to land four-star cornerback Josh Eaton (Houston, TX) yesterday to help make up for it. Meanwhile, Texas lost four-star wide out Quentin Johnson (Temple, TX) right before signing day who ended up flipping from Texas to TCU. And speaking of Texas, they were able to keep five-star running back Bijan Robinson (Tucson, AZ) who was rumored to be looking around elsewhere. Lastly, West Virginia pulled away with a nice class and were able to get three-star wide receiver Sam Brown (Bloomingdale, GA) who picked the Mountaineers over schools like UCF and Florida.
3. Social Media
Welcome to 2020 people, where social media matters. Ten years ago, people weren't worried about Twitter videos or edits. Heck, they weren't even worried about Twitter at all really. But those days are over and now we get to see just how creative some of these schools are. For instance, Oklahoma I thought put everyone to shame. Their video edits looked like something straight out of a mission impossible movie and made me wonder what their budget looked like to get all that done. Either way, BRAVO Oklahoma! Then there were two other schools that really caught my eye with Baylor and Kansas State. I mean, Baylor coming out with the puppets? Who saw that coming? It looked like something that I would see on Crank Yankers from Comedy Central. I thought it was hilarious. Then you had Kansas State who went all out with the LEGO people. I am not sure who thought of that and whether you liked it or not, at least they were creative, and I must tip my hat to them. This isn't the Bill Snyder Kansas State anymore. Out of all the Big 12 schools, I thought these three did the best work when it came to edits and videos. Again, you may not think it's a big deal that your school is a little (or a lot) behind but to me, perception matters, and kids do notice these types of things. The bar has been raised in the social media world and some schools in the conference need to step it up.
2. Tom Herman
You knew this had to be on this list. I mean what in the heck is going on in Austin right now? Just a few days ago, Tom announced that the team would be wearing special cleats for the Alamo Bowl with the Kevin Durant cleats. I mean really? You break out new cleats for your 7-5 football team for the Alamo Bowl? Out of all games he chose this one. As interesting as that was, it doesn't come close to what was going on inside his meeting room on national television. On Longhorn Network, they did a peek inside the Texas meeting room and boom, there it shows Tom Herman flipping the double bird right into the camera and laughing. He later claimed that he was telling a story and as believable as that is, why look into the camera and do that? I mean, you knew the camera was there so why even do that? Anyways, while I actually thought it was funny, I thought the timing of that couldn't have been any worse. Texas is still searching for some offensive coaches and after a 7-5 season, these types of things aren't all that cute.
1. Where Do These Classes Stand?
Without question, this is the most important thing that comes from the signing period. As of now, here is where the Big 12 schools stack up according to 247.
Texas: 9th, Oklahoma: 10th, TCU: 29th, West Virginia: 36th, Oklahoma State: 40th, Iowa State: 43rd, Texas Tech: 44th, Kansas: 46th, Kansas State: 48th and Baylor: 52nd.
Obviously, Texas and Oklahoma are still recruiting at the big boy table but how about TCU and West Virginia? TCU should always be a top 30 school and West Virginia has done an outstanding job this cycle. Of course, I could write a novel about why Oklahoma State isn't doing better but that has been an issue in Stillwater for years now. As for the rest, they are doing a much better job closing the gap. I mean, Kansas State and Kansas in the top 50? That is a nice sight to see there. I am sure the one that sticks out to you is Baylor but keep in mind, they were going to have a small class for the 2020 cycle.
Powered by RedCircle
**We now have FREE Big 12 Forums here at Heartland College Sports. Go sign up here and join our conversation! **