Big 12 Previews
Texas Bowl Preview and Prediction: Oklahoma State vs. Texas A&M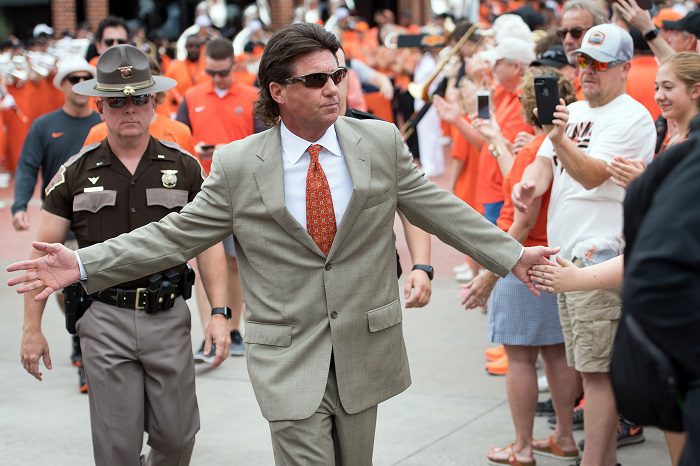 Here is everything you need to know about the 2019 Texas Bowl between Oklahoma State and Texas A&M in our preview and prediction.
Game Info
5:45 p.m. CT, December 27, 2019, NRG Stadium, Houston, Texas
TV: ESPN (Kevin Brown, Andre Ware,and Alyssa Lang)
National Radio: ESPN Radio (Taylor Zarzour, Matt Stinchcomb, and Taylor Davis)
OSU Radio: Cowboy Radio Network (Dave Hunziker, John Holcomb, and Robert Allen
TAMU Radio: Texas A&M Radio Network (Andrew Monaco, Dave Elmendorf, and Will Johnson)
Opening line:  Texas A&M -6
Fun Fact
A Top Ten Match Up! 
These two teams are used to the post season! Oklahoma State is 9th nationally with a streak of 14 consecutive bowls games.  Texas A&M is 10th with 11. 
Key Players
Oklahoma State
Running back Chuba Hubbard
A Doak Walker Award finalist and consensus All-American, Chuba Hubbard is likely playing in his final college game. Even after becoming the sole focus of opponent's defenses after the injuries to Tylan Wallace and Spencer Sanders, Hubbard led the nation in rushing with 1,936 yards in just 12 games.  His 2019 season is second on Oklahoma State's season single rushing yards list where it's basically impossible to get to the top spot because of Barry Sanders. With the quarterback situation for the Cowboys still iffy (see below) Hubbard will need to have a solid game to give OSU a shot.
Oklahoma State Quarterbacks
Mike Gundy says injured starter Spencer Sanders is good to go but also says both Sanders and back up Dru Brown will play in the bowl. Gundy usually lets his offense get a bit more creative in bowls so maybe they've developed a package with both the speedy Sanders and the more traditional Brown on the field at the same time. Or maybe it's some gamesmanship to make A&M prepare for both players since the offense is wildly different depending on which one is under center. Or maybe despite a healthy Sanders Gundy wants to reward Brown in his final college game for being an amazing teammate who is beloved by his teammates who voted him a captain for the bowl game. No one really knows what is going on except the team and they aren't talking, but a healthy Sanders running the show would make the Aggies have to respect the quarterback run game and open things up for Hubbard, greatly increasing the Cowboys chances at wining.
Texas A&M
Quarterback Kellen Mond
Mond is the kind of quarterback the OSU defense has struggled with all season.  He's efficient throwing and can beat you with his legs. He's not the talent that Jalen Hurts, Sam Ehlinger, or Charlie Brewer are but he's plenty good enough to burn the Cowboy's aggressive defense if the get out of their lanes.  As a junior he's spent 3 season playing against SEC defenses that are more stout than what he'll face from the Cowboys but he may struggle throwing against the unfamiliar 3 safety look that's so popular in the Big 12. His touchdown-to-interception ratio is 2-1, which is terrible and bodes well for the Cowboy secondary if he goes to the air, but he's also A&M's second leading rusher and has 7 rushing scores on the season.  If he doesn't take chances through the air and uses his legs often he should have a good day against the Cowboy front.
Linebacker Buddy Johnson
I have a habit of putting a linebacker here with the line "someone has to slow down Chuba Hubbard."  Well I'm doing it again. Someone has to slow down Chuba Hubbard. Johnson, a junior, leads A&M in tackles (71) and is second on the team in tackles for a loss.  Slowing down Hubbard before he breaks free is key, and hitting him behind or right at the line of scrimmage would be a good idea for the A&M defenders. At 6'2" and 225 lbs Johnson has the size handle the running back, but does he have the speed? His play may well decide the game.  Slowing up Hubbard is that important.  
Key Storylines
Oklahoma State
How healthy are the Pokes?  The loss of Tylan Wallace hurt but the loss of Spencer Sanders derailed a solid OSU offense.  With the threat of the quarterback running the loss of Wallace wasn't as pronounced but once Sanders hurt his thumb and the less mobile Dru Brown stepped in Wallace was sorely missed. Defenses slacked the box and pressed the receivers and slowed the Cowboys down. Just through sheer will and with the skill of Hubbard they won at West Virginia and hung with OU for a half but even the Canadian Cowboy can't win every game with his legs alone.  A&M has the bodies and talent upfront to slow down Hubbard as much as anyone has if he's the only show in town. OSU needs Sanders to be able to go. If he can't and the Cowboys don't get more creative in the passing game with Brown then the A&M defense may smother the Cowboys.
Texas A&M
Is A&M any good?  They've lost to every ranked team they've played this season, and only beaten one team that is going bowling (South Carolina).  The Aggies recruit well, have an elite coach, an amazing stadium and a rabid fan base but outside of the Johnny Manziel era have mostly struggled since the move to the SEC.  It just seems to be a little…. off in College Station every season lately, even going back to the last years they spent in the Big 12. But the Texas bowl sets up to be a pretty good spring board to next season if they can win.  Oklahoma State is a decent, ranked opponent but very beatable and a good showing could put a lot of confidence into a team full of young playmakers that will be lead by a senior quarterback year. Going out and shutting down the nation's leading rusher, beating the Man with the Mullet, and moving the ball against a suddenly solid Cowboy's defense could be huge in the offseason and Jimbo Fisher knows it!
Prediction
Oklahoma State 34 Texas A&M 24
The Aggies have played one of the toughest schedules ranking-wise in the NCAA. At the time of the games played they had to face two number 1s (Clemson, Alabama), a number 2 (LSU), a number 4 (Georgia), and a number 8 (Auburn).  The Cowboys come in ranked 25 and will try to make A&M 0-6 against ranked teams this season but OSU isn't on the level of the 5 other teams to which A&M have lost. The Cowboys have played well since the inexplicable loss to Texas Tech, going 4-2 with the only losses being to Baylor and Oklahoma.  I think this game will come down to who wants it more. Mike Gundy and Jimbo Fisher both know how a good performance in a lower bowl can motivate young teams for the upcoming season so I expect full efforts from the coaching staffs, but I think the same thing that makes things weird in College Station will take it's toll on the bowl game. There isn't a single game this season that I thought the Cowboys didn't play as hard as they could, win or lose, and that's testament to Mike Gundy and his emphasis on "Cowboy Culture."  All those high ranked Aggie recruits didn't go there to play in the Texas Bowl, and their disinterest will show.
**We now have FREE Big 12 Forums here at Heartland College Sports. Go sign up here and join our conversation! **