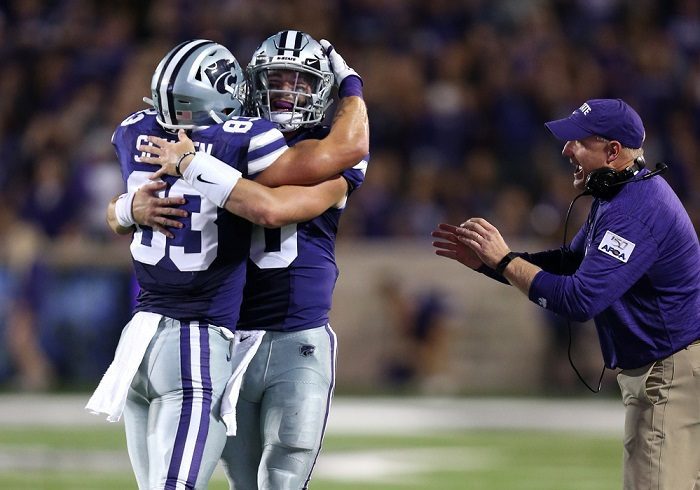 Here is everything you need to know about the Liberty Bowl match up between Navy and Kansas State.
Game Info
2:45 p.m. CT, Tuesday, Dec. 31, 2019, Liberty Bowl Stadium, Memphis, Tenn.
TV: ESPN (Roy Philpott, Kelly Stouffer, Lauren Sisler)
Navy Head Coach: Ken Niumatalolo (97-60 at Navy and overall)
Kansas State Head Coach: Chris Klieman (8-4 at Kansas State and FBS level, 80-17 overall)
Series History: This will be the first time these two teams meet.
Opening Line: Kansas State -2.5
Moneyline: Kansas State -132/Navy +118
Over/Under: 51
Fun Facts: This will be the first time Kansas State places a service academy since 1987. Kansas State is 3-0 vs. Air Force and 0-2 vs. Army.
Key Players
Navy
QB Malcolm Perry
Perry is looking to make one final memory by breaking many records. He is 117 rushing yards from setting the FBS record by a quarterback in a single season. He currently has the FBS record with 150.3 rushing yards per game, so he hopes to secure that. In his most recent performance, Perry broke the Army-Navy Game record with 304 rushing yards on 29 carries. He holds Navy's all-time single season rushing record with 1,804 yards and 21 touchdowns.
LB Diego Fagot
He doesn't create many turnovers, but he does lead the Midshipmen in tackles and solo tackles. The next closest to him on Navy is Kevin Brennan, who is 15 total and solo tackles behind him. Fagot has 93 total tackles with 45 of them being solo. It's also not like he doesn't create turnovers. He has forced a fumble and intercepted a pass this season. His presence, however, may allow his teammates to score turnovers. Fagot has 10 tackles for loss this season. 3.5 of those are sacks.
Kansas State
KR Joshua Youngblood
Youngblood leads the nation with three kick returns for a touchdown. Special teams could very well make the difference in this game. Both teams have top-notch rushing attacks. Both teams pride themselves on defense. That leaves special teams to be the difference maker. If Youngblood gets loose, it may lead Kansas State to victory.
DE Wyatt Hubert
Hubert leads the team in tackles for loss with 12.5. He also has seven sacks which could present a problem for Navy if the Midshipmen find themselves behind early. Here's the bottomline. If Hubert is in the backfield, the Midshipmen are losing. Navy must block this man.
Key Storylines
Navy
The American Athletic Conference presents itself as a "Power 6" conference. The conference has had some wonderful moments. UCF claims the 2017 National Championship after being the only undefeated team in the nation and having defeated a team who boasted victories over both of the teams who played in the supposed "National Championship" that season. When Boise State loses, this is the conference that typically scores the Group of Five bid into the New Year's Six Bowls. With a win over Kansas State, Navy adds another bullet point to the AAC's message.
Kansas State
There are not many stories for Kansas State on the field. The story is mostly off the field. Kansas State got hosed in the bowl pecking order. The story is about the fans. Will Kansas State fans show up? Will they make headlines like Iowa State did in Memphis last year by drinking the bars dry of their favorite beer? If Kansas State wants to receive bids to higher bowls when Texas and Oklahoma have down seasons, they must market themselves well. Iowa State is in the Camping World Bowl this season in part because they made headlines last season. It's about marketing and money baby. Aside from this, a victory would put a feather in Chris Klieman's cap as the most winningnest first-year coach in Kansas State history.
Prediction
Kansas State 24 Navy 17
Don't blink. This game is going to be a quick one. The good news for Kansas State is they've already defeated an SEC team this season. What do they do in the SEC? They run the ball. Kansas State won at Mississippi State this year in part by stopping the run. I'm not even certain Navy realizes the forward pass is legal. All joking aside, Navy has made itself one dimensional with the triple option. I think Navy plays this game close, but a one-dimensional Group of Five school is not going to defeat a Power Five team with a National Championship coach. Kansas State wins this one.
Powered by RedCircle
**We now have FREE Big 12 Forums here at Heartland College Sports. Go sign up here and join our conversation! **