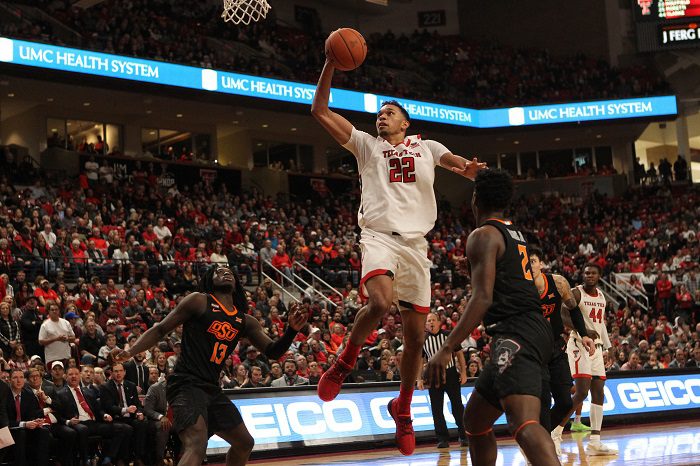 After watching each of the Big 12 games for Week 1 of the league season (Jan. 4), here is the Heartland College Sports Men's Basketball Starting 5.
T.J. HOLYFIELD, F, TEXAS TECH
The transfer touched each of the 'Big 5' stats in the box score against Oklahoma State — 17 points, 7 rebounds, 1 assist, 1 steal and 3 blocks. You have to love it when your big guy does that. You also have to love it when he shoots 70 percent from the floor, hits two 3-pointers and makes is only free throw. Tech had a lot going for it on Saturday against Oklahoma State. Holyfield was the focal point.
RJ NEMBHARD, G, TCU
Going into this season Nembhard was the third option by default. He was the team's third-most experienced player, especially with all of the transfer losses. Well against Iowa State Nembhard showed that it's no longer by default. He poured in 31 points in the overtime win, including six 3-pointers and 10-of-15 shooting from the floor. Nembhard hitting double figures isn't a surprise — he's done it in three of his last five games. But the 31 points? That's a message to the rest of the league that he must be accounted for moving forward.
KRISTIAN DOOLITTLE, F, OKLAHOMA
Doolittle was instrumental in Oklahoma's win over Kansas State with 19 points and 12 rebounds. Unlike some Big 12 big men, he can hit his free throws (9-for-11 for the game). His presence inside not only forces teams to commit their best frontcourt defender to him, but it also demands double-teams, and Doolittle is an adept passer who can dish from the paint to players like Austin Reaves (21 points) and Brady Manek (9 points, 9 rebounds). That was Doolittle's second double-double in his last five games.
MACIO TEAGUE, G, BAYLOR
It was a rough shooting night for the Bears, but Mitchell was the highlight, finishing with 21 points, including a perfect 9-for-9 from the free-throw line, in the 15-point win over Texas. He also pitched in 6 rebounds, 1 steal, 1 block and 1 asisst. It doesn't necessarily say it in the box score, but his defense was instrumental in helping the Bears hold the Longhorns to 34.6 percent shooting.
ICYMI: HCS was in Waco to see #Baylor overcome a tough shooting night to beat #Texas 59-44. @PostinsPostcard https://t.co/n1pqzTXlLz

— Heartland College Sports (@Heartland_CS) January 5, 2020
UDOKA AZUBUIKE, F, KANSAS
Azubuike had a double-double against West Virginia — 17 points and 11 rebounds. He even put together a 50 percent night at the free-throw line. He was perfect from the floor (6-for-6) and blocked a whopping six shots. With as many bigs as were on the floor for both teams, Azubuike's presence was important for floor spacing and keeping WVU from double-teaming guards on a regular basis.
THE SIXTH MAN
GEORGE CONDITT IV, F, IOWA STATE
Maybe it's time for Conditt to be a starter in 31 minutes off the bench for ISU Conditt scored 19 points, grabbed 6 rebounds and had a blocked shot. Granted, the work came in an overtime loss, but, win or lose, he was the most impactful bench player in the Big 12 on Saturday.
OTHERS WE NEED TO RECOGNIZE
TYRESE HALLIBURTON, G, IOWA STATE: The sophomore put up yet another triple double — 22 points, 12 rebounds and 10 assists. But it wasn't enough to help the Cyclones steal one on the road against TCU.
OSCAR TSHIEBWE, F, WEST VIRGINIA: One of the best double-doubles he's had this season, as he put down 17 points and 17 rebounds in the Mountaineers' loss to Kansas.
JERICHO SIMS, F, TEXAS: The highlight of the night for the Longhorns, as he put up 13 points and 15 rebounds against Baylor.
Really impressed with growth of Jericho Sims' game as we close in on the under-16. In years past I felt he was forcing things on both ends. Now letting plays come to him, better defense and better body positioning. Quietly put up 8/8 to this point. #HookEm #TEXvsBAY #TEXvsBU

— Matthew Postins (@PostinsPostcard) January 5, 2020
XAVIER SNEED, F, KANSAS STATE: Sneed can't do it all, but he tried against OU, scoring 22 points and hitting five 3-pointers in the road loss to the Sooners.
**We now have FREE Big 12 Forums here at Heartland College Sports. Go sign up here and join our conversation! **