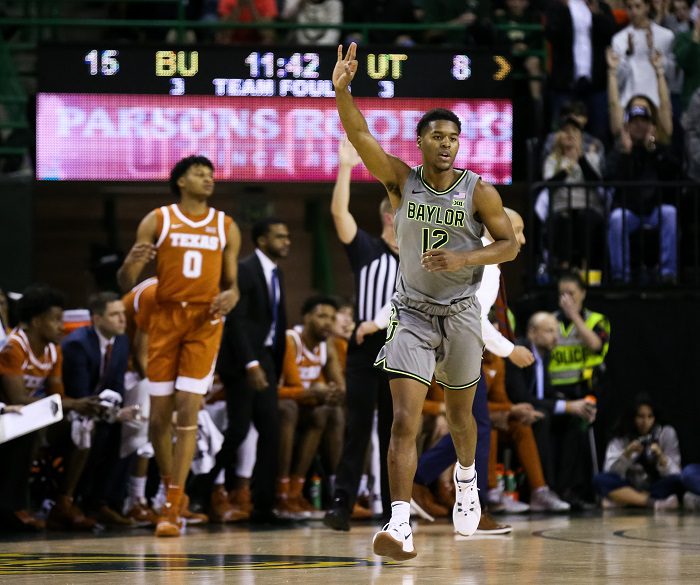 With the 2019-20 Big 12 Men's Basketball season now in Big 12 play, here are the HeartlandCollegeSports.com power rankings as of Jan. 6.
1. Baylor (Last rankings: 1)
Baylor didn't play a clean game against Texas (anything but). But the Bears showed their grit on defense and in holding a lead in which they didn't have their best game. This is a long haul team that I don't foresee dropping out of the Top 3 here anytime soon, in spite of its treacherous schedule this week.
Next: The Bears travel to Texas Tech on Tuesday and Kansas on Saturday. That's all.
2. Kansas (Last rankings: 2)
Bill Self admitted after Saturday's game that his team had a bad first half against West Virginia in part because his team wasn't quite prepared for the Mountaineers' physicality. That changed in the second half and the Jayhawks hit the key shots they needed to down the stretch. They're ranked ahead of Baylor nationally, but in my opinion Baylor remains a better team. The good news? We find out for sure soon.
Next: Kansas travels to Iowa State on Wednesday and hosts Baylor on Saturday.
3. Texas Tech (Last rankings: 4)
The Red Raiders clobbered Oklahoma State by 35, a dominant start to their Big 12 slate. Four different Red Raiders ended up in double figures and the Red Raiders held the Cowboys to 28 percent shooting. As openers go, it was darned near perfect. 
Next: Texas Tech hosts Baylor on Tuesday and travels to West Virginia on Saturday.  
This past week's "Starting Five" for Week 1 of the @Big12Conference basketball season. @PostinsPostcard @teejayy_22 #WreckEm
RJ Nembhard #GoFrogs@Kristiandoolit1 #BoomerSooner@_Mr_DoWork #SicEm
Udoka Azubuike #RockChalk https://t.co/Koi8Hi4quT

— Heartland College Sports (@Heartland_CS) January 5, 2020
4. West Virginia (Last rankings: 3)
The Mountaineers have to drop a spot after the loss to Kansas, but let's not kid ourselves. This Mountaineers team is a cut above everyone else below them on this list. Despite Kansas' comeback, the Mountaineers had it to a one-possession game in the final minute. West Virginia will learn how to win those games, home or road, by season's end.
Next: The Mountaineers are at Oklahoma State on Monday and host Texas Tech on Saturday.
5. Oklahoma (Last rankings: 6)
The Sooners move into the Top 5 after rallying from double-digits to beat Kansas State. This is a quality team that is going to give the rest of the Big 12 trouble all season. And De'Vion Harmon really hasn't broken out just yet. When he does, the Sooners will have that fourth scoring option they need.
Next: The Sooners are at Texas on Wednesday and at Iowa State on Saturday.
6. Texas (Last rankings: 5)
Texas shot 34 percent from the floor against Baylor and even though the Longhorns finished the game down 15 points, they were actually never really out of it. That had as much to do with Baylor's poor shooting as it did Texas'. Shaka Smart joked afterward he may do more rebounding drills. These Longhorns need to shoot more, too.
Next: Texas hosts Oklahoma on Wednesday and hosts Kansas State on Saturday.
#HookEm head coach Shaka Smart with his thoughts on the second chances missed after the loss to #Baylor. #Big12MBB #TEXvsBAY #TEXvsBU @Heartland_CS pic.twitter.com/xRdXT3ssOU

— Matthew Postins (@PostinsPostcard) January 5, 2020
7. TCU (Last rankings: 10)
TCU is the big mover this week, sliding up four spots after its overtime win over Iowa State. Does that mean they're a better team than the three below them, long-term? Maybe not. But they're the only one of the remaining four teams in these rankings that won, and in the context of a week in which there was only one set of Big 12 games, the Horned Frogs slide up the ladder.
Next: TCU is at Kansas State on Tuesday and hosts Oklahoma State on Saturday.
8. Iowa State (Last rankings: 8)
Iowa State stays in the same place as our rankings on Thursday, even with the loss, as they went to overtime with TCU and got a triple-double from Tyrese Halliburton. I'd say at this point there is little difference between the Cyclones and Kansas State, but we won't get an accurate gauge since they don't meet each other until next month. For now it's comparing apples to oranges.
Next: Iowa State hosts Kansas on Tuesday and Oklahoma on Saturday.
9. Kansas State (Last rankings: 9)
It can't all be Xavier Sneed and Cartier Diarra every night if this Wildcats team is going to remain over .500. Makol Mawien with one rebound against Oklahoma won't work. The Wildcats need a third scoring option and they need that option to step forward now. The good news? The defense is solid, as evidenced by how it played against OU.
Next: The Wildcats host TCU on Tuesday and is at Texas on Saturday.
10. Oklahoma State (Last rankings: 7)
Oklahoma State lost by 35 points to Texas Tech on Saturday, so the Cowboys fall hard this week. But the Cowboys are not a bad team by any means. But they had a bad night, and there are things to fix, starting with their 28 percent shooting from the field.
Next: The Cowboys host West Virginia on Monday and are at TCU on Saturday.
Note: Our next update will come on Jan. 13.
**We now have FREE Big 12 Forums here at Heartland College Sports. Go sign up here and join our conversation! **