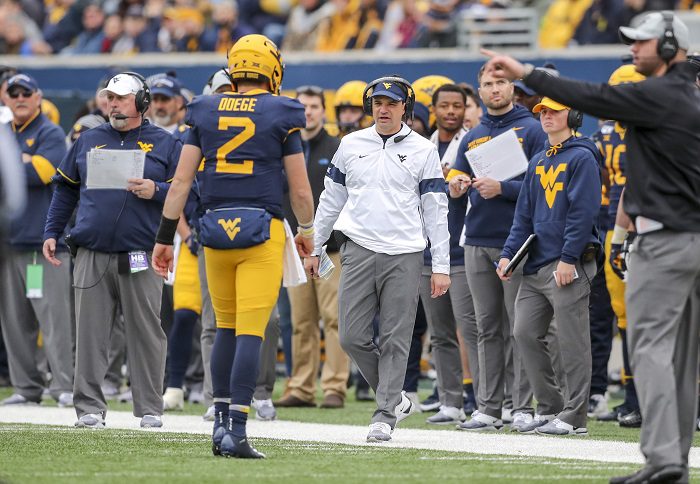 Unfortunately, it is that time of year again. It felt like just yesterday the Big 12 football season was kicking off and within the blink of an eye it's gone. Of course, some fans don't mind when the season is flying by because when your team is bad, you are likely wanting it to be over as soon as possible. Today, we pick back up the series since bowl season is over. Next up, are the West Virginia Mountaineers who finished the season at 5-7 under new head coach Neal Brown. 
Previously completed:
Kansas Jayhawks
TCU Horned Frogs
Texas Tech Red Raiders
Season Summary
While the game against James Madison didn't go as smoothly as fans wanted it to, they started of the year with a win. Then the earth came crashing down quickly as the Mountaineers got embarrassed by Missouri on the road in a 38-7 beatdown. The roller coaster season picked back up as they beat North Carolina State and Kansas at home to put themselves at 3-1 before conference play got tough. From there, things went south like a bird in the winter.
West Virginia suffered five straight losses against Texas, Iowa State, Oklahoma, Baylor and Texas Tech before finally winning another game as they knocked off a ranked Kansas State team on the road. Sitting at 4-6, they needed to beat Oklahoma State and TCU to get bowl eligible but even though they fell short against the Cowboys, they played spoiler against TCU to not just knock off the Horned Frogs on the road but to knock them out of bowl contention. Without a doubt it was a rebuilding year in Morgantown with a 5-7 finish.
High Point
I must go with the Kansas State game. This team was coming fresh off a five-game losing streak and made a quarterback switch from Austin Kendall to Jarret Doege. Doege led the offense to an upset win against Kansas State who was ranked 24th at the time on the road. Jarret had a solid game tossing three touchdown passes and the defense did their part to help pull off the upset that NOBODY saw coming. Even with the season not going well, this was the game that started turning things around not just for the rest of the season but heading into the 2020 season as well.
Low Point
It's tough to pick just one game out of a seven-loss season but I am going to go with the Missouri game. To me, that game painted an early picture to what the season was going to look like. The Mountaineers went on the road and played like garbage on both sides of the football. The offense mustered less than 200 yards and the defense couldn't stop the run as they gave up over 230 yards on the ground. Hell, it was 38-0 before West Virginia scored a late touchdown in garbage time.
What Went Right
There weren't many positive takeaways from a bad year, but two things stuck out to me and both were towards the end of the season. The defense had their ups and downs but in four out of their last five games, the West Virginia defense held their opponents to just twenty points or less. Combine that with the late quarterback switch from Austin Kendall to Jarret Doege and it turned out alright for the Mountaineers. When you look at the entire body of work, it wasn't pretty but when I took a closer look, they were playing much better football later in the year as a team.
What Went Wrong
It would probably be easier to list what didn't go wrong, but I will try and keep this not too long. Offensively, the offensive line was the major problem. I know guard Josh Sills (who was on my All-Big 12 preseason team) went down early in the year, but this line couldn't open holes for a talented running back group that was wasted. In fact, West Virginia ranked 128th in the country (Out of 130 teams) in rushing offense as they averaged a measly 73.3 yards per game. Combine that with poor quarterback play from Austin Kendall and there is most of your problem.
They had some issues defensively too, especially early on. But I am not going to harp too much on the defense because the defense really had a tough job throughout the season trying to carry this team. I have said it before, and I will say it again. Defense can only take you so far in this conference.
What's Next?
Even with losing Josh Sills and All-Big 12 offensive lineman Colton McKivitz, the Mountaineers must get better play up front on the offense. That will open the run game more with Leddie Brown as both Kennedy McKoy and Martell Pettaway gone. If they can clean up some things on the line, that will put less pressure on whoever starts at quarterback whether it's Jarret Doege or Austin Kendall. West Virginia has talent at receiver, so I am not too worried there with Sam James and T.J. Simmons returning.
Although they will have to retool the secondary some, I really like what's coming back in the first two levels of the defense. The Stills brothers will be back (Dante and Darius) as well as linebackers Josh Chandler and Dylan Tonkery. This defense has a chance to be solid next season if they can put a few pieces in place in the back end. Other than that, I think this defense will take another step in the right direction under defensive coordinator Vic Koenning.
**We now have FREE Big 12 Forums here at Heartland College Sports. Go sign up here and join our conversation! **