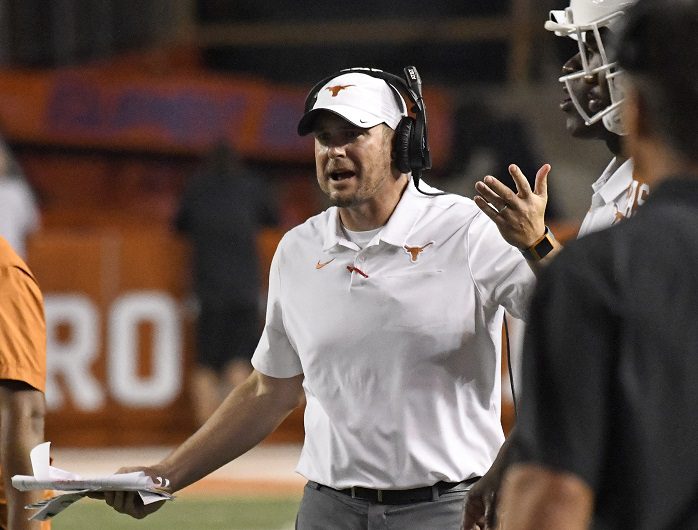 Unfortunately, it is that time of year again. It felt like just yesterday the Big 12 football season was kicking off and within the blink of an eye it's gone. Of course, some fans don't mind when the season is flying by because when your team is bad, you are likely wanting it to be over as soon as possible. Today, we pick back up the series since bowl season is over. Next up, are the Texas Longhorns who finished the season at 8-5 under head coach Tom Herman.
Season Summary
The Longhorns started off the year with an easy win over Louisiana Tech before taking on the mighty LSU Tigers where they lost in an exciting 45-38 game in Austin. They then wrapped up the non-conference with Rice in Houston resulting in another smooth win.
When conference play kicked off, they beat a good Oklahoma State team at home before knocking off a rebuilding West Virginia squad in Morgantown. Sitting at 4-1 through their first five games, the Longhorns looked like a team to be reckoned with in the Big 12. Unfortunately, that all came crashing down because in their next six games, Texas went 2-4 losing to Oklahoma, TCU, Iowa State and Baylor before ending the season with an impressive win over Texas Tech at home.
With no Big 12 title hopes or New Year's six bowl in sight at 7-5, the Alamo bowl jumped at the chance host the Longhorns in a virtual home game against the eleventh ranked Utah Utes who were just one win away from a possible college football playoff berth. In the bowl game, Texas took their season long frustrations out on the Utes in a 38-10 beat down to end the season on a positive note. Still, 8-5 and a win in the Alamo Bowl isn't what people in Austin had in mind.
High Point
With a spotty season like Texas had and it's tough to pinpoint a game due to the fact they struggled so much in the second half of the regular season but the Oklahoma State game to open conference play sticks out. Why? Because before their 36-30 victory over the Cowboys, Texas had dropped four straight to Oklahoma State and until then hadn't beaten Mike Gundy in Austin since 2008. It was a big hump for Texas to get over and to do it earlier in the season made me believe this team had a legitimate shot at reaching back to back Big 12 title game appearances.
Low Point
I must go with the TCU game in Fort Worth. Before that game Texas was 5-2 with losses to LSU and Oklahoma. Those losses didn't surprise me. But to lose to a 3-3 TCU team at that team with a struggling offense? That was bad and not just bad but embarrassing. Quarterback Sam Ehlinger may have had his worst day in a Longhorn uniform as he threw four interceptions that day.
What Went Right
People will say that quarterback Sam Ehlinger had a bad year but if you look at his passing stats, you wouldn't think so. Sam improved his completion percentage from 2018, threw for more yards and even had more passing touchdowns in 2019. The only thing that he didn't do was rush the football as successfully as he did in 2018. He had sixteen rushing touchdowns the previous year compared to just two in 2019. Other than that, Sam had a solid season. To stay on the offense, how about the emergence of Devin Duvernay? I thought he would be improved but to lead the Big 12 in receiving yards and receptions after the bowl season? That was impressive and he deserves every bit of praise he gets.
Other than kicker Cameron Dicker having a great season, Texas did a tremendous job stopping the run this past season as they finished third in the Big 12 in that category. They weren't great in many areas of the defense but for some reason the run defense wasn't much of an issue at all.
What Went Wrong
Offensively, I must go with the offensive line. Everything else to me was fine on the offensive side of the ball but the offensive line was a big weakness. They were average in the run game (which isn't good if you are Texas) and they gave up 36 sacks which was the most given up in the entire Big 12.
I could literally write a novel about the defense, but I will focus on two key areas. First off, Texas did not have a great pass rush this season and their leading sack man was Joseph Ossai who finished the year with just five sacks. Secondly, I know the secondary was banged up most of the season, but my goodness was it horrible. Texas finished ninth the conference in pass defense giving up an average of 292.5 yards per game through the air.
What's Next?
The good news for Texas is that they will have some key pieces returning on offense with quarterback Sam Ehlinger and running back Keaontay Ingram. Also, they will return most of their offensive line which will need some improvement. However, losing your two leading receivers (Devin Duvernay and Collin Johnson) will hurt. They will need some younger guys to fill those roles and fill them quite well if Texas is going to be electric on offense next season.
As for the defense, there will be plenty to like. Outside of Malcolm Roach, Texas will return all their key defensive lineman and their linebackers. While the secondary will need to stay healthy and improve, losing Brandon Jones at safety will hurt but there are a ton of young guys with experience now and next season will be building upon what was learned from the 2019 season. Honestly, there are no excuses for the Longhorns not to be better defensively next season and new defensive coordinator Chris Ash will have plenty to work with.
**We now have FREE Big 12 Forums here at Heartland College Sports. Go sign up here and join our conversation! **