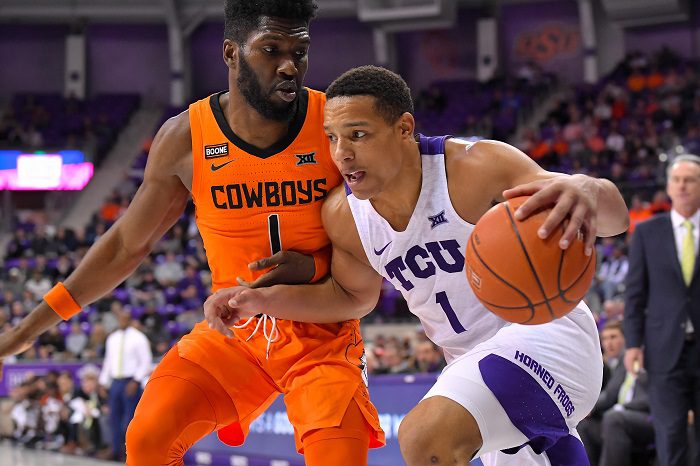 FORT WORTH, Texas — It wasn't pretty, but TCU will take it.
The Horned Frogs (12-3, 3-0) finished off a 3-0 start to the Big 12 men's basketball season with a 52-40 win over Oklahoma State (9-6, 0-3) Saturday at Schollmaier Arena. It's probably the most surprising start in the Big 12, given that before the season TCU was voted last in the preseason coaches' poll.
#GoFrogs G Desmond Bane on whether he's surprised #TCU is 3-0 in league play after beating #OKState #TCU #OKSTvsTCU #Big12MBB @Heartland_CS pic.twitter.com/JtW1gPBzbp

— Matthew Postins (@PostinsPostcard) January 11, 2020
Bane had to carry the Horned Frogs on a day in which they shot just 33.3 percent from the floor. The senior finished with 20 points in the contest, along with 9 rebounds and 6 assists. At one point Bane had a surge of scoring to break the game open at the end of the first half.
He scored TCU's last seven points of the first half — four free throws and a 3-pointer — to push the Horned Frogs from a 17-17 tie to a 24-17 halftime lead. During that surge, Bane made history, becoming the 10th TCU player to score 1,500 points in his career. 
#TCU G Desmond Bane is now the ninth #GoFrogs player with 1,500 points in his career. #OKSTvsTCU #Big12MBB @Heartland_CS #FearTheFrog #FrogFam pic.twitter.com/9cUUzFvk9X

— Matthew Postins (@PostinsPostcard) January 11, 2020
After the break the Horned Frogs built up a 13-point lead at one point, 34-21, with 15:56 left in the second half. That was enough on this afternoon, as Oklahoma State struggled to shoot well for the third straight league contest. Coming into the game the Cowboys were shooting less than 30 percent from the field in Big 12 action. When the game concluded they had shot 30.2 percent. Along the way two seniors — Lindy Waters III and Thomas Dziagwa — were held scoreless, as they went a combined 0-for-13 from the floor.
That wouldn't be that big a deal if the pair weren't the Cowboys' top two 3-point shooters, something Oklahoma State could have desperately used. After the game head coach Mike Boynton was searching for answers and said the poor shooting in Big 12 play feels like it could be a "psychological issue" right now.
#OKState HC Mike Boynton on the "psychological issues" of his team's shooting after losing to #TCU #GoPokes #OKSTvsTCU #Big12MBB @Heartland_CS pic.twitter.com/i2UwrFm13b

— Matthew Postins (@PostinsPostcard) January 11, 2020
Isaac Likekele led the Cowboys with 12 points while Cameron McGriff added 11. Boynton adjusted his starting lineup, removing center Yor Anei and inserting Jonathan Laurent. It didn't help the team's overall shooting. Laurent played 13 minutes and failed to score. Anei played 16 minutes and had four points and five rebounds.
Despite their own shooting issues, the Horned Frogs managed to close out the win. Freshman point guard Francisco Farabello continues to improve, finishing with 10 points and 3 assists in 31 minutes. Center Kevin Samuel didn't score a point, but he did finish with eight rebounds and three blocked shots.
TCU head coach Jamie Dixon was most pleased with his team's overall defense. Along with holding Waters and Dziagwa scoreless, the Horned Frogs forced seven steals and limited the Cowboys to seven offensive rebounds. 
**We now have FREE Big 12 Forums here at Heartland College Sports. Go sign up here and join our conversation! **