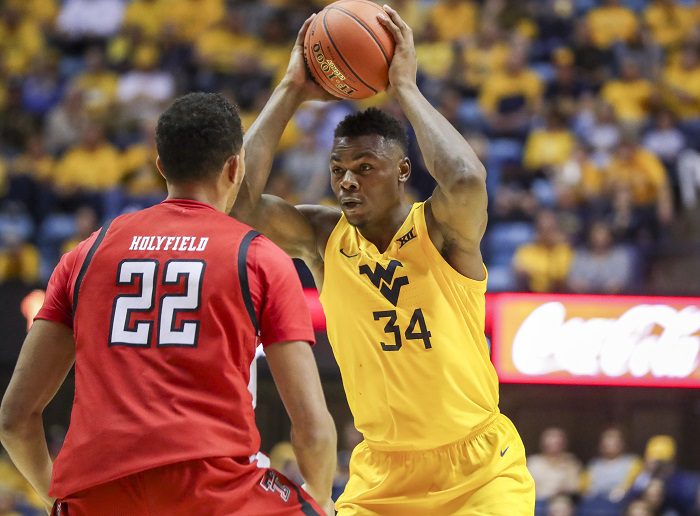 HCS Big 12 Men's Basketball Week 2 Starting Five
After watching each of the Big 12 games for Week 2 of the league season (Jan. 11), here is the Heartland College Sports Men's Basketball Starting 5.
DESMOND BANE, G, TCU
He's the fuel for TCU's surprising 3-0 start to Big 12 action. He's now the eighth-leading scorer in TCU history. And through three Big 12 games he's averaging 17.3 points per game. Against Oklahoma State on Saturday he had 20 points, 9 rebounds and 6 assists, meaning he's developed a complete game. Bane had 16 points in the road win earlier in the week against Kansas State. 
FREDDIE GILLESPIE, F, BAYLOR
Yes, Jared Butler had the big game against Kansas on Saturday. But Gillespie had the consistent week the Bears needed to wrap up a 2-0 week against nationally-ranked league opponents. Against Kansas, along with that crazy inbounds alley-oop dunk you've been seeing on Twitter, he scored 13 points and grabbed 5 rebounds in 31 minutes. Against Texas Tech his performance may have been more important, as he had 9 points and 10 rebounds — including 7 offensive rebounds — in the five-point win over the Red Raiders. It's crazy to think how much Gillespie has come along since he arrived in Waco from Division III Carleton College in Minnesota. 
OSCAR TSHIEBWE, F, WEST VIRGINIA
The McDonald's All-American had a fine week, even if it wasn't one of his most productive of the season. But what's crucial about how he plays is that even if his shot isn't falling the effort doesn't stop. The Texas Tech game on Saturday was a great example. He was just 1-of-4 from the floor and had 7 points, but he finished with 17 rebounds, including 5 on the offensive end. Against Oklahoma State on Monday night he had 12 points and 8 rebounds. When something doesn't click the rest of his game doesn't suffer, which is the mark of not only a great physical player but a great mental one, too.
RASIR BOLTON, G, IOWA STATE
We knew Bolton would be an important piece of the puzzle for Iowa State this season. We didn't know that three games into Big 12 action he's be the league's leading scorer (18.8 ppg). In a double-digit loss to Kansas he was the leading scorer with 12 points, on a night in which Tyrese Halliburton was held to just five points. In the win over Oklahoma on Saturday. Bolton had 23 points, 6 assists and 2 rebounds.
COURTNEY RAMEY, G, TEXAS
The Longhorns moved Ramey into their starting lineup for Saturday's game with Kansas State and it turned out to be a wise move, as he scored 11 points, dished out 8 assists and had 2 steals in the win. Earlier in the week, off the bench, Ramey had 14 points. Through three conference games, Ramey has probably been the Longhorns' most consistent guard. He now deserves a more consistent place in the starting lineup. 
THE SIXTH MAN
MILES MCBRIDE, G, WEST VIRGINIA
I made the case for McBride moving into the starting lineup in my Good, Bad and Ugly piece for Sunday. McBride had 22 points for the Mountaineers against Texas Tech on Saturday, which led WVU and made him the team's only double-digit scorer. He now has six straight games with double-digit scoring.
**We now have FREE Big 12 Forums here at Heartland College Sports. Go sign up here and join our conversation! **