Baylor Bears
Big 12 Basketball Week 2: The Good, the Bad and the Ugly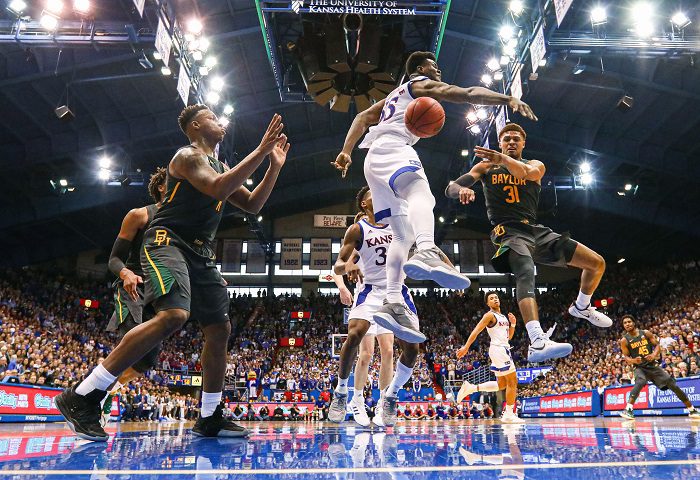 The second week of Big 12 basketball saw Baylor have one whale of a week on the road, TCU improve to 3-0 with HCS in the house while Iowa State and Texas finally broke the ice in Big 12 action with a win. Here is this week's Good, Bad and Ugly for Big 12 men's basketball.
The Good
BAYLOR ASSERTS ITS AUTHORITY
The Baylor Bears are the best team in the Big 12. They might even be the best team in the country. The reaction to the Bears' win over Kansas in Lawrence on Saturday was so immense at one point it trended on Twitter. Why? Let's run it down.
First, there's this.
Baylor is now 1️⃣➖0️⃣ in its last 1 trips to Allen Fieldhouse. #SicEm 🐻 | #1TGF 🏀 pic.twitter.com/8M9MgjVj6t

— Baylor Basketball (@BaylorMBB) January 11, 2020
So, that's a big deal. Kansas is typically dominant at home, even in the Big 12 (and we'll dissect that a bit more in the Bad section). But this season the Jayhawks have already been challenged by West Virginia and now they've fallen to Baylor in Allen Fieldhouse. So the shock waves were felt in the postgame interview.
🎙️ Postgame interview with @J_Hooper11 and @BUDREW following today's 12-point win at Kansas! 👏👏👏#SicEm 🐻 | #1TGF 🏀 pic.twitter.com/XPKyJ8MASF

— Baylor Basketball (@BaylorMBB) January 11, 2020
And apparently there might have been a celebration in the locker.
Scott Drew had a celebration waiting for him in the Baylor locker room after the Bears got their first-ever win at Allen Fieldhouse. "I don't have to shower now, so that's a good thing. I wish they would've turned the temperature up a little bit on the water bottles." pic.twitter.com/zn218oWIWP

— Tyler Greever (@WIBWTyler) January 11, 2020
And then the national media weighed in.
Scott Drew wins at Phog Allen Fieldhouse for the first time EVER.

Baylor wins for the first time EVER at a Top-5 opponent.

Anarchy?

Nope. Scott Drew's team is good enough to win the whole damn thing.

— Jon Rothstein (@JonRothstein) January 11, 2020
Scott Drew has been a step ahead of Bill Self the whole game. It's like he had a wiretap on him.

— Matt Mosley (@mattmosley) January 11, 2020
Baylor should be No. 1 on Monday without ANY debate.

Wins: Kansas (road), Butler (home), Villanova (neutral), Texas Tech (road), Arizona (home) – all in AP Top 25

Gonzaga wins: Oregon (neutral), Arizona (road)

Duke wins: Kansas (neutral), Michigan St (road)
Loss: Stephen F.

— Jeff Goodman (@GoodmanHoops) January 11, 2020
Baylor just:

»Won at KU for the first time EVER
»Won as a top-5 team over a top-five team for the first time EVER
»Beat a top-5 team on the road for the first time EVER
»Made it 5-0 vs. ranked teams to start a season for the first time EVER
»Laid claim to the best resumé in CBB

— Matt Norlander (@MattNorlander) January 11, 2020
Even Baylor made its case to slide up to No. 1 in Monday's poll.
Count em …

#️⃣1️⃣7️⃣ Villanova
#️⃣1️⃣1️⃣ Arizona
#️⃣1️⃣8️⃣ Butler
AT #️⃣2️⃣2️⃣ Texas Tech
AT #️⃣3️⃣ Kansas#SicEm 🐻 | #1TGF 🏀 pic.twitter.com/9ahQzq4AXk

— Baylor Basketball (@BaylorMBB) January 11, 2020
I don't think it will come as any surprise to anyone that when our HeartlandCollegeSports.com Big 12 Power Rankings come out on Monday that Baylor will be No. 1 (here is a look at last week's). But will the Bears be No. 1 in the country by Monday? It all depends on the voters and the coaches. Gonzaga is No. 1 in the AP poll and Duke is No. 2. Neither lost this past week, just like Baylor. Neither made quite the statement that Baylor made in not only beating Kansas at home, but also beating a ranked Texas Tech on Tuesday, also on the road. But the voters can be notoriously slow to change, especially when, say the Top 3 teams all won that week. It will take voters making the kind of comparison and value judgement that Goodman made in his tweet above.
I don't have a vote. If I did, I think I'd have to give the nod to Baylor, even if I hadn't voted Baylor No. 1 the previous week. The resume is just too good to ignore at this point.
WEST VIRGINIA BOUNCES BACK NICELY
The Mountaineers' road loss to Kansas last Saturday was one of those losses that had the potential to derail a good young team early in its conference season. The Mountaineers followed a tremendous first half against the Jayhawks with a second half that was much less so. Despite that it was a one-possession game in the final minute. I was interested to see how the Mountaineers would bounce back this week against Oklahoma State and Texas Tech.
Good news. Bounce-back complete.
First, the Mountaineers beat Oklahoma State soundly on 48 hours' rest (we're going to talk about Oklahoma State's woes in the Ugly section). That ended a two-game road trip. Then the Mountaineers had four days to rest before hosting Texas Tech on Saturday. Tech had its own chip on its shoulder (we'll get to that in the Bad section). But the Mountaineers took care of business at home, beating Texas Tech, 66-54. The win should ensure that the Mountaineers move up in the AP Top 25. It also puts the Mountaineers in tremendous position, with five of their next seven games at home, to pad the resume a little more. The next three games — vs. TCU, at Kansas State and vs. Texas, are winnable. Then it's Missouri, also at home, and then a road trip to Lubbock to face Texas Tech, which ends January. After that it's back-to-back home games with Kansas State and Iowa State.
See where I'm going here? The Mountaineers don't have a game with Kansas or Baylor until February. It's a good opportunity to solidify themselves as a Top 2 team in the Big 12.
And Miles McBride needs to start. He's a great asset off the bench, but he now has six straight games in double figures and he was West Virginia's only double-digit scorer against Texas Tech with a season-high 22 points. It's time. He's ready.
DESMOND BANE HITS 1,500 POINTS
TCU guard Desmond Bane became the 10th player in TCU men's basketball history to score at least 1,500 points for his career during the Horned Frogs' victory over Oklahoma State on Saturday. It became a bit confusing for those of us covering the game because during the game TCU announced Bane was the ninth. It's now clear that at that point in the game he had moved from No. 10 to No. 9 and the announcement was just awkward. By game's end Bane had 1,510 career points and was No. 8 all time. He talked about the legacy he stands to leave at TCU by season's end after the game. So did Oklahoma State head coach Mike Boynton Jr., whose defense could do little to slow the senior guard down.
#OKState HC Mike Boynton on #GoFrogs G Desmond Bane after losing to #TCU #GoPokes #OKSTvsTCU #Big12MBB @Heartland_CS pic.twitter.com/7OoA5dCDoq

— Matthew Postins (@PostinsPostcard) January 11, 2020
Next up for Bane when it comes to the Top 10? Well it won't take long to move to No. 7. Kurt Thomas (1991-95) is just two points ahead of Bane at 1,512 points. After that it will take some time to move into the Top 5, where he'll need to pass Kyan Anderson (2011-15), who had 1,624 points, and Reggie Smith (1989-92), who had 1,630. Each member of the Top 4 has at least 1,700 points.
The leading scorer all-time is Darrell Browder (1980-83), who finished his career with 1,886 points.
And don't forget about my game story from Saturday's game in Fort Worth.
THE REST OF THE GOOD
Iowa State bounced back on Saturday night to get its first win of Big 12 play, beating Oklahoma, 81-68. Rasir Bolton had 23 points and Tyrese Halliburton — who was held scoreless for 30 minutes by Kansas on Wednesday — had 15 points. Iowa State also had a +11 advantage on the glass. … Texas also finally won its first Big 12 game, beating Kansas State at home, 64-50.
Before games get underway… check out our Top 5 takeaways from this past week in the @Big12Conference https://t.co/eV3oLl4fyp

— Heartland College Sports (@Heartland_CS) January 11, 2020
THE BAD
KANSAS LOOKS VULNERABLE
Let's review the Jayhawks' first three games in Big 12 action.
Kansas beats West Virginia to start the league slate. Bill Self tells an ESPN reporter after the game that his team wasn't prepared for West Virginia's physicalness in the first half. While Kansas came back to win, it was a one possession game in the final minute.
Kansas then went on the road and blew out Iowa State, a team that is now 1-2 in league action.
Kansas then returned home to the friendly confines of Allen Fieldhouse and lost to Baylor, a team one rung behind Kansas in the national rankings. It was the first time Kansas lost to Baylor in Lawrence. And, frankly, it wasn't that close.
So is there a problem? Well, maybe, maybe not. After all, Kansas has lost an early game in Big 12 play each of the last two seasons I've followed the conference. In fact, back in 2018 the Jayhawks lost to Texas Tech at Allen Fieldhouse in Game 2 of Big 12 action. Later that season they lost to Oklahoma State at home. Last season Kansas fell in the league slate's second game at Iowa State.
Two seasons ago the Jayhawks still won the Big 12 regular-season title. Last year the Jayhawks failed to win the Big 12 regular-season title.
There are a couple of things I don't like right now.
First, Kansas remains a team with a consistency problem behind the 3-point arc. Against the Bears they shot 26.7 percent from the 3-point line. But it's not necessarily the percentage. The Jayhawks actually have the second-best percentage this season at 36.2 percent. It's a volume problem. Kansas is No. 7 in 3-pointers made and only Oklahoma has attempted more 3-pointer this season. So even though the percentage looks good, the Jayhawks are getting as much out of it as, say, TCU, which has 43 more made 3-pointers. The 3-ball isn't everything, of course. But when you're not maximizing the opportunities, it can make a difference.
Second, I think the Jayhawks miss Mitch Lightfoot much more than it seems. Lightfoot might not have been a dynamic player, but he was a Swiss Army Knife kind of player, and his length, tenacity and effort made him a player that could plug up a lot of different deficiencies. Lightfoot decided to redshirt this season and head coach Bill Self supported it. And while this team may look deeper on paper, they appear to lack a player with Lightfoot's versatility who can consistently contribute.
We will see how this all plays out, but right now Kansas, to me, is a softer Top 10 team at the moment.
WHAT'S UP WITH TEXAS TECH?
Chris Beard told us in October at Big 12 Media Day that with so many new pieces in Lubbock that it was going to take time for it all to come together. So maybe the Red Raiders' 5-0 start, plus the win over No. 1 Louisville, fooled us all into believing that the Red Raiders of this year were just about like the Red Raiders of last year.
But, before we go all Panic at the Disco about the Red Raiders' 1-2 start to league play, let's remember that last season the Red Raiders started 4-0 in Big 12 action, then lost three straight games before winning 12 of their final 13 regular-season games. So, they've been here before, and Beard, his staff and his players have figured it out.
So what's different? To me it's the transfers, but it's not the quality of the players. It's the roles. TJ Holyfield and Chris Clarke are different animals than last year's transfers, Tariq Owens and Matt Mooney. Owens was more of a shot-blocker and rebounder. Holyfield is more of a scorer and on-ball defender. Clarke is a bowling ball of a small forward who can do a lot of things, including picking up Owens' rebounds. Between the two, they make a good equivalent to Owens.
But if we're looking hard at this team, Mooney's experience as a ball handler and a scorer is perhaps the hardest thing to replace for Texas Tech this season (remember that Mooney was a two starter and All-Summit League player at South Dakota before he came to Texas Tech). Sure, Jahmi'us Ramsey and Kyler Edwards can replace the perimeter scoring that Mooney brought. But the ball-handling and game experience? That's harder to replicate. As talented as Ramsey is, he's still a freshman. As talented as Edwards is, he's still a sophomore and he didn't play a ton last year. The Red Raiders have four guards, which includes Davide Moretti (a great shooter but not a point guard) and another freshman, Terrence Shannon Jr. The problem is that the team's leader in assists is Clarke at 5.9 per game. Clarke is 6-foot-6 and because he's also the team's leading rebounder he's diving into the paint as much as he's handling the ball.
Right now facilitation on the perimeter is by committee. Last year, by season's end, it rested with Mooney, and that's a big reason why the Red Raiders reached the national championship game. But it took time for Texas Tech to figure that out. I'm curious to see where the Red Raiders are a month from now when it comes to this. To me, it's the area that can make the difference between a deep NCAA Tournament run and a short one.
THE UGLY
WHAT IS WRONG WITH OKLAHOMA STATE?
You never want to make value judgments after one game in conference play. But you can sure make one after three games. And, right now, Oklahoma State is the worst shooting team in Big 12 action, shooting just 29.4 percent after three games. The Cowboys shot just 30.2 percent against TCU. Lindy Waters III and Thomas Dziagwa, two of the league's best shooters, were held scoreless. Early in his post-game press conference, Cowboys head coach Mike Boynton Jr. talked about the fact that his team may have "psychological issues," which in coach-speak means all the missed shots are in his team's collective head.
This is bad news for the Cowboys, who were considered to be an ascendant team in the Big 12 this season. After watching them in person I'd have to agree with Boynton. They have issues to sort out. But it's not all on him. Yes, I'd agree with his statement that he and his staff need to look at ways to get his players into better areas to shoot on the floor. But it's also up to his players to execute and make those shots. I would argue that the execution on Saturday was lacking as much as the shot selection. Boynton can draw up the plays. He can't make the players do it right. If the Cowboys are going to fix this, the players have as much to do with it as Boynton and his staff do.
On Friday the Cowboys got more news. Freshman guard Marcus Watson entered the transfer portal, according to 247Sports.com. According to a piece in the Oklahoman, Watson was accused of rape by an OSU student in October, had not played and was suspended from all team activities.
Miller and Condon on @1460kxno Podcast Hour 2:

NFL Divisional Round thoughts, Matt Postins (@PostinsPostcard) talks Big 12 basketball & @WadeLookingbill on Iowa hoops

https://t.co/5JQ8Hajd7Z

— Miller & Condon on KXnO (@MillerAndCondon) January 9, 2020
KANSAS STATE ON A ROAD TO NOWHERE
The Wildcats' road loss to Texas on Saturday made them the first team in the Big 12 to fall under .500 overall once Big 12 play began. At this point the Wildcats look like they're headed nowhere and, frankly, as I told Miller and Condon on KXNO radio in Des Moines last week, it's all about the Wildcats' lack of development of players the last two years.
The Wildcats had three great players in their starting lineup too — Dean Wade, Kamau Stokes and Barry Brown Jr. They helped the Wildcats reach the Elite 8 in the 2018 NCAA Tournament and share the 2019 Big 12 regular-season title with Texas Tech. With Xavier Sneed, Makol Mawien and Cartier Diarra as complements, the Wildcats were hard to beat the past two years.
But below them on the roster there was little player development, and it's coming back to bite the Wildcats this season. Sneed, Mawien and Diarra are front and center, but after that? Between the holdovers, the junior college transfers and the freshman, there is little else that is consistently contributing on either end.
Against Texas on Saturday night Diarra had 14 points, but Sneed was held to 5 points. Who stepped up? Montavious Murphy had 8 points as a part of the starting lineup and DaJuan Gordon had 9 points off the bench. But both of those players are freshmen. What about Mike McGuirl (5 points vs. Texas) or Levi Stockard III (2 points, 2 rebounds in 30 minutes)? We can even throw Mawien into the mix at this point after an 11-minute, 2-point game against the Longhorns.
Kansas State's biggest problem this year is that the players who were supposed to be learning and developing from last year's tremendous senior group just didn't. That will cause the Wildcats to take a big step back this year. We're already seeing it in Big 12 action.
BIG 12 NOW GAMES THIS WEEK
On Tuesday Texas Tech and Kansas State play on Big 12 Now, so if you don't have the subscription to ESPN Plus, here's the link. We've made it really easy to sign up.
Both Wednesday games are on ESPN Plus — Iowa State at Baylor and Texas at Oklahoma State. Then, on Saturday, TCU faces Oklahoma on ESPN Plus.
| | | |
| --- | --- | --- |
| BIG 12 STANDINGS | Conf. | All |
| Baylor (4) | 3-0 | 13-1 |
| TCU | 3-0 | 12-3 |
| West Virginia (17) | 2-1 | 13-2 |
| Kansas (3) | 2-1 | 12-3 |
| Oklahoma | 2-1 | 11-4 |
| Texas | 1-2 | 11-4 |
| Texas Tech (22) | 1-2 | 10-5 |
| Iowa State | 1-2 | 8-7 |
| Oklahoma State | 0-3 | 9-6 |
| Kansas State | 0-3 | 7-8 |
RESULTS
Monday, Jan. 6
West Virginia 55, Oklahoma State 41
Tuesday, Jan. 7
Baylor 57, Texas Tech 52
TCU 59, Kansas State 57
Wednesday, Jan. 9
Kansas 79, Iowa State 53
Oklahoma 72, Texas 62
Saturday, Jan. 11
Baylor 67, Kansas 55
TCU 52, Oklahoma State 40
West Virginia 66, Texas Tech 54
Iowa State 81, Oklahoma 68
Texas 64, Kansas State 50
NEXT GAMES (all times CST unless noted)
Tuesday, Jan. 14
Texas Tech at Kansas State, 7 p.m., Big 12 Now on ESPN+
Kansas at Oklahoma, 8 p.m., ESPN
TCU at West Virginia, 9 p.m. EST, ESPNU
Wednesday, Jan. 15
Iowa State at Baylor, 7 p.m., Big 12 Now on ESPN+
Texas at Oklahoma State, 7 p.m., Big 12 Now on ESPN+
Saturday, Jan. 18
Baylor at Oklahoma State, 11 a.m., ESPN/2/U
Kansas at Texas, 1 p.m., ESPN/2/U
West Virginia at Kansas State, 1 p.m., ESPNU
TCU at Oklahoma, 1 p.m., Big 12 Now on ESPN+
Iowa State at Texas Tech, 3 p.m., ESPN/2/U
Powered by RedCircle
**We now have FREE Big 12 Forums here at Heartland College Sports. Go sign up here and join our conversation! **