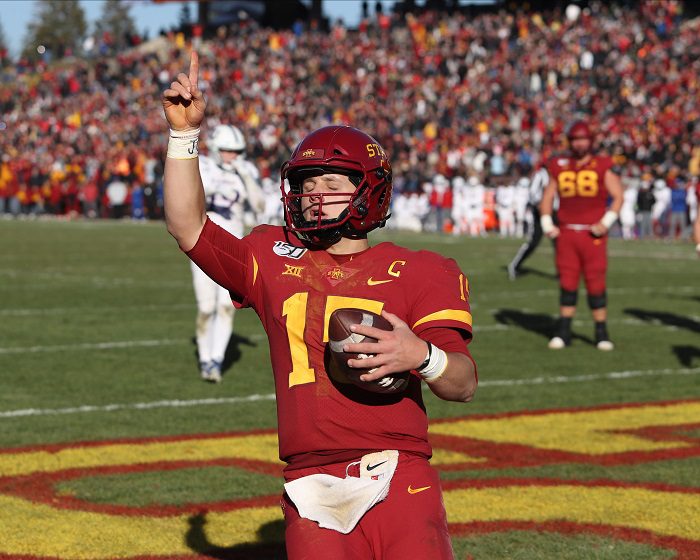 Unfortunately, it is that time of year again. It felt like just yesterday the Big 12 football season was kicking off and within the blink of an eye it's gone. Of course, some fans don't mind when the season is flying by because when your team is bad, you are likely wanting it to be over as soon as possible. Today, we pick back up the series since bowl season is over. Next up, are the Iowa State Cyclones who finished the 2019 season at 7-6 under head coach Matt Campbell.
Season Summary
The way the non-conference slate ended for the Cyclones wasn't surprising, but it was how it all went down that was a bit shocking. After winning a triple overtime nail biter against Northern Iowa, Iowa State hosted in state rival Iowa and lost in a 18-17 heartbreaker. However, the Cyclones picked the pieces back up to stream roll Louisiana-Monroe to an easy 72-20 victory.
Although they had wished for a 3-0 start, the big first test of the year was on the road at Baylor where yet again, they lost another close one. If Iowa State were to make a run at a Big 12 title, they would have to be near flawless and they were as they ripped off three straight conference wins against TCU, West Virginia and Texas Tech.
Sitting at 5-2, Iowa State was still near the top of the Big 12 but back to back losses against Oklahoma State and Oklahoma just about put the final dagger in those dreams. While the Cyclones would knock off Texas and Kansas at home, they would end the season on a sour note losing two straight games against Kansas State and a Notre Dame where they pulled a no show in the Camping World Bowl.
High Point
This may be one of my toughest calls of this entire series. The Cyclones were so spotty in 2019 that it was tough to point out just one game, but I will lean towards the TCU game. It felt like Iowa State took out their early frustrations out on the Horned Frogs and one point led TCU 35-10 heading into the fourth quarter. I know TCU wasn't exactly a good team but at that point in the season, I thought the Cyclones could use that as a game where the ship started to turn the other way.
Low Point
Sitting at 5-2 and 3-1 in conference play, Iowa State faced a must in against Oklahoma State and quite frankly, they blew the game. Tied at 27 in the fourth quarter, quarterback Brock Purdy threw a pick six and threw two more late fourth quarter interceptions to help Oklahoma State knock the Cyclones in Ames. Not only did Iowa State fall out of the top 25 but it was the first part of a one-two knockout punch that the Oklahoma schools gave Iowa State to knock them out of the Big 12 title picture.
What Went Right
Although the season didn't go as planned, 2019 was the year of Brock Purdy. Sure, 2018 was what put him on the map, but he took that next step and there was no sophomore slump. Brock threw for 27 touchdowns on 9 picks while completing 65.7% of his passes. Also, he finished fifth in the entire country in terms of passing yards with 3,982 yards in 2019. Other than Brock offensively, it was nice to see freshman running back Breece Hall become that lead back for the Cyclones as he racked up 897 yards and 9 scores as he averaged a whopping 4.8 yards per carry. Of course, I must mention the efforts of tight end Charlie Kolar along with wide outs Deshaunte Jones and Tarique Milton. To me, Kolar was one of the top tight ends in the entire country this past season.
The defense had some small bumps in the road and overall, they finished fifth in total defense in the Big 12. However, Iowa State gave up just 25.9 points per game which was good enough to be third in the conference. I guess you can say most of the time it was a bend but don't break type of defense.
What Went Wrong
As good as Breece Hall was, by far the biggest weakness of the Iowa State offense was the offensive line. In the preseason there was a magazine that had Iowa State's offensive line ranked first in the Big 12. Boy, were they off. The Cyclone averaged just 133 rushing yards per game which was ninth in the conference. Although the pass protection was better, the line didn't do a great job at creating running lanes and has been a weakness under Matt Campbell since arriving in Ames.
I mentioned earlier that the defense was a middle of the pack defense in the Big 12 but there were two areas where Iowa State struggled in defensively. One was the lack of forced turnovers and the other was third down defense. Opponents were converting 41.4% of their third downs against the Cyclones which is unacceptable for this talented defense.
What's Next?
The good news for Iowa State is that quarterback Brock Purdy and running back Breece Hall will be back next season. Not to mention the Cyclones will also have some weapons returning with tight end Charlie Kolar and wide out Tarique Milton. The biggest questions will be who the second-wide out can be and how will the offensive line look having to replace some key guys. Like I mentioned earlier, if this offense is to raise the bar then they must get better play up front.
While star defensive end Jaquan Bailey will cone back for a fifth season, losing Ray Lima will hurt along with several others in the two-deep. As far as the linebackers go, Marcel Spears Jr. will be gone but Mike Rose and O'Rien Vance will be back. Lastly, the entire secondary will basically be back for the 2020 season and that group will be one of the better ones in the Big 12 next season.
**We now have FREE Big 12 Forums here at Heartland College Sports. Go sign up here and join our conversation! **