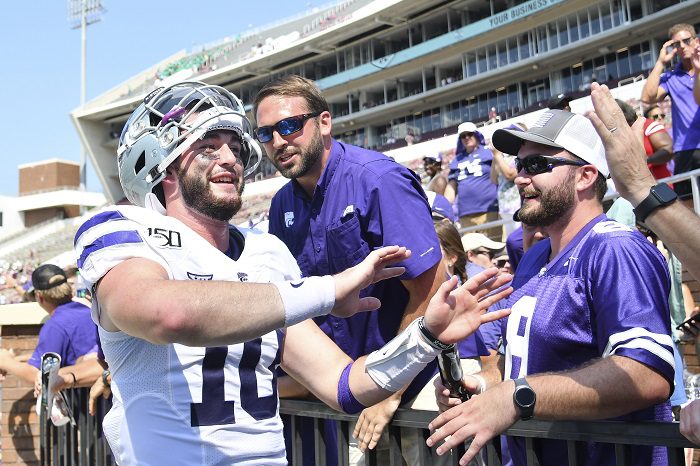 Unfortunately, it is that time of year again. It felt like just yesterday the Big 12 football season was kicking off and within the blink of an eye it's gone. Of course, some fans don't mind when the season is flying by because when your team is bad, you are likely wanting it to be over as soon as possible. Today, we pick back up the series since bowl season is over. Next up, are the Kansas State Wildcats who finished the 2019 season at 8-5 under head coach Chris Klieman.
Season Summary
Outside of K-State homers, I don't think anyone in the entire country saw the 3-0 start coming. Sure, they handled Nicholls and Bowling Green with ease but when they beat Mississippi State in Starkville, that had the nation glue their eyes to what was going on in the little apple. However, with all the new buzz surrounding the program, this team got slapped around in back to back weeks to open Big 12 play against Oklahoma State and Baylor.
Sitting at 0-2 in conference play, the Wildcats ripped off three straight wins against TCU, Oklahoma and Kansas. Yet again, this program had the nation wondering by beating Oklahoma. But just like earlier in the year, they lost in back to back weeks against Texas on the road and in a stinker against West Virginia at home. With Big 12 title hopes crushed at that point, Kansas State would finish the regular season with nice wins over Texas Tech and Iowa State to finish the regular season at 8-4. Then came the bowl game to forget as they fell 20-17 against Navy.
High Point
Even if you don't follow Kansas State or even the Big 12 for that matter, it is clear as day what the high point was. On October 26th, 2019 the Wildcats were set to host the Oklahoma Sooners who were ranked fifth at the time. NOBODY gave Kansas State a shot and not only did they shock the Sooners, they shocked the entire country. In that game, Kansas State held the ball for a whopping 38 minutes and at one point had a 48-23 lead with less than thirteen minutes to play. Even though Oklahoma came back, the Wildcats were able to hold them off and pull off the upset of the season in the Big 12.
Low Point
This is just as easy to pick out as the high point was. Even after a close loss to Texas on the road, the Wildcats remained in the top 25 heading into the West Virginia game. Most people thought they could win out and get to nine wins, but West Virginia had other plans that day. With a new starting quarterback in Jarret Doege, the Mountaineers came into Manhattan and outscored Kansas State 10-0 in the fourth quarter to win 24-20 in a snoozer. Much like the Oklahoma game, NOBODY saw that coming.
What Went Right
Kansas State isn't going to wow you in the stat sheets but there were some serious signs of improvement offensively. First off, quarterback Skylar Thompson had his best season in a Wildcat uniform. His completion percentage went up from 2018 and he also nearly a thousand more yards. Not to mention, he had eleven rushing touchdowns which was more than what he had in his first two seasons combined. Other than that, the overall rushing numbers were in the top four of the conference and an area where Kansas State was really good was in time of possession as there were only eight teams in the country who averaged more time with the football this season.
On defense, the biggest thing that stuck out to me was the pass defense. Kansas State ranked second in the conference in total pass defense and perhaps the most impressive stat of all is that they allowed opponents to convert just 28% of their third downs which ranked second in the nation. Of course, I can't forget about some special teams because kicker Blake Lynch was solid and returner Joshua Youngblood had himself one heck of a season.
What Went Wrong
I can probably say this almost every year with Kansas State, but the passing game must improve. I know Skylar Thompson can get better in that area but what really surprised me was the lack of playmakers at receiver. Sure, Malik Knowles was injured plenty but to have Dalton Schoen finish as your top receiver is a bit of a letdown. That's no knock-on Schoen but it's not ideal to have him finish as your number one guy. Kansas State must find more guys who can make those splash plays you need on offense.
As good as the pass defense was, the rush defense was bad in 2019. The Wildcats finished eighth in the conference, but I know that the Navy game didn't help but even before that, Kansas State was still towards the bottom on the Big 12. It's kind of weird to see a team who primarily runs the ball on offense be so bad at stopping it on defense. It's head scratching for sure.
What's Next?
The good news is that Skylar Thompson will be back at quarterback, but they will lose two of their top backs in Jordon Brown and James Gilbert. Not to mention they lose Dalton Schoen too, but Malik Knowles is just a sophomore and can be a huge factor for them next season. With Schoen out, that means someone else will have to fill those shoes to help Knowles on the other side. Of course, to pile more bad news is the fact that just about the entire offensive line will be gone too. So, this offense will have to do some serious work to replace these guys.
Just like the offensive line, the defensive line will have to replace all but one start with Wyatt Hubert who led the team in sacks. Along with Hubert, Elijah Sullivan will return as the middle linebacker. Still, there is plenty to replace on these first two levels of the defense. In the back end, the biggest loss will be safety Denzel Goolsby at free safety. 
**We now have FREE Big 12 Forums here at Heartland College Sports. Go sign up here and join our conversation! **