Baylor Bears
Baylor Bears Football: 2019 Season Recap and Review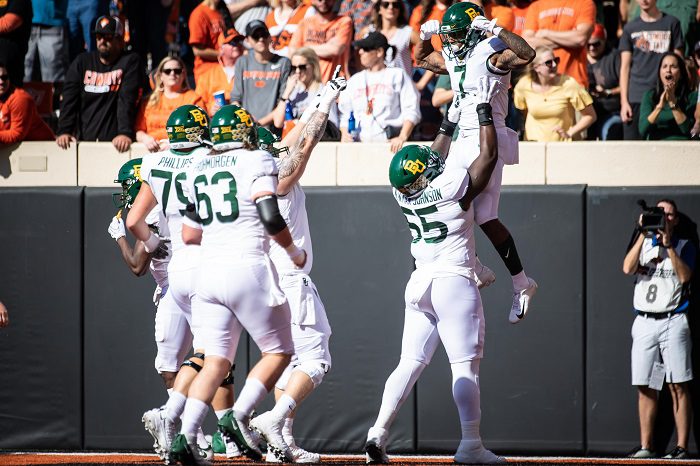 Unfortunately, it is that time of year again. It felt like just yesterday the Big 12 football season was kicking off and within the blink of an eye it's gone. Of course, some fans don't mind when the season is flying by because when your team is bad, you are likely wanting it to be over as soon as possible. Today, we pick back up the series since bowl season is over. Next up, are the Baylor Bears who finished the 2019 season at 11-3 under head coach Matt Rhule.
Season Summary
There wasn't much to sweat about in the non-conference as Baylor has perhaps one of the easiest non-conference schedules in college football. After taking care of business against SFA, UTSA and Rice, the Bears would host Iowa State to kick off conference play and thanks to a late field goal, they would win 23-21 at home.
Coming fresh off a win against Kansas State, the Baylor magic would continue the following week where they squeaked by Texas Tech in double overtime to finish the first half of the season at 6-0. But just like before, the late game heroics would continue as Baylor beat Oklahoma State and then escaped a Halloween scare against West Virginia at home. Just a week later in Fort Worth, it took three overtimes to knock off TCU.
No matter how little they won by, Baylor was 9-0 heading into the big showdown with Oklahoma. It took a miracle of a comeback from the Sooners to give Baylor their first loss of the season. However, the Bears would bounce back with easy wins against Texas and Kansas to finish the regular season at 11-1 and a Big 12 title birth. Unfortunately for the Bears, they would lose in overtime in their rematch with Oklahoma and then fall short against Georgia in the Sugar Bowl to finish 11-3.
High Point
This one is tough, but I will lean towards the Oklahoma State game. The Bears faced Oklahoma State at their full strength and heading to Stillwater is no easy task, but quarterback Charlie Brewer led the offense with 312 passing yards on just 13 completions and the Baylor run game was phenomenal racking up 224 yards on the ground. Perhaps the biggest key was how well Baylor played late in that game as they outscored the Cowboys 21-7 in the fourth quarter.
Low Point
Obviously the Big 12 title game had higher stakes with the conference championship and a playoff berth on the line but as crazy as it sounds, I will pick the first Oklahoma game. Why? Because look at how Baylor lost that game. Baylor was up 31-10 at halftime and looked like they were going to cruise to a huge win on the national spotlight. Instead, Oklahoma outscored Baylor 24-0 in the second half and pulled off the comeback nobody thought would happen. It would be hard to say that the low point was the Big 12 title game because Baylor was playing their third string quarterback for most of the game when Charlie Brewer went out. There was nothing to be ashamed of in Jerry World from Baylor's standpoint.
What Went Right
Offensively, quarterback Charlie Brewer cut down his turnovers and his completion percentage went up from 2018 to 2019. That's a good sign and while he isn't considered an elite quarterback, he is tough as nails and has no quit in him. Outside of that, I thought wide out Denzel Mims put together a fantastic season with over a thousand yards and twelve touchdown catches. Yet despite not having these crazy offensive numbers, the Bears still managed to produce the second highest scoring offense in the Big 12 averaging 32.7 points per game.
On defense, there was plenty that went right. Defensive lineman James Lynch was the Big 12 defensive player of the year while the man right next to him, Bravvion Roy was a first team All-Big 12 selection as well. The Bears had the third ranked pass defense in the conference and led the Big 12 in sacks. Not to mention, they allowed just 19.7 points per game. This defense was elite in 2019.
What Went Wrong
I think it's safe to say that the offense needs some work. I mentioned earlier that they weren't lighting up the stat sheet yet scoring points at a good pace. In fact, I would say they were average offensively finishing fifth in both the pass and running game in the conference yet finishing second in scoring offense. I think a lot of that was due to how good the defense was as they were able to put the offense in very favorable positions. The consistency wasn't always there, and the other big thing was at times, the offensive line collapsed as they allowed the second most sacks in the Big 12. Those two things (Consistency and Offensive line play) will be key to improving the offense in 2020.
As for the defense, I can't complain. They carried the team most of the time and if not for this defense, Baylor wouldn't have been in a conference title game or a Sugar Bowl.
What's Next?
Well the big news is that Baylor has a new head coach in Dave Aranda. Aranda was the former LSU defensive coordinator for the last four seasons and was announced as the new head coach just days after Matt Rhule left. So, it will be interesting to see how Aranda does as a first-time head coach. 
Offensively, quarterback Charlie Brewer will be and so will running backs Trestan Ebner and John Lovett. However, the Bears will be without top wide outs Denzel Mims and Chris Platt, but the good news is that Josh Fleeks, RJ Sneed and Tyquan Thornton will be back. As for the offensive line that gave up too many sacks, they will have to replace Center Jake Fruhmorgan and left guard Sam Tecklenburg.
On defense, they will lose their entire defensive line that was so dominant last season with James Lynch, James Lockhart and Bravvion Roy. The linebacker group will be fine but the secondary may have to do a little reshuffling after losing some key guys as well. But the good news is that Dave Aranda knows how to coach up and build a defense. 
**We now have FREE Big 12 Forums here at Heartland College Sports. Go sign up here and join our conversation! **