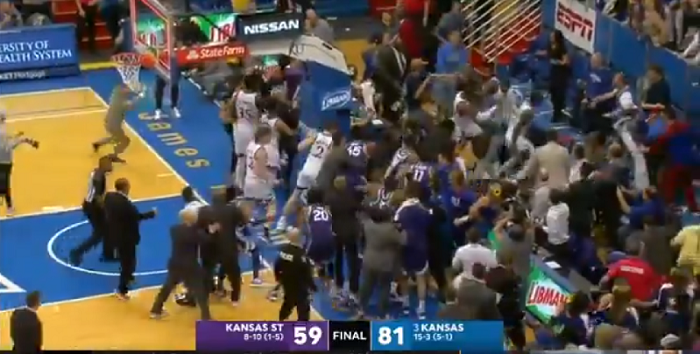 As Kansas was rolling to a win over Kansas State in the Sunflower Showdown on Tuesday night in Lawrence, a brawl between players and other bystanders seemed to break out as Kansas had just beaten the Wildcats 81-59.
Here's a look at the initial fight and then some other videos from media members in the midst of it all.
Benches emptied at the end of the Kansas State-Kansas game. pic.twitter.com/zWv46h3RJC

— ESPN (@espn) January 22, 2020
What an ugly scene unfolding for Kansas, Kansas State and the Big 12.
Here's what it looked like for some of the media members in the middle of it all.
Here's what I got on camera from the aftermath of that skirmish pic.twitter.com/14kXGvb6qf

— Kellis Robinett (@KellisRobinett) January 22, 2020
Barstool with our newest marketing tactic pic.twitter.com/w05g9grDoc

— #3 BarstoolKU (@BarstoolKU) January 22, 2020
An all-out brawl just happened. pic.twitter.com/73MBmr0RNf

— Riley Gates (@Riley_Gates) January 22, 2020
This will surely result in suspensions on both sides. It has to. As ugly as it was, it could have definitely been worse and is a black eye for both teams. The ugliest part? Silvio de Sousa taking the chair over his head. That is not going to end well for him at the league office. Or at least it shouldn't.
Here's a great shot of de Sousa in the moment. Thankfully it did not result in any damage as the chair was removed from his hands.
The photo of the night, from @nickkrug pic.twitter.com/vfqXfYul3Y

— David Gardner (@byDavidGardner) January 22, 2020
Let's wait and see what Bob Bowlsby and the Big 12 decides to do.
**We now have FREE Big 12 Forums here at Heartland College Sports. Go sign up here and join our conversation! **