Uncategorized
Did Chuba Hubbard Call Out LC Greenwood for Transferring?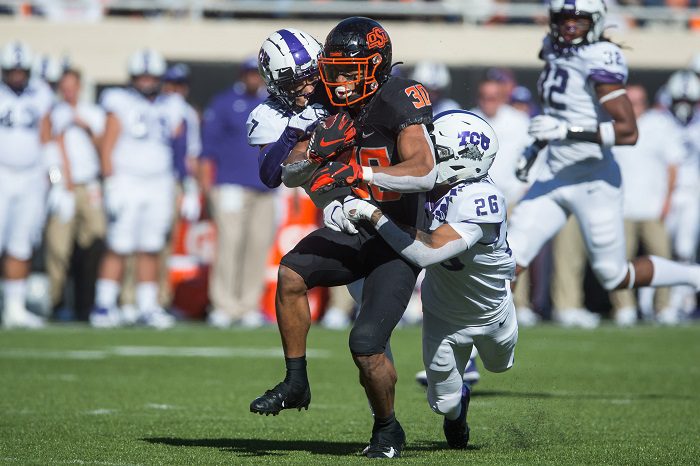 Oklahoma State has been buzzing since Chuba Hubbard announced he would be returning to Stillwater for the 2020 season. The Pokes are going to be one of the favorites in the conference to knock the Oklahoma Sooners off their perch atop the Big 12 Conference.
But Hubbard appears to be of the opinion that if you don't want to be in Stillwater right now, good riddance.
Wide receiver LC Greenwood announced his decision to enter the transfer portal via a Twitter post on Thursday. Greenwood wrote, "My time here has been amazing and I enjoyed every minute of being a Cowboy. With that being said I have decided to enter the transfer portal and seek a new place to call home."
OSU is returning a solid group of wide receivers including Tylan Wallace, Dillon Stoner and Braydon Johnson. So it would make sense that Greenwood may want to find playing time elsewhere. The redshirt sophomore saw action in six games this season, catching only three passes for 12 yards against McNeese State. He recorded no stats in 2018.
Well Hubbard retweeted Greenwood and wrote this.
Get your bag bro🤞🏾 https://t.co/Y1bXQkynDP

— Chuba Hubbard (@Hubbard_RMN) January 23, 2020
Now, how do you read that "Get your bag bro"? I read it as, "Take a hike." A Twitter response questioned if it meant LC was getting paid, but that wouldn't make any sense for a plethora of reasons.
Is Chuba saying, "If you don't want to be here, we don't want you here."
I am honestly pretty surprised he'd bother responding like that to someone who has three career catches, which is what makes me wonder if I am misinterpreting things.
Either way, the Pokes are coming off an 8-5 season and will try to put together the most exciting year since 2011 when they came within a kick of a BCS Championship Game berth.
Did you make it this far…. Is this SATIRE…? YOU DECIDE. 😉
**We now have FREE Big 12 Forums here at Heartland College Sports. Go sign up here and join our conversation! **