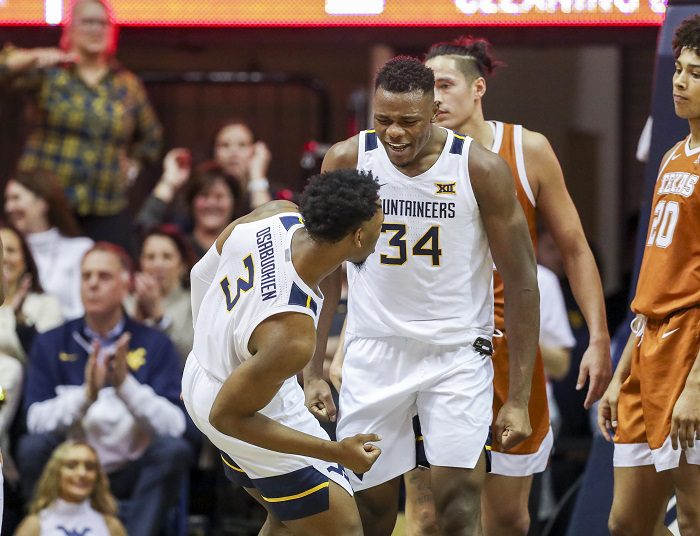 After reviewing each of the Big 12 games for Week 4 of the league season (ending Jan. 25), here is the Heartland College Sports Men's Basketball Starting 5.
UDOKA AZUBUIKE, C, KANSAS
In what proved to be a controversial week for the Jayhawks (see my Good, Bad and Ugly piece for Week 4 of the Big 12 season), Azubuike was a consistent force inside in both games for the Jayhawks. Against Kansas State he netted 10 points, 14 rebounds and 4 blocked shots. Against Tennessee in the Big 12-SEC Challenge on Saturday, he had another fine game with 18 points, 11 rebounds and 4 blocked shots. When 'Doke' is racking up double-doubles, the Jayhawks are usually winning. 
RASIR BOLTON, G, IOWA STATE
The Cyclones went 1-1 this week, but the Penn State transfer did everything he could to make it a 2-0 week. Against Oklahoma State earlier this week, Bolton scored 21 points, grabbed 9 rebounds and dished out 5 assists in the win over the Cowboys. Then, on the road at Auburn, Bolton was big for the Cyclones, scoring 23 points, grabbing 4 rebounds dishing out an assist in a loss to the Tigers. Bolton is sixth in the Big 12 in scoring, just behind his teammate, Tyrese Halliburton (15.7 ppg). 
KEVIN SAMUEL, C, TCU
Yep, it's a forward-heavy team this week. Even though TCU only won one game, Samuel deserves some recognition. In the home win over Texas Tech, the sophomore started slow but finished with a double-double — 11 points and 11 rebounds (7 on the offensive glass). Then, on the road at Arkansas, Samuel was a factor the whole game in the loss to the Razorbacks. He had a game-high 24 points, a game-high 18 rebounds and 2 blocked shots. When Samuel plays like that every night it's harder for teams to focus exclusively on guard Desmond Bane.
MACIO TEAGUE, G, BAYLOR
The Bears remained undefeated in Big 12 action and won its Big 12-SEC Challenge game with Florida, so odds are the Bears will be No. 1 in at least one poll come Monday. Teague had plenty to do with that. Against Oklahoma, Teague scored 16 points and 3 steals as the Bears outlasted the Sooners. Then, on the road against the Gators, Teague came through with 16 points, 6 rebounds and 3 assists. Each week a different guard comes through for the Bears. This week it was Teague.  
OSCAR TSHIEBWE, F, WEST VIRGINIA
The freshman forward had a fine week for the Mountaineers, putting up a double-double against Texas — 13 points and 11 rebounds — along with one of the best hustle plays you'll see in college basketball all year. Then, against Missouri, he put up 14 points and 8 rebounds in a blowout win. One of the hallmarks of Tshiebwe's play to this point is consistent effort even when the game isn't going his way. This week, the game went his way and he took full advantage.
THE SIXTH MAN
SOLOMON YOUNG, F, IOWA STATE
Young had a huge game against Oklahoma State earlier this week, coming off the bench to score 27 points and 9 rebounds in a win Iowa State really needed. Then on Saturday, on the road at Auburn, he came off the bench to score 10 points and grab 9 rebounds. Those are the kinds of performances the Cyclones need every night from Young.
**We now have FREE Big 12 Forums here at Heartland College Sports. Go sign up here and join our conversation! **