Big 12 News
2020 Preseason All-Big 12 Baseball Team Announced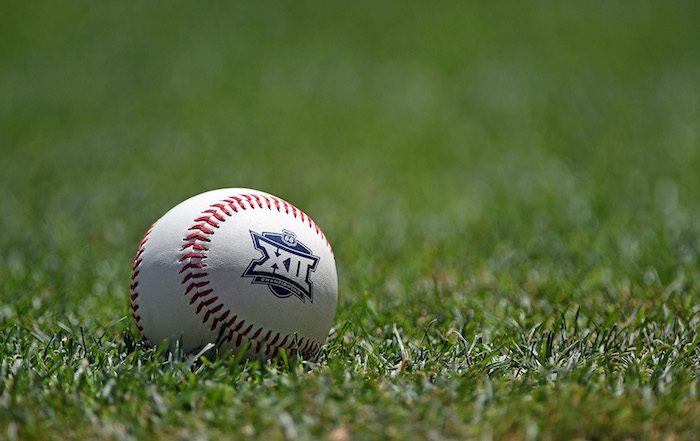 It may not feel like it in parts of Big 12 country, but baseball is right around the corner and preseason awards and the first-team selections have been announced.
Per the Big 12's announcement, Baylor infielder Nick Loftin was named the Preseason Player of the Year, whileOklahoma right-hander Cade Cavalli received the Preseason Pitcher of the Year honor. Oklahoma State's Kaden Polcovich and Bryce Osmond were named Preseason Newcomer of the Year and Preseason Freshman of the Year, respectively. The vote was done by the head coaches in the league and the coaches could not vote for their own players.
11 of the 18 preseason First-Team Big 12 selections were All-Big 12 First Team or Second Team performers in 2019. Texas Tech led the way with six selections, followed by Oklahoma's four. Baylor, Texas and West Virginia each had two honorees apiece, while Kansas and Oklahoma State had one representative.
The Big 12 preseason poll will be announced on Thursday, January 30. All nine league teams open the season on Friday, February 14.
2020 PRESEASON ALL-BIG 12 BASEBALL AWARDS
Player of the Year: Nick Loftin*, Baylor, Jr., INF, Corpus Christi, Texas/W.B. Ray
Pitcher of the Year: Cade Cavalli, Oklahoma, Jr., RHP, Bixby, Okla./Bixby
Newcomer of the Year: Kaden Polcovich, Oklahoma State, Jr./INF, Edmond, Okla./Northwest Florida State JC
Freshman of the Year: Bryce Osmond, Oklahoma State, Fr., RHP/INF, Jenks, Okla./Jenks
PRESEASON ALL-BIG 12 TEAM
Name, School Pos. Cl. Hometown/Previous School
Brady Lindsly, Oklahoma C Sr. Keller, Texas/Keller
Braxton Fulford, Texas Tech C Jr. Lubbock, Texas/Monterey
Nick Loftin, Baylor* INF Jr. Corpus Christi, Texas/W.B. Ray
Andy Thomas, Baylor INF/C Sr. Murrieta, Calif./Murrieta
Benjamin Sems, Kansas INF Sr. Chesterfield, Mo./Westminster Christian
Brian Klein, Texas Tech INF Sr. Keller, Texas/Timber Creek
Tyler Doanes, West Virginia INF Jr. Fayetteville, Ga./Whitewater
Dylan Neuse, Texas Tech* OF Jr. Fort Worth, Texas/McLennan CC
Carson McCusker, Oklahoma State OF Sr. Sparks, Nev./Folsom Lake CC
Eric Kennedy, Texas OF So. Tampa, Fla./Calvary Christian
Paul McIntosh, West Virginia DH Jr. Miami Gardens, Fla./Dade Christian
Cade Cavalli, Oklahoma RHP/UTL Jr. Bixby, Okla./Bixby
Levi Prater, Oklahoma LHP Jr. Ada, Okla./Byng
Bryce Elder, Texas* RHP Jr. Decatur, Texas/Decatur
Micah Dallas, Texas Tech RHP So. Aubrey, Texas/Homeschool
Jason Ruffcorn, Oklahoma RHP Sr. Cedar Park, Texas/Texas A&M
Clayton Beeter, Texas Tech RHP R-So. Colleyville, Texas/Birdville
John McMillon, Texas Tech                  RHP                 Sr.        Jasper, Texas/Jasper
**We now have FREE Big 12 Forums here at Heartland College Sports. Go sign up here and join our conversation! **