Big 12 Sports Articles
It's Been 10 Years Since Attending a Texas Tech Basketball Game, Here's How Things Have Changed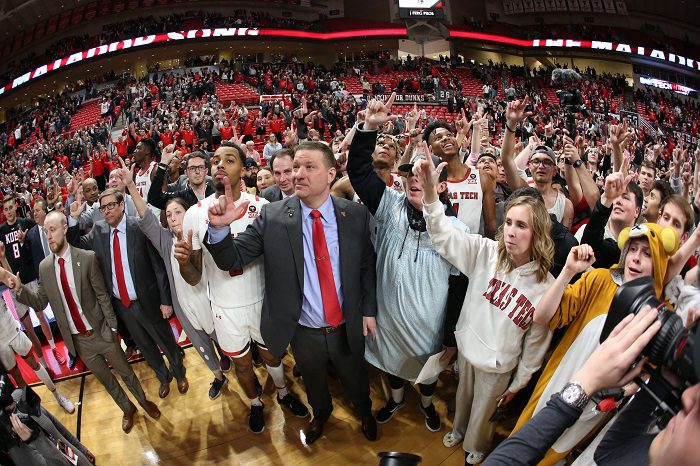 LUBBOCK, Texas — I realized as I made the drive to Lubbock last Saturday that it had been about 10 years since I had been to United Supermarkets Arena for a game. Back then I went to see my alma mater, Stephen. F. Austin, play a game on New Year's Day against Tech. Pat Knight was the coach back then. The Lumberjacks lost, and I remember the game being a pleasant experience, but nothing special.
That has all changed.
#WreckEm has cultivated one of the most energetic student sections in college basketball. On display Saturday vs. Kentucky #Big12SEC #Big12MBB @Heartland_CS pic.twitter.com/ItmmuxC50L

— Matthew Postins (@PostinsPostcard) January 26, 2020
When the Big 12-SEC Challenge schedule came out in the summer, I circled the Tech-Kentucky game in pen. There was really no doubt where I was going to spend that weekend. I expected a great game. I got one. But I was equally as interested in what was going on AT the game. And what's going on in Lubbock right now is pretty special. In fact, I would say that it's probably the best gameday atmosphere for any regular-season basketball game I've attended.
It was loud. Ears-ringing loud. An arena that holds more than 15,000 really should feel cavernous, but thanks to the Red Raiders' raucous student section and local fan base the noise gives it an intimate feel you might experience at smaller arenas. It had an impact during Saturday's game. And it impressed one of the biggest coaches in the game.
#Kentucky head coach John Calipari on the "classy crowd" at #Tech tonight #WreckEm on Saturday in the #Big12SEC Challenge #UKvsTT #TGT @Heartland_CS pic.twitter.com/CUoglOBVTH

— Matthew Postins (@PostinsPostcard) January 26, 2020
It would be simple to attribute this to the Red Raiders' run to the Final Four last season, and the Elite 8 run the season before that, and the hiring of Chris Beard four years ago. And that is certainly part of the equation. But the seeds weren't planted four years ago. They were planted nearly two decades ago when the Red Raiders hired Bob Knight. Then in disgrace after the fallout from his firing at Indiana, the best decision Knight made for the future of the program was hiring Beard, then a head coach at Seminole Junior College, as one of his assistant coaches.
Beard spent the next 10 years impressing the Texas Tech brass enough that when it was time to hire Tubby Smith's replacement, it was an easy sell to lure Beard away from UNLV, even though Beard had been on the job in Vegas for just a few weeks.
Sustaining success is up to the head coach and his players. To do that you need a coach and a staff that can not only coach and develop players, but recruit. And lately Beard and his staff have elevated the program's standing on the recruiting trail like no other time in Tech history. Tech used Saturday's game to full advantage when it came to impressing future Red Raiders.
Led by program signee Micah Peavy and Five-star sophomore Keynote George, Texas Tech with several recruits visiting for their matchup with Kentucky.

Arterio Morris, Rylan Griffin, Cade Hornecker, Brandon Hausen, Kiante Williams, Jaylon Tyson, all visiting as well.

— Jake (@jakeweingarten) January 25, 2020
If you go to 247Sports.com you'll find that of the site's Top 8 Texas Tech recruits all time, six of them were signed by Beard and his staff, including the Top 4. The Red Raiders' class for 2020 is ranked No. 9 in the nation. All of Beard's classes have been in the Top 40.
But it isn't just players and coaching. You have to sustain interest in coming to games, especially in an era of device distraction and a sports world where just about every event is on television. Success has helped. Entering this season the Red Raiders drew 15,098 to United Supermarkets Arena eight times under Beard. Before he arrived the Red Raiders had done that nine other times. The best crowd of all-time was 15,250 in a conference game against Texas in 2004.
Sustaining interest means keeping your finger on the pulse of your fan base, and athletic director Kirby Hocutt is doing exactly that. I have a co-worker whose father-in-law is a season ticketholder. She told me the story of how Hocutt spent three weeks trying to get in touch with her father-in-law just to ask him about his last trip to Lubbock, his game experience and what the Red Raiders could do to make it better.
It's not revolutionary for an athletic director to call big donors or season ticketholders. But some athletic directors, especially ones that shepherd sports that aren't used to success on a national stage, rest on the laurels of the success and ride it out. Hocutt doesn't appear to be doing so. In fact, when I walked out of the arena and headed back to the free parking lot to make the drive back home, I found myself face-to-face with an upcoming new addition to the Texas Tech basketball program — the Dustin R. Womble Basketball Center.
Packed arena. New basketball center. Successful program. Elite head coach. Responsive athletic director. Energized fan base.
Things have changed in Lubbock, and it looks like the Red Raiders are out to sustain this success for the long haul.
**We now have FREE Big 12 Forums here at Heartland College Sports. Go sign up here and join our conversation! **