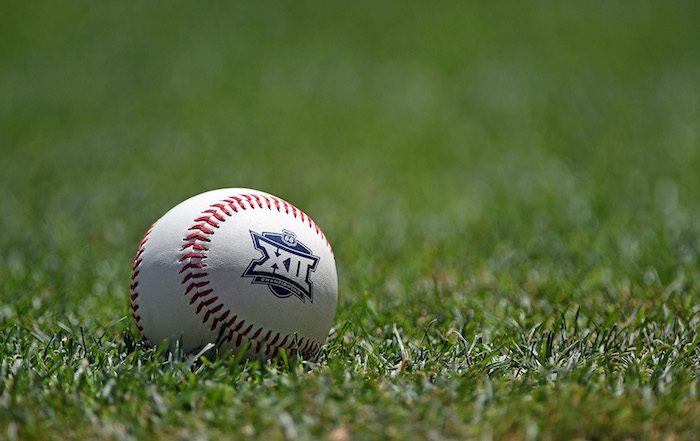 The Big 12 along with the league's television partners, ESPN and FOX Sports, have announced the Conference's TV schedule for the 2020 Big 12 baseball season.
Per the Big 12's press release, nine regular season games will be featured, while the Phillips 66 Big 12 Baseball Championship will be shown from start to finish. For the eighth consecutive year, all contests leading up to Sunday's championship game will be televised on FOX College Sports (FCS) with the finale set for 11:30 a.m. CT on FS1.
Eight league matchups will be featured on ESPN networks. All games will also be available via the ESPN App. The TCU at Texas game will be featured on the FOX Sports Regional Networks (FSN). Games on FS1 are available to stream on the FOX Sports app and FOXSports.com. Contests on FCS and FSN are also available via FOX Sports GO.
Additional television appearances are made throughout the season through institutional third-tier arrangements.
2020 BIG 12 BASEBALL TELEVISION SCHEDULE
| | | | |
| --- | --- | --- | --- |
| Sun., March 29 | Oklahoma at TCU | Noon | ESPNU |
| Fri., April 3 | Texas Tech at Oklahoma State | 8:00 p.m. | ESPNU |
| Fri., April 10 | Oklahoma at Texas Tech | 8:00 p.m. | ESPNU |
| Sun., April 19 | Oklahoma at Oklahoma State | 4:00 p.m. | ESPNU |
| Sat., May 2 | Oregon State at Oklahoma State | 5:00 p.m. | ESPNU |
| Sat., May 2 | Texas at Texas Tech | 8:00 p.m. | ESPNU |
| Sun., May 3 | Texas at Texas Tech | 2:00 p.m. | ESPN2 |
| Sun., May 10 | TCU at Texas | 5:00 p.m. | FSN |
| Sat., May 16 | Texas Tech at TCU | 6:30 p.m. | ESPNU |
| Wed., May 20-Sat., May 23 | Phillips 66 Big 12 Championship Bracket Play | Various Times | FCS |
| Sun., May 24 | Phillips 66 Big 12 Championship Final Game | 11:30 a.m. | FS1 |